IRSC awarded Small Business Administration Grant to aid local start-ups.
August 11, 2015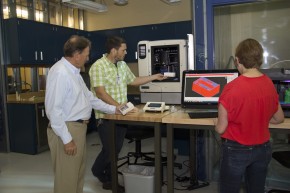 Contact: Michelle Abaldo
Director of Institutional Advancement
O - (772) 462-7265 C - (772) 519-1123
mabaldo@irsc.edu
August 10, 2015 (FORT PIERCE, FL) – Recognized at the national level for support of entrepreneurship and small business success, Indian River State College was selected by the U.S. Small Business Administration (SBA) as a winner of the Growth Accelerator Fund Competition. IRSC will be awarded a $50,000 grant to support the College's Advanced Manufacturing FabLab to assist local businesses with every stage of development.
The winners were announced at a White House "Demo Day" event on August 4, including comments by President Obama on the importance of innovation and entrepreneurship. The purpose of the competition is to draw attention and funding to parts of the country where there are gaps in the entrepreneurial ecosystem.
"Entrepreneurship is essential to the economic success of our region and IRSC is committed to support local innovators with the resources they need to turn their ideas into products and services and launch a viable business," said Jose Farinos, IRSC Vice-President of Applied Science and Technology. "The SBA grant will enable us to take our support services on the Treasure Coast to the next level."
The IRSC Advanced Manufacturing FabLab assists business clients with product development from conception to assembly. The facility includes a 3D printer, wood shop, machine shop, as well as design and production support services. Several IRSC Business Incubator clients plan to utilize the FabLab. Artistry in Mosaics is the world's largest manufacturer and distributor of high quality, frost proof handmade ceramic and glass mosaic tile designs. The company will utilize the FabLab to expand its product line utilizing 3D rapid prototyping processes. Yacht Watchman, which developed a state-of-the-art yacht monitoring system, utilized the FabLab to prototype equipment packaging. Existing businesses can also benefit from the Lab's services. Tropicana plans to use the facility for prototyping and machinery design.
The Advanced Manufacturing FabLab at the IRSC Main Campus in Fort Pierce is a component of the IRSC Dan K. Richardson Entrepreneurship Institute, which includes the Pioneer Business Incubator, offering guidance, offices, and support services to start-up businesses; Corporate and Community Training Institute, providing training and professional development; and the Small Business Development Center with free consulting.
Over 400 applications for the SBA grant were evaluated by a panel of 40 judges, resulting in 180 finalists and 80 national winners.
For more information, contact Tom Kindred at 772-462-7097 or tkindred@irsc.edu.
###