EDC Newsletter - July 2016
July 6, 2016


Welcome to the EDC's Inaugural e-Newsletter
As part of our Five-Year Strategic Plan, the Economic Development Council of St. Lucie County (EDC) is laser-focused on creating quality jobs and committed to keeping our investors engaged and updated on the progress we are making with respect to our organizational initiatives. With that goal in mind, this new digital bulletin, released to our network quarterly and made available via the web, will help us honor that commitment to you.
The inaugural newsletter looks back at the first half of 2016 and reflects on the key events and milestones that demonstrate how the EDC is strategically positioned to advance its mission: promotion of economic vitality through business recruitment, retention, and expansion in the St. Lucie County community. Future publications will include announcements, featured news stories, upcoming events, and other informative items that will convey the good work of your EDC. As always, thank you for your support.
Edwin R. Massey, PhD
President
Indian River State College
IMPORTANT NOTICE
If your business is impacted by the harmful flood waters and increased number of algae blooms from Lake Okeechobee...please take the Business Damage Assessment Survey at: http://flvbeoc.org/index.php?action=bda, select event/incident: "Lake Okeechobee Discharge-Algal Blooms". The survey results will be shared with various federal, state and local agencies to expedite implementation of appropriate disaster relief programs for affected businesses.

McKesson Hosts Grand Opening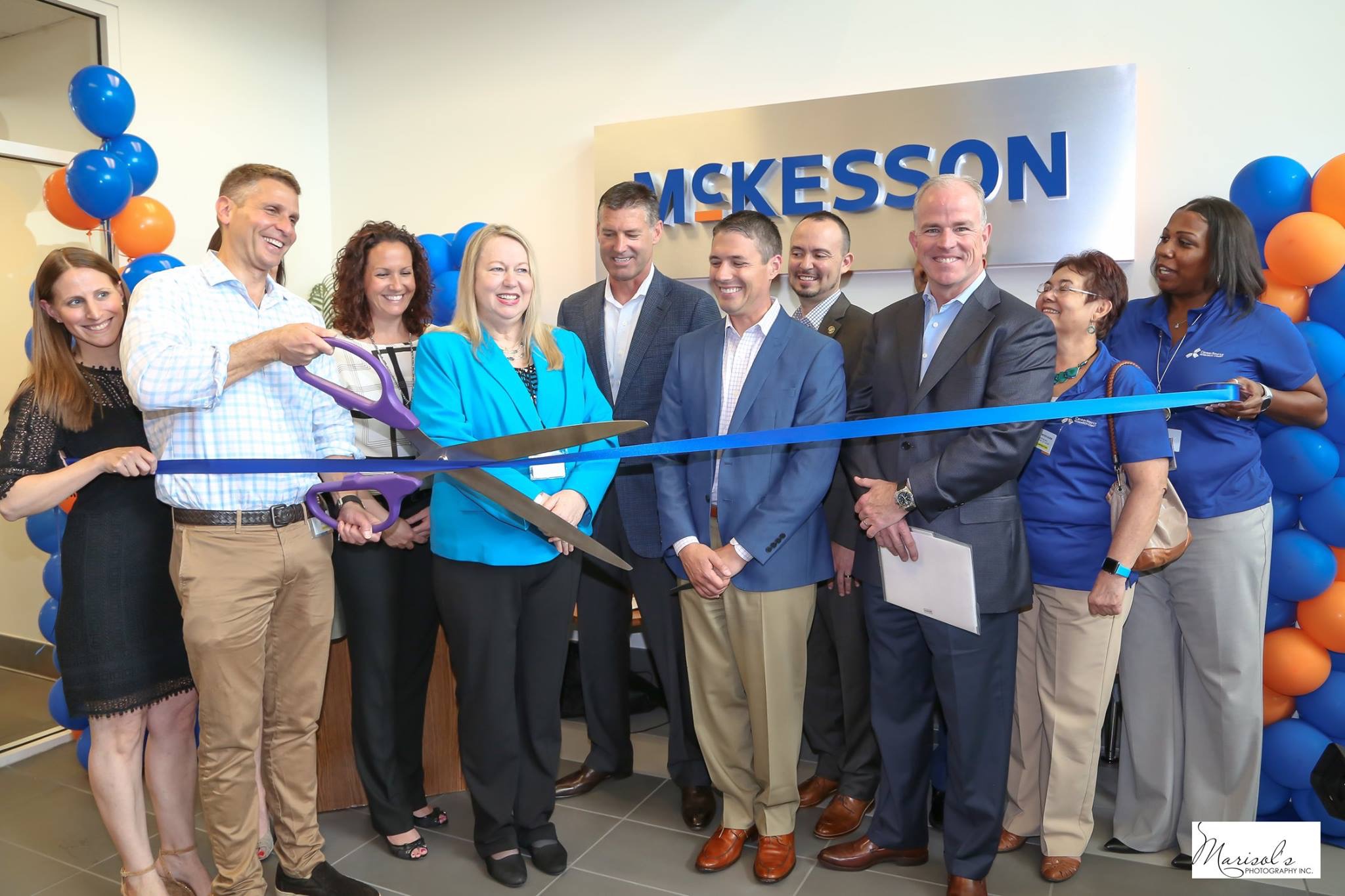 McKesson Business Performance Services (McKesson) hosted a grand opening and ribbon cutting celebration with employees, business leaders and dignitaries on June 16, 2016 at their new location, 300 Peacock Boulevard, Port St. Lucie, Florida.
McKesson's expanding business was the catalyst to move from its previous Prima Vista Boulevard site to the 50,000 square foot facility, the former QVC call center.
The expansion was announced not long after QVC closed its Port St. Lucie facility. Since then, McKesson hired 140 former QVC agents and will continue to hire throughout the next several months, absorbing displaced workers from QVC. McKesson currently employs approximately 300 customer service representatives.
McKesson is a fast-growing, four-year-old business that provides centralized physician scheduling, physician and employee referrals, patient portal support, pre-registration, and data conversion to patients on behalf of physician offices nationwide. The business currently serves 72 practices representing more than 900 doctors. The operation is currently expanding to include prescription refills services and expects to add clinician-driven case management in the months ahead.
To learn about job opportunities, visit McKesson.com
---
Major Employer, Teleperformance to Remain in Port St. Lucie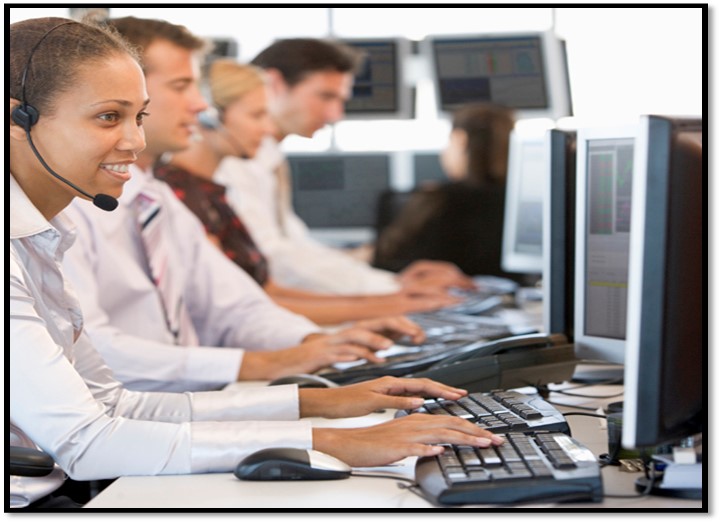 The City of Port St. Lucie was motivated to perform, and perform they did. One of their largest private sector employers, Teleperformance, a global outsourced customer experience provider, had outgrown their location and needed a larger facility as they prepared to expand from 800 to 1,100 employees. For over a year, the Economic Development Council of St. Lucie County (EDC) and the City of Port St. Lucie have been working in partnership with Teleperformance and their developer EMD Holdings, to identify a suitable site for expansion. On June 13, a milestone was achieved as they closed on the sale of the former Liberty Medical Building at 10400 South US Highway 1. Teleperformance will not only remain in Port St. Lucie, they will be hiring an additional 300 employees, creating a significant positive economic impact that will be felt in the city as well as St. Lucie County and the Treasure Coast region.
"This process started in April 2015," explained EMD Holding's CEO Jim McCarthy who worked very closely with the EDC on the acquisition process. "It was a priority for us to find a suitable facility that would allow Teleperformance to grow their employment base in Port St. Lucie. We are so grateful to Teleperformance, EDC President Pete Tesch and the rest of the EDC for their patience, professionalism and hard work making this happen."
Teleperformance reported that Port St. Lucie is a very beneficial location for their business. The company had wanted to expand in the area for a number of years and this site created the opportunity for growth and satisfied an urgent need for more capacity. Had they not been able to identify an appropriate location in Port St. Lucie Teleperformance may have been forced to consider neighboring areas.
The combined support of the EDC, city officials and the developer helped to not only secure the jobs of existing employees, but also created job opportunities, especially for those who had lost their jobs when the QVC call center closed its Port St. Lucie facility in March of 2016.
Teleperformance expects to move to its new location in August and is currently in the process of hiring. Weekly training classes may allow some new employees to start within a few weeks of being extended a job offer. The company is hiring entry level to experienced certified agents with wage rates up to $18 per hour.
"Teleperformance is grateful to so many individuals in Port St. Lucie for helping ensure the continued growth and success of our business in this area," said Terry Casey, Teleperformance U.S.A. Managing Director. "Port St. Lucie has been a terrific home to Teleperformance and we plan to be here for years to come. We are proud of the hard working, dedicated individuals we currently employ at our site, and we look forward to welcoming all of the new faces who will join our Teleperformance family in the coming months."
Teleperformance also expressed gratitude to the City of Port St. Lucie for the embracing attitude of the community and the cooperation it received from the government. They believe Port St. Lucie fosters strong family values and community ties while boasting all the amenities and business opportunities of a larger city.
"Retaining Teleperformance is another shining example of the good things that are happening in our City. It is an encouraging example of our local economy being grown through the success and expansion of an existing business" said Port St. Lucie Mayor Greg Oravec. "It continues a potentially transformative economic development trend, started by the expansion of our local hospitals, healthcare industry, and Expert Shutters, and I believe additional wins are within reach. The experts at Forbes and Bloomberg named Port St. Lucie one of the top places in the nation for job and economic growth; and with more hard work and partners like Teleperformance, EMD and the EDC, we will continue to prove them right."
About Teleperformance
Teleperformance, the worldwide leader in outsourced omnichannel customer experience management, serves companies around the world with customer care, technical support, customer acquisition and debt collection programs. In 2015, it reported consolidated revenue of $3.7 billion.
Teleperformance operates 147,000 computerized workstations, with close to 190,000 employees across 311 contact centers in 65 countries, serving more than 160 markets. It manages programs in 75 languages and dialects on behalf of major international companies operating in a wide variety of industries. Teleperformance operates 33 sites across the U.S. with around 25,000 employees. For more information: www.teleperformance.com.
---
Indian River Biodiesel
Indian River Biodiesel is expanding from their original location in Indiantown and are building their second biodiesel facility in the state. They are leasing the old Egan packinghouse at the Port of Fort Pierce. The company collects used vegetable oil, cleans it and refines it into a high-grade environmentally benign biodiesel (regulated by the Environmental Protection Agency/Internal Revenue Service and Florida Department of Environmental Protection). They have pioneered a process that has removed the high pressure, heat intensive, high-energy demand elements traditionally associated with making biodiesel.
Indian River Biodiesel received a Letter of Intent from St. Lucie County to provide economic development business incentives to demonstrate their support for the company's decision to locate a new manufacturing facility in St. Lucie County. The company intends to hire 47 full-time workers by year three, at a minimum average hourly wage of $16.69, and make a capital investment of $2.5 million for equipment and the remodeling of the existing building.
In return, the County will provide the company with an Ad Valorem Tax Exemption over a 6-year period on a declining basis of approximately $78,300 and a Job Growth Investment Grant in the amount of $70,500 payable over a 5-year period.
Upgrade to the facility located at 1103 N. 2nd Street in Fort Pierce is currently in plan review with the City of Fort Pierce.
As a result of EDC introductions to the Corporate Community Training Institute at Indian River State College (IRSC), Indian River Biodiesel has had discussions with IRSC Advanced Technology, paving the way for collaboration on numerous elements ranging from new product development to branding and web design.
---
Rocla Concrete Ties, Inc.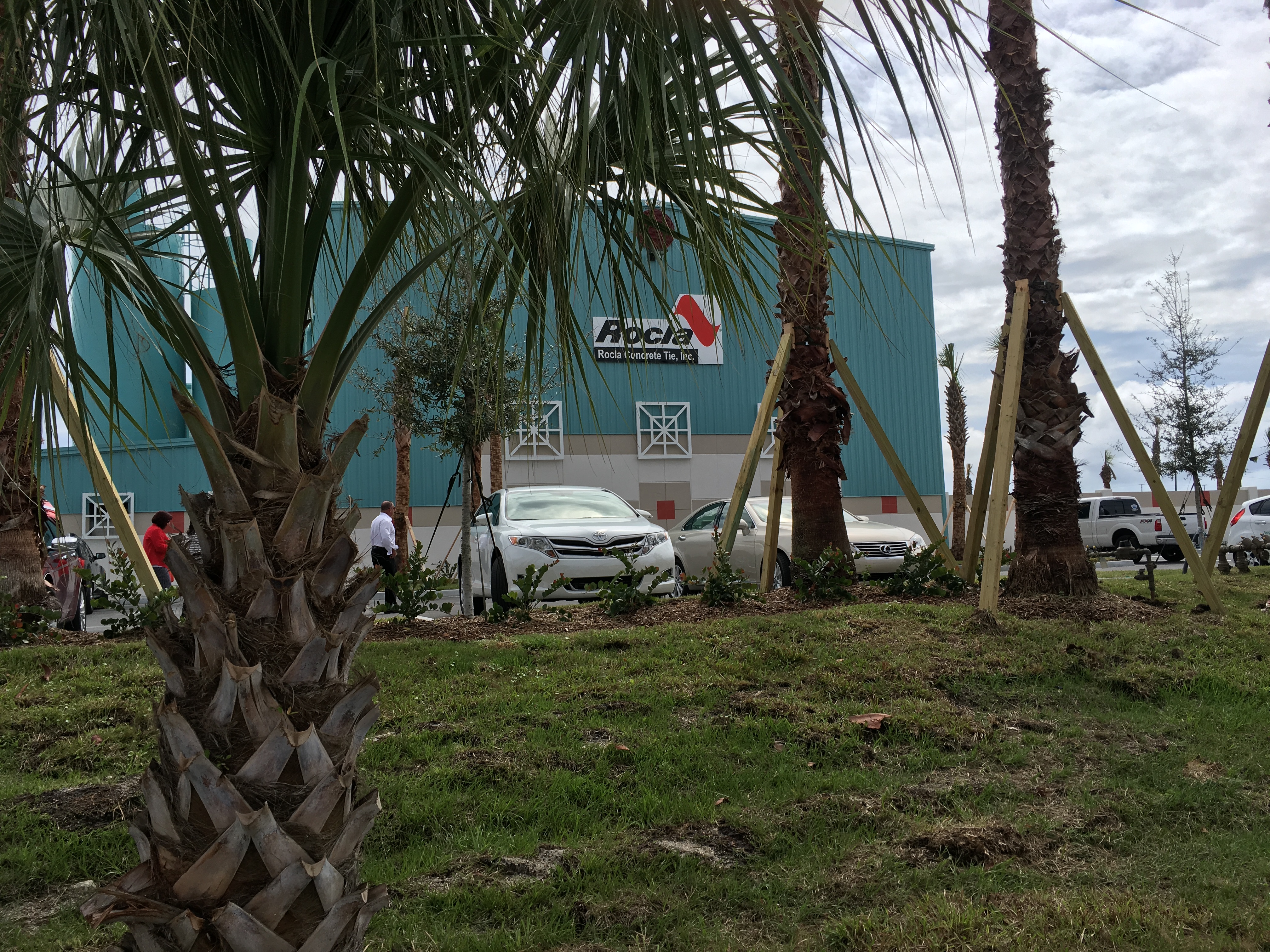 Rocla Concrete Ties, Inc. is the leading manufacturer of pre-stressed concrete ties in North America. Rocla manufactures high strength, uniform dimension concrete ties for Class 1 railroads, commuter passenger operations, transit authorities, contractors and industrial operations both domestically and internationally. On March 30, the company held their grand opening for a new manufacturing facility in Fort Pierce.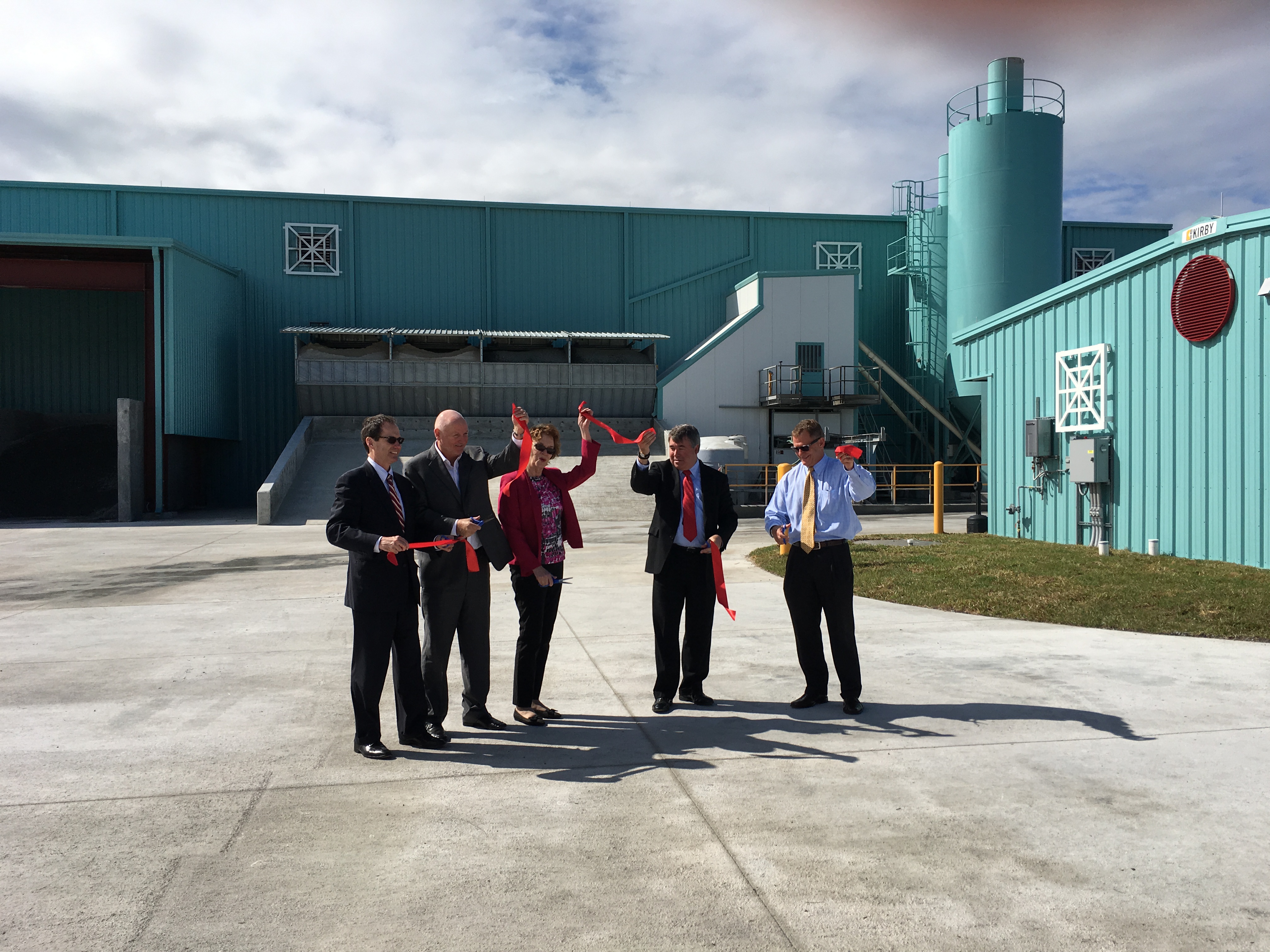 With plants located in Pueblo, Colorado; Amarillo, Texas; Bear, Delaware and Portsmouth, Ohio, Rocla is able to effectively serve most of the major regions in the U.S. With the establishment of the Fort Pierce plant, Rocla can now supply ties to the Southeast region, as well as export crossties to other parts of the world, using the ports along the Florida coast.
This new-to-Florida manufacturing plant ha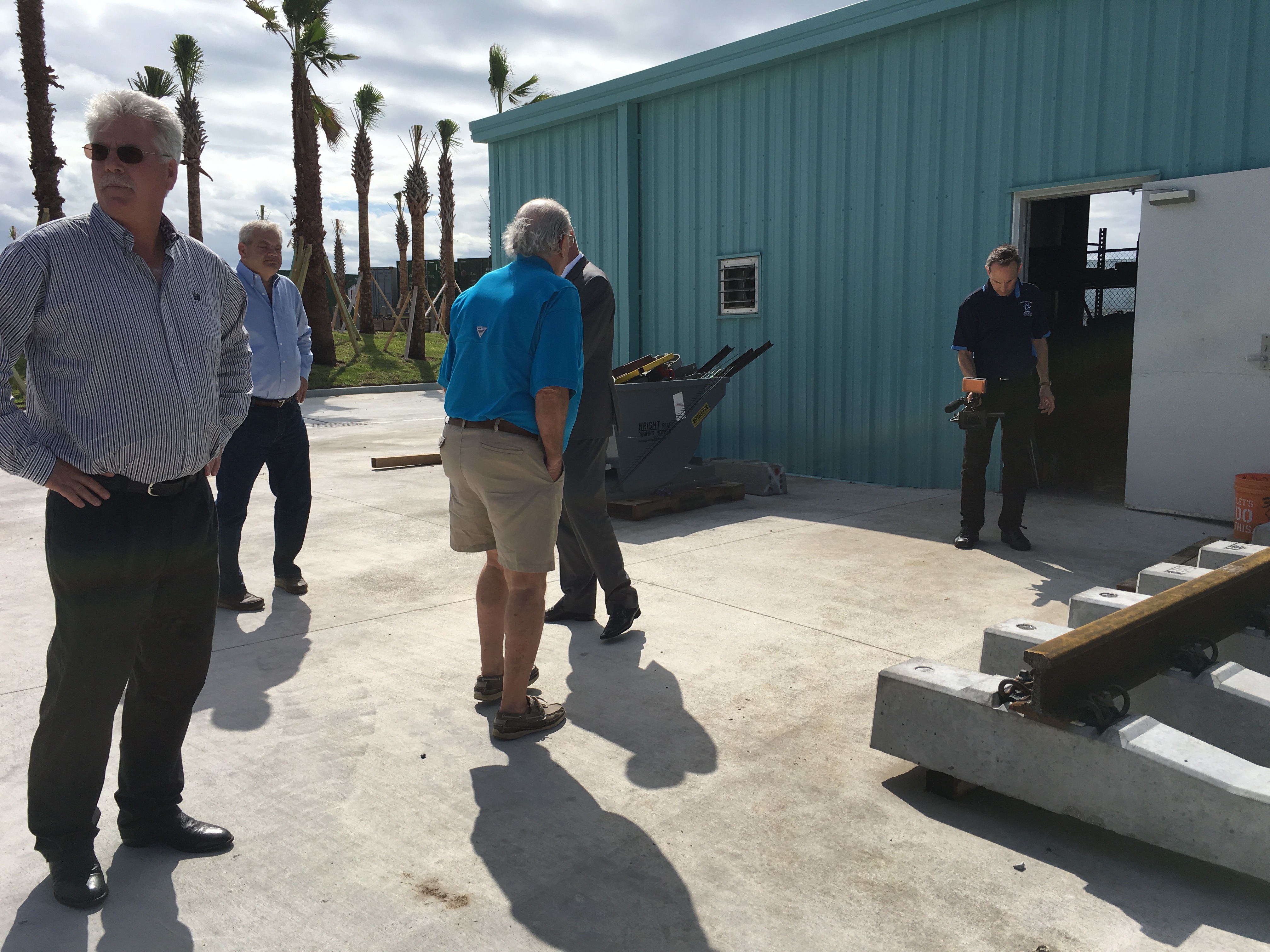 s created 40 new jobs along with a 5-person management team. St. Lucie County will benefit from their $10 million capital investment and the multiplier effect of these 45 new jobs and the dollars that will be spent in the community.
Rocla Concrete Ties is located at 600 S 3rd Street in Fort Pierce. For more information visit http://www.RoclaTie.com.
---
Treasure Coast Manufacturers' Association
The Treasure Coast Manufacturers' Association (TCMA) is about to launch!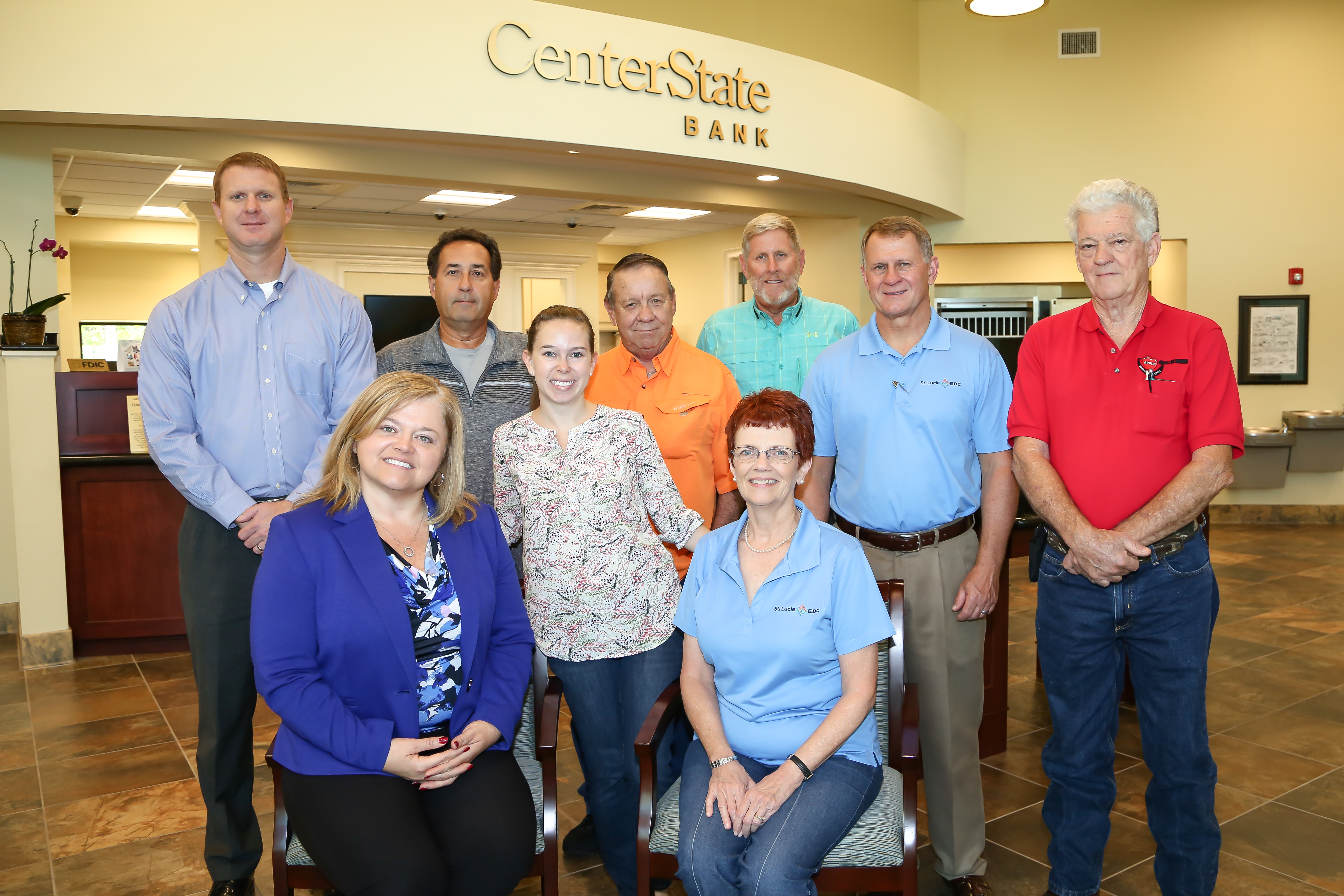 Late in 2015, Tammy Roncaglione and Jarrod Trefelnor of CenterState Bank, along with EDC's Pete Tesch, met with local manufacturers to discuss the formation of an organization whose mission would be to promote the collective interests of manufacturers, distribution centers and other wholesale operations.
After several meetings with a core group of manufacturers, the TCMA was created to manage a local and regional manufacturers' trade association, advocating public policy and focusing on mutual areas of concern pertaining to the industry.
Officers include: President, Jerry Jacques, Advanced Machine & Tool; Vice President, Bill Wilcox, Phoenix Metal Products; Secretary, Pete Tesch, EDC and Treasurer, John Herring, A-1 Roof Trusses. Other founding members include Brooks Price, Phoenix Metal Products, and Jim Turner, Apple Machine & Supply. The EDC will provide administrative and programmatic support and professional staff to the organization.
TCMA benefits and services include, but are not limited to:
Workshops and seminars
Legislative and local government advocacy
Education and training
Coordination with the National Association of Manufacturers, Manufacturers Association of Florida and South Florida Manufacturers Association
Plant tours
Quarterly membership meetings and mixers
Monthly board meetings
Annual dues are determined by a tiered system of investment based on size of firm and number of employees.
The TCMA kick-off event is scheduled for Friday, August 12, 2016, 7:30-10:00 am, Pelican Yacht Club, Fort Pierce.
For more information or to become a member of the TCMA contact Candy Marlow at cmarlow@YourEDC.com or (772) 336-6252.
---
TPIMS, A Selected Center for National Cancer Institute NExT Program

Torrey Pines Institute for Molecular Studies (TPIMS) announced today that the non-profit institute has been selected as a Specialized Center in the Chemical Biology Consortium in the Experimental Therapeutics (NExT) Program, centered at the Frederick National Laboratory for Cancer Research.
The Frederick National Lab, sponsored by the National Cancer Institute, is managing the expansion of the Chemical Biology Consortium to 22 sites around the country with world-class expertise in high-throughput screening, structural biology, medicinal chemistry, compound profiling, cancer cell biology, and animal models for oncology. TPIMS is participating in the consortium via a research subcontract from Leidos Biomedical Research, Inc., prime contractor for the national lab.
The Chemical Biology Consortium is the discovery engine for the NCI Experimental Therapeutics (NExT) Program and works to advance clinical practice and bring improved therapies to patients with cancer by supporting the most promising new drug discovery and development projects. The NExT program accepts applications with exceptional science with a clear path to the clinic or potential benefit to patients.
Over the past 25 years, TPIMS has developed multiple compound libraries containing approximately 10 million small molecule compounds and billions of peptides, peptidomimetics, and cyclic peptides. TPIMS has also developed the technologies that allow rapid screening of these libraries in any assay. This technology formed the basis for the Florida Drug Discovery Acceleration Program (FLDDAP), which began in July 2013 with support from the state of Florida. The FLDDAP has initiated collaborations at 15 universities and institutes with 49 principal researchers throughout Florida. The goal of every program is to generate lead compounds with therapeutic potential to treat human, animal, or agricultural diseases. To date, the FLDDAP has contributed to the receipt of >$10M in federally-funded research awards and six joint patents have been filed. The NExT Program will continue to build upon the success of the FLDDAP by providing access to TPIMS libraries and technologies to cancer researchers throughout the United States.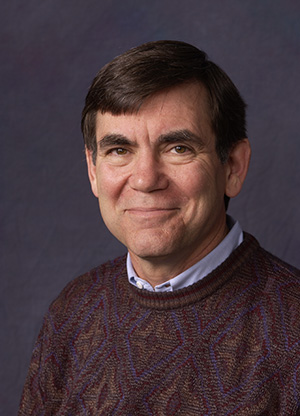 Richard A. Houghten, President, Founder, and CEO of TPIMS said, "We are very pleased and excited to have been selected as a Specialized Center within the NCI Experimental Therapeutics (NExT) Program. This will allow TPIMS to expand our technologies and seek to advance therapies to treat cancer. TPIMS is honored to be the first institute within the state of Florida to have been selected for this distinction."
Port St. Lucie Mayor Greg Oravec stated, "To have Torrey Pines selected into the NExT Program is a testament to the quality of its work and also to the importance of sustained effort and collaboration. In many ways, the Torrey Pines' involvement in NExT is a progression of its innovative approach to making its chemical libraries available to research partners throughout Florida via the Florida Drug Discovery Acceleration Program, which was funded thanks to State support. Obviously, the city, the state and now the nation are counting on the Torrey Pines Institute to continue its award winning science and its collaborative approach in order to improve cancer outcomes."
Torrey Pines Institute for Molecular Studies is a 501(c)(3) organization with research centers in Port St. Lucie, FL and San Diego, CA. Scientists conduct research in fields associated with a wide variety of major medical conditions, including multiple sclerosis, cancer, heart disease, Types I and II diabetes, macular degeneration, pain management, Alzheimer's, inflammatory disorders, AIDS and other infectious diseases, regenerative medicine, obesity, transplant rejection, muscle wasting syndrome, rheumatoid arthritis and new methods for drug discovery.
The Frederick National Laboratory for Cancer Research is a federal national laboratory sponsored by the National Cancer Institute (NCI), part of the U.S. National Institutes of Health (NIH). The Frederick National Lab collaborates with academic, commercial, nonprofit, and government researchers to address urgent problems in biomedical research consistent with NCI's mission. The national lab is government-owned, contractor-operated facility with Leidos Biomedical Research Inc., as its prime contractor.
---
Scholarship Awarded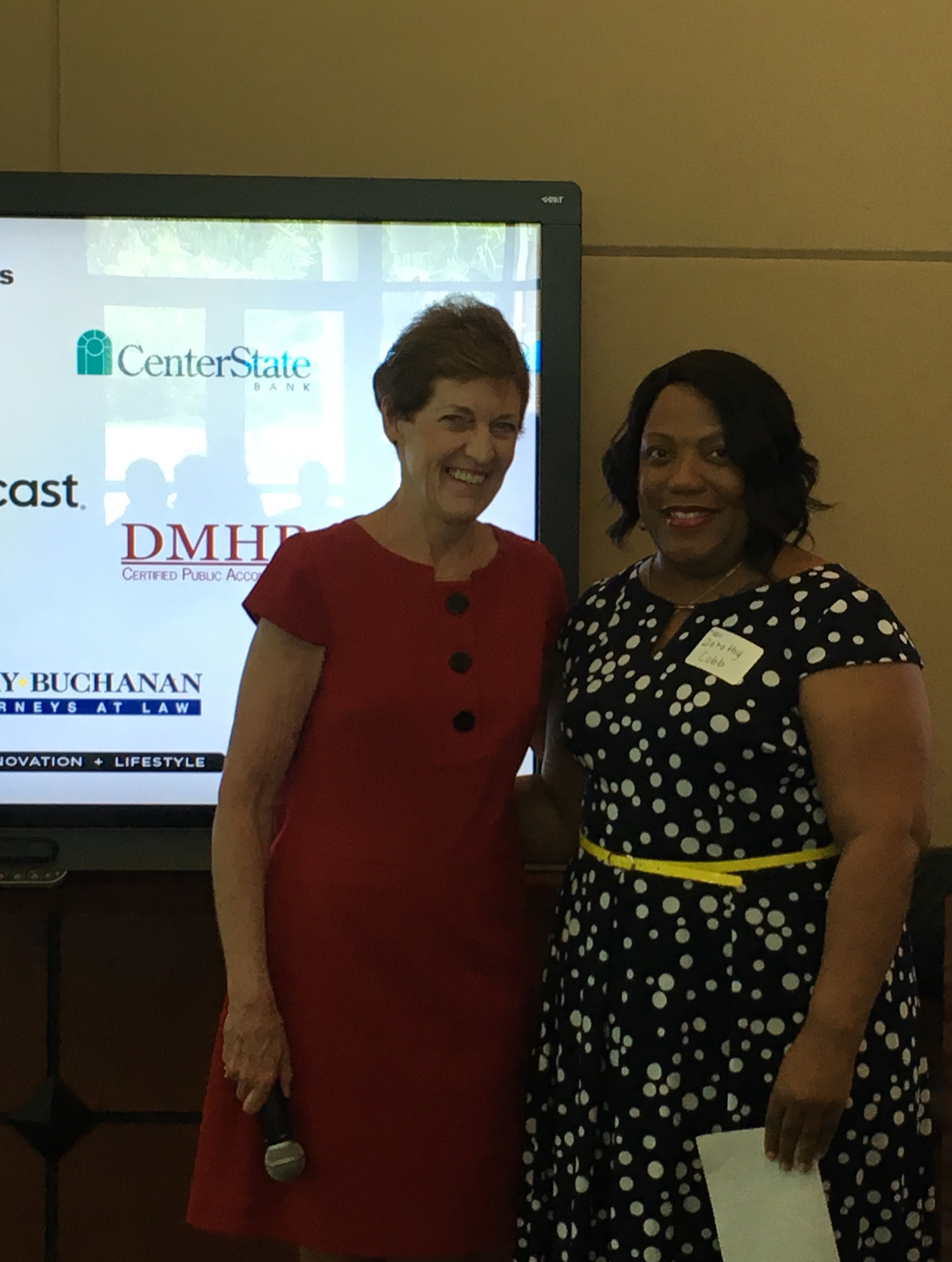 Dorothy Cobb, 2016 recipient of the John Donahue/EDC Scholarship Fund, was recognized at the June 7, 2016 Economic Development Council of St. Lucie County (EDC) investors lunch meeting. Ms. Cobb spoke briefly about her background and the circumstances that led her to enroll at Indian River State College (IRSC). She was greeted by a standing ovation of 125 business leaders for her determination and accomplishments. Pictured: Ann Decker, Executive Director IRSC Foundation (L) with Dorothy Cobb (R).

Ms. Cobb is currently enrolled in the IRSC Health Information Technology program and plans to graduate in three years. After graduation, Ms. Cobb hopes to work at a medical facility and eventually open her own business.
The EDC established the scholarship fund in 2009 in memory of the late John Donahue, former Chairman of EDC's Board of Directors, in honor of John's contributions to our area. A recipient(s) is granted the scholarship award annually, which can be applied toward tuition or books. Total amount awarded is 5% of overall endowment.
Eligibility: Student must have received a Florida Standard High School Diploma, be enrolled at IRSC majoring in Biological Sciences or Health with a 3.0 or higher GPA. The student must submit a minimum of three letters of recommendation to the IRSC Foundation. The student must use the funds the year following high school graduation or apply for reinstatement within three years of high school graduation.
IRSC Selection and Loan Committee forward top applicants to the president of the EDC for selection.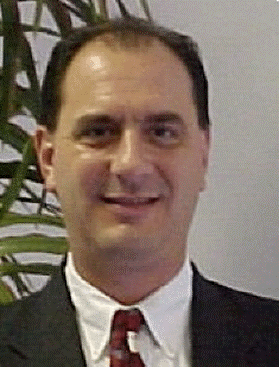 The late John Donahue was Director of Civil Engineering and Survey Services for Boyle Engineering. He received his BS in Civil Engineering from Pennsylvania State University. John was Vice President of the Florida Engineering Society, Board member of the Treasure Coast Research & Education Development Authority, member of the Florida Engineering Foundation, past Chairman of the Board of the EDC, past Vice President of Governmental Affairs of the St. Lucie County Chamber of Commerce, past Vice Chair of the Port St. Lucie Code Enforcement Board, 1997 Young Engineer of the Year and 2004 Engineer of the Year with the Florida Engineering Society. John passed away on November 16, 2008 at the age of 45.
If you would like to make a donation toward this scholarship, please make checks payable to: IRSC Foundation for the John Donahue/EDC Scholarship Fund
Economic Development Council of St. Lucie County, PO Box 881358, Port St. Lucie, FL 34988
New Investors
Board of Advisor Level
GL Homes
Leadership Level
Harbor Community Bank (upgrade)
Keiser University (upgrade)
Walton Development & Management
Corporate Level
Fort Pierce Jai Alai & Poker
Jungle Cinematic
Nature's Keeper
Paul Jacquin & Sons (upgrade)
REMETRONIX
Security 101
Weston Coatings Group
Ambassador Level
Advanced Machine & Tool
Boys & Girls Clubs of St. Lucie County
Crossroads Environmental Consultants
ELB Consulting, Inc.
Engineering Design & Construction
GFA International
Hi-Tide Sales
KEYES Commercial
Lucido & Associates
My Treasure Coast Online
Phoenix Metal Products
RE/MAX Masterpiece Realty
Solutions Partnership
South Florida Surf
Tentlogix
The Milcor Group
Traditional Realty Co.

Fund Development
To help implement the strategic plan and to expand EDC's reach and presence in St. Lucie County, the EDC has hired consultant Staci Storms, former EDC board member and former Chief Executive Officer of the Realtors of St. Lucie County. Staci's primary role is business and fund development and retention efforts, increasing investor engagement and assisting the EDC in securing additional funding to help promote job growth and strengthen the economy.
The St. Lucie County Board of County Commissioners has shown its confidence in the EDC by offering a $50,000 "challenge grant" to the organization. The EDC must achieve its annual fundraising goal of raising $50,000 in new revenue during fiscal year October 2015-September 2016 to be matched by the County.
The EDC is pleased to have the support of the community and other municipalities, and has raised more than $95,000 new revenue through June 30, 2016.
---
Summer Intern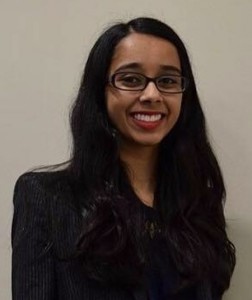 EDC is pleased to introduce Priya Shah, interning during the summer months. Priya, a student at University of Florida, Class of 2018, is engaged as a research assistant updating data for the St. Lucie County Profile and the Research and Education Coalition's life sciences yearbook.
---
Economic Development Goal Study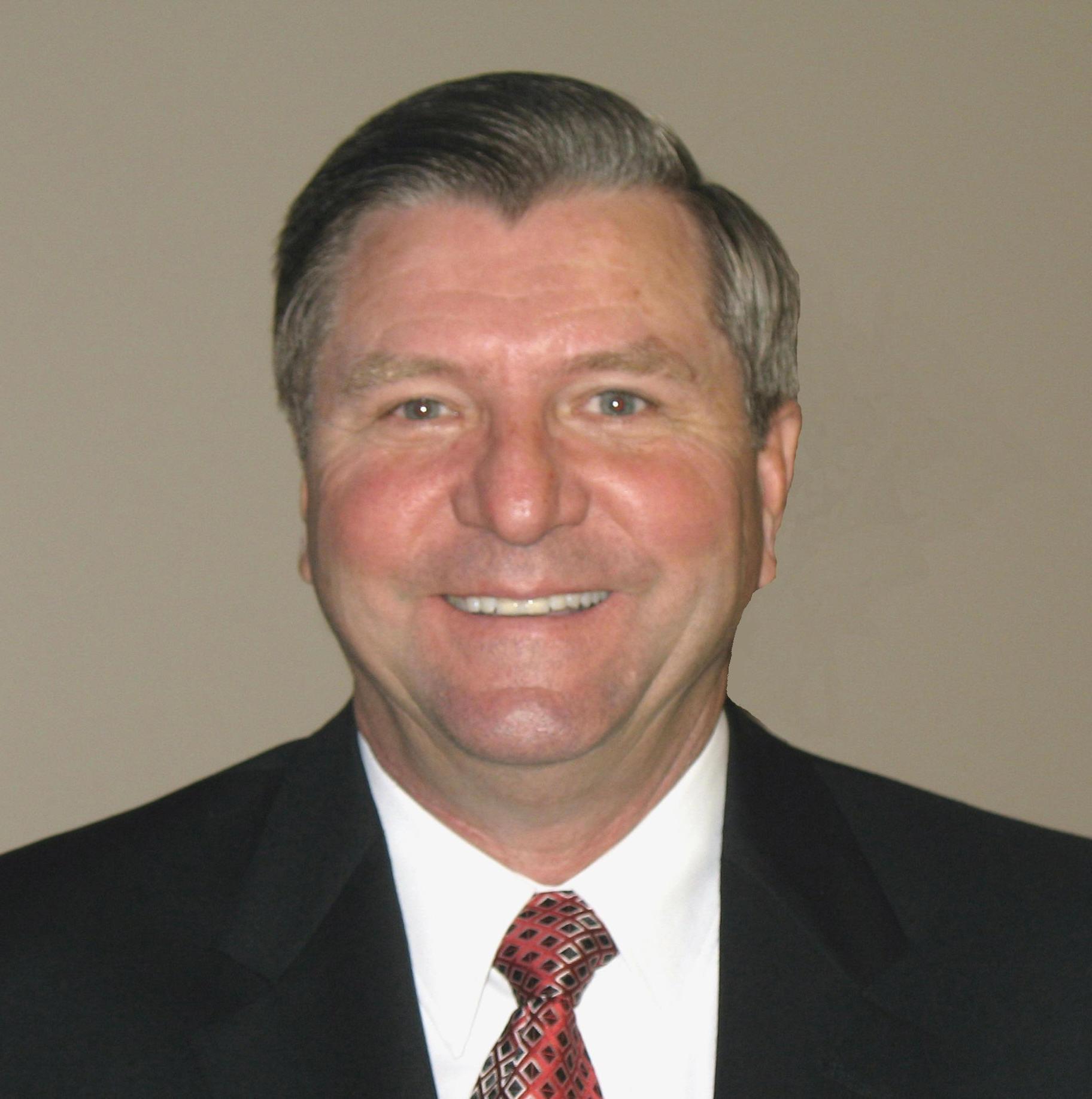 In March 2016, as part of the EDC's popular and informative Investor and Lecture Series luncheons, keynote speaker Bill Fruth, President of POLICOM Corporation, provided thought-provoking data on the challenges and opportunities St. Lucie County must better understand to achieve the economic growth and potential that will lift up the whole community. Fruth stressed the importance of creating a strategic economic plan that relies less on population growth and more on bringing in employers that can create high-wage, high-quality jobs.

This is exactly the strategy the EDC is pursuing. In 2015, the EDC developed a strategic plan that is now being rolled out. The plan focuses on six key themes that serve as the goals to target industry sectors and create economic, business, job and capital investment that have the greatest likelihood of generating high-wage, high-value jobs.
Click to view Mr. Fruth's presentation.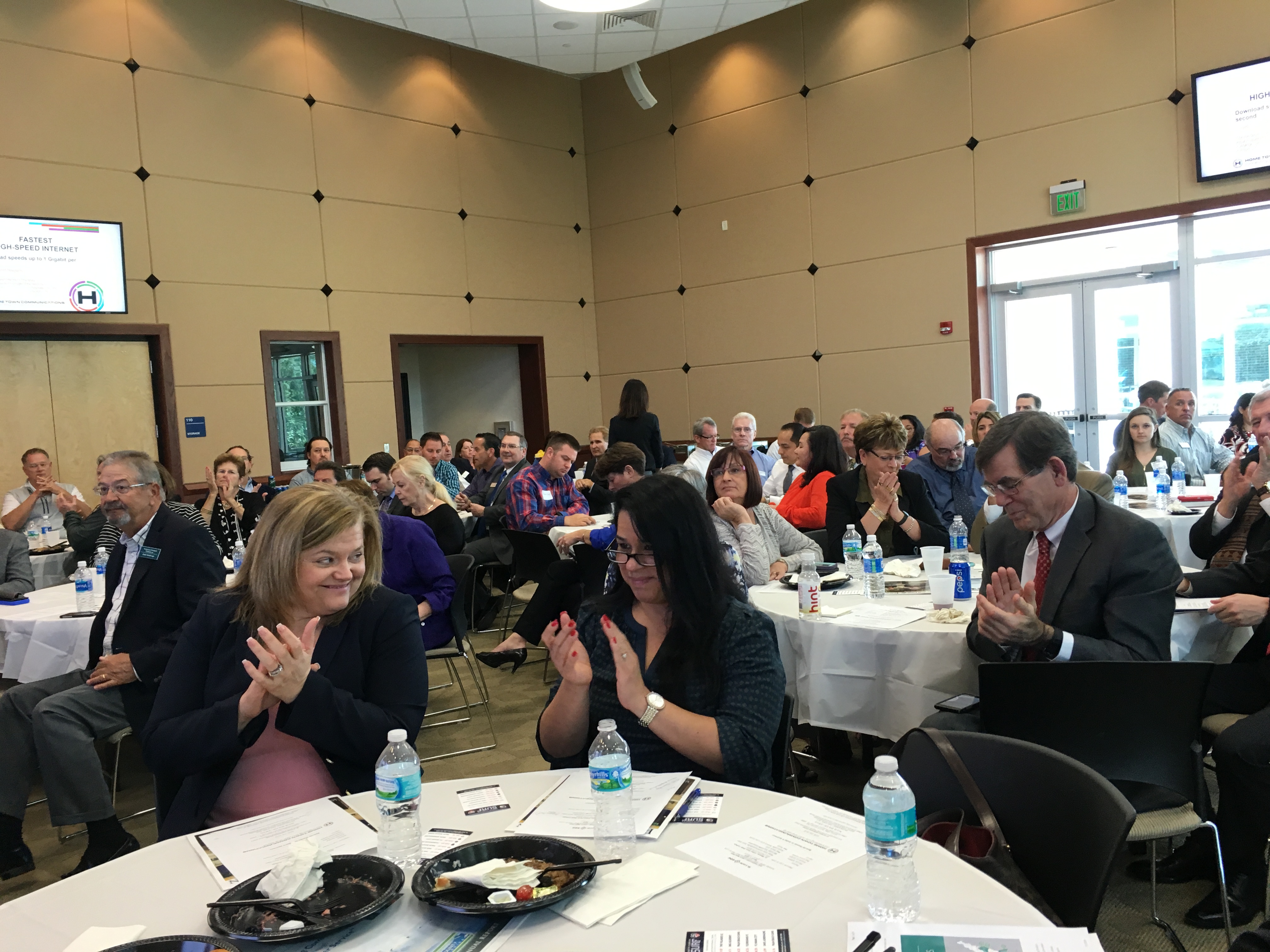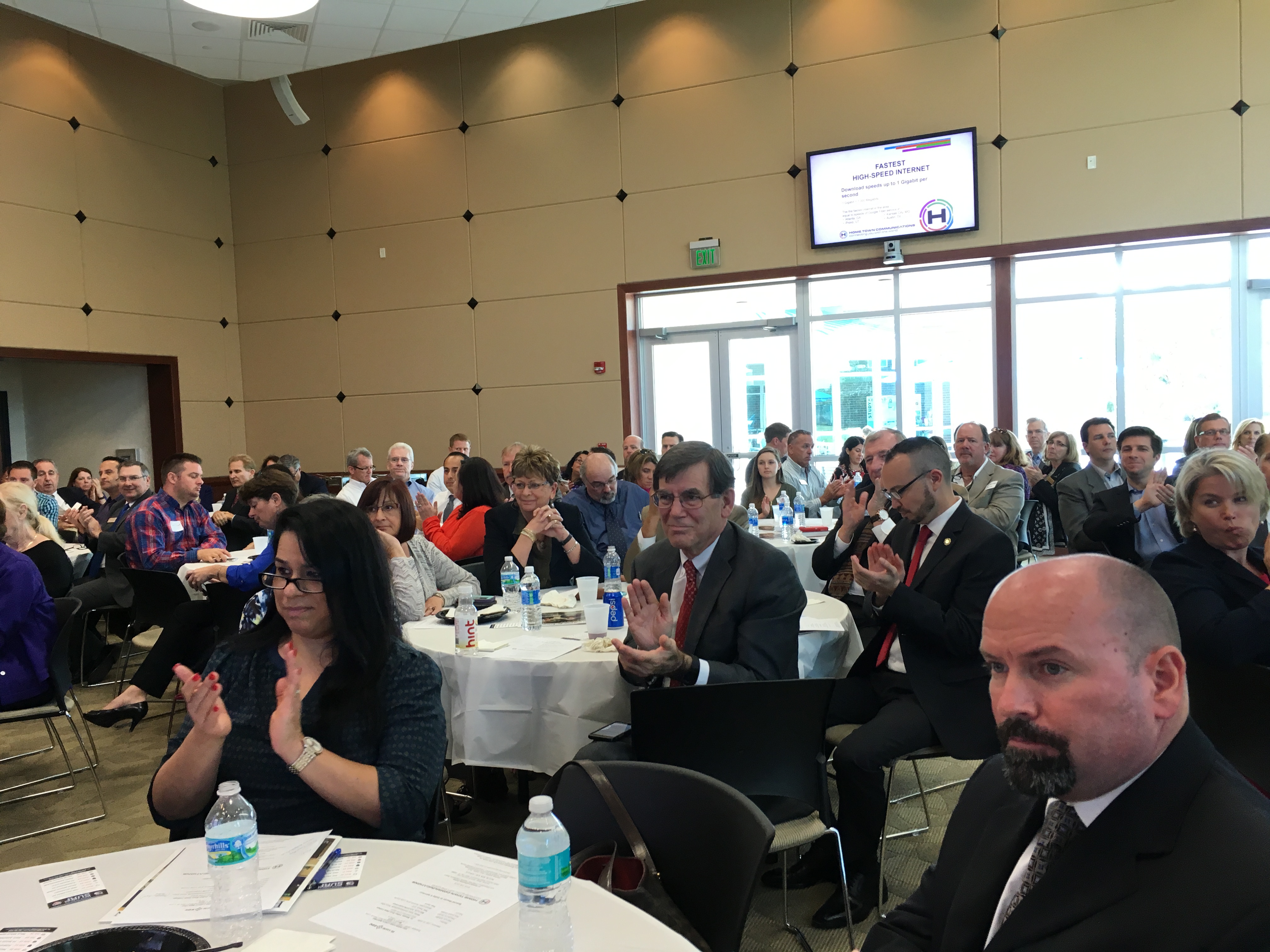 ---
Half-cent Infrastructure Surtax Referendum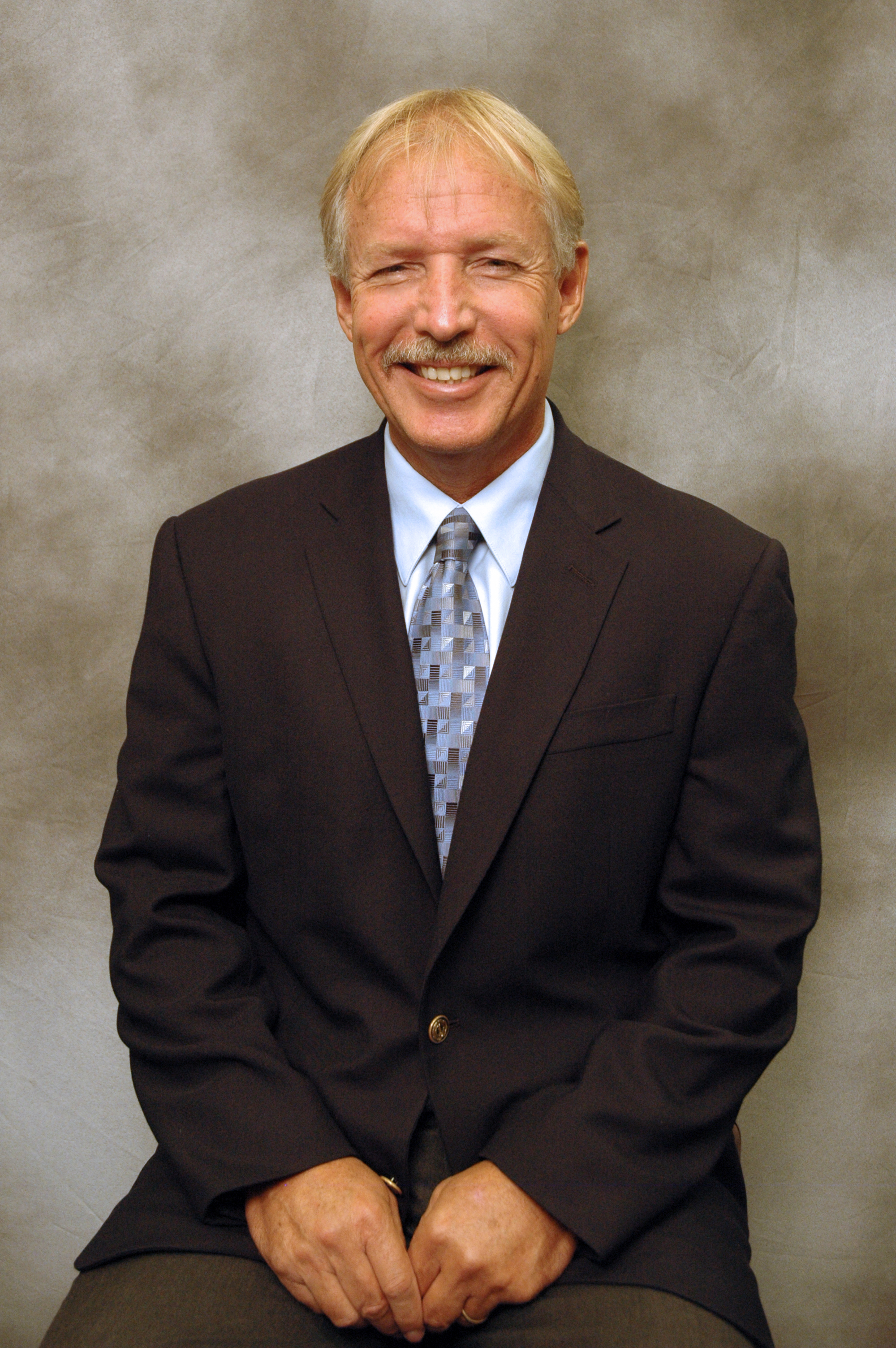 At the EDC Investor luncheon on May 3, keynote speaker St. Lucie County Administrator Howard Tipton presented the county's half-cent infrastructure surtax proposal.

Tipton began by stating the problem and national concern of aging infrastructure. Mr. Tipton explained that Florida relies more heavily on local government to fund public services than almost all other states. He stated that the infrastructure surtax was recommended to the Board by the Citizen's Budget Committee to address the $1.2 billion county-wide project backlog. The County Administrator presented the main points of the problem statement, including the decline in Ad Valorem revenue, projected increases in population, insufficient Gas Tax funding, the 75-year repaving schedule, and the water quality crisis. Staff demonstrated the projected sharp decrease in the balance of the budget stabilization fund from 2016 through 2020. Mr. Tipton said these reserves are unable to fund the gap in infrastructure needs and emphasized the major issues of concern that need to be addressed: water quality issues, backlogged repaving projects, negative impacts of septic tanks, and storm water and neighborhood retrofits.

Click to view Mr. Tipton's presentation, Bridging the Gap.

November 8, 2016: HALF-CENT LOCAL GOVERNMENT SURTAX referendum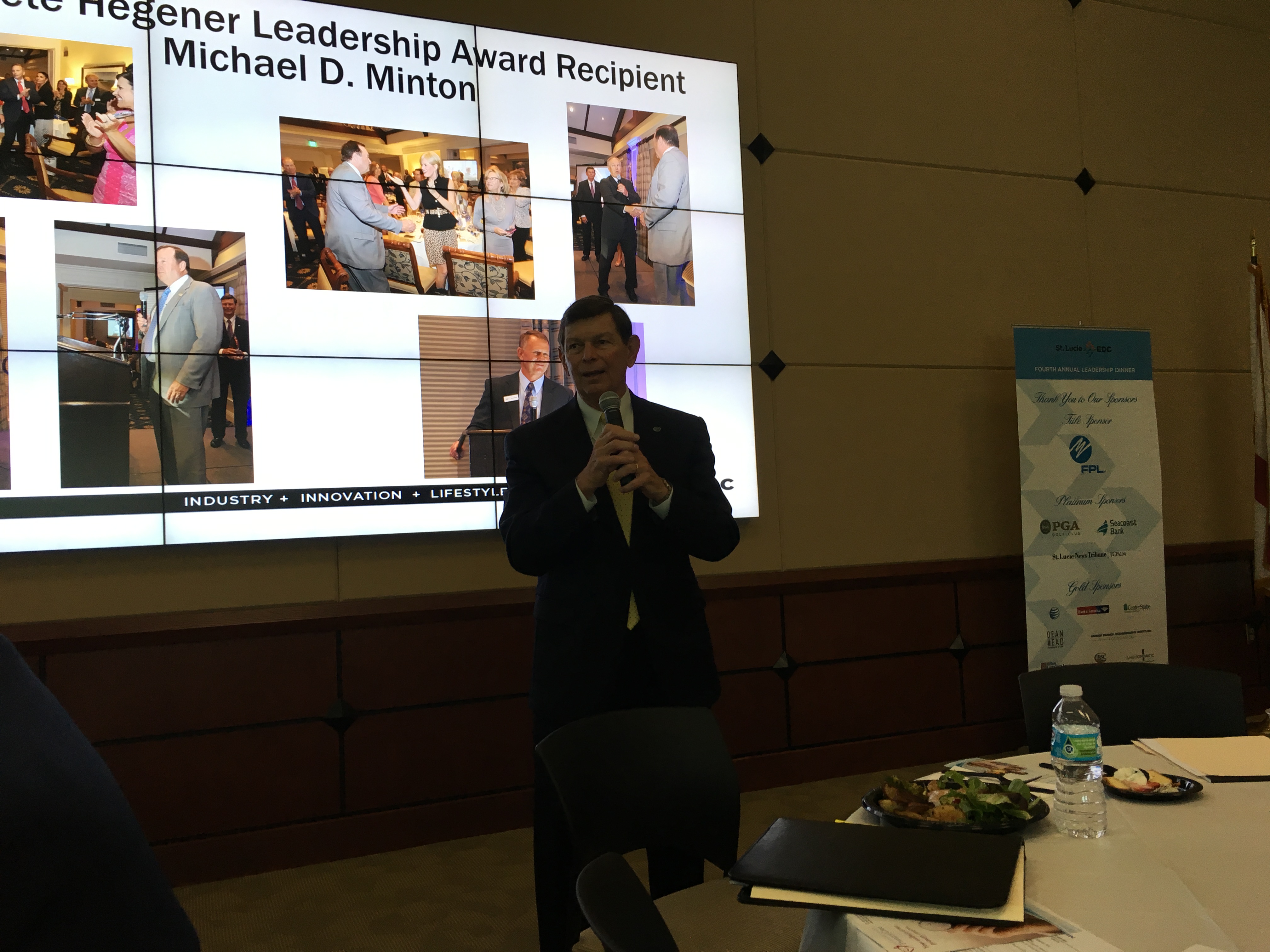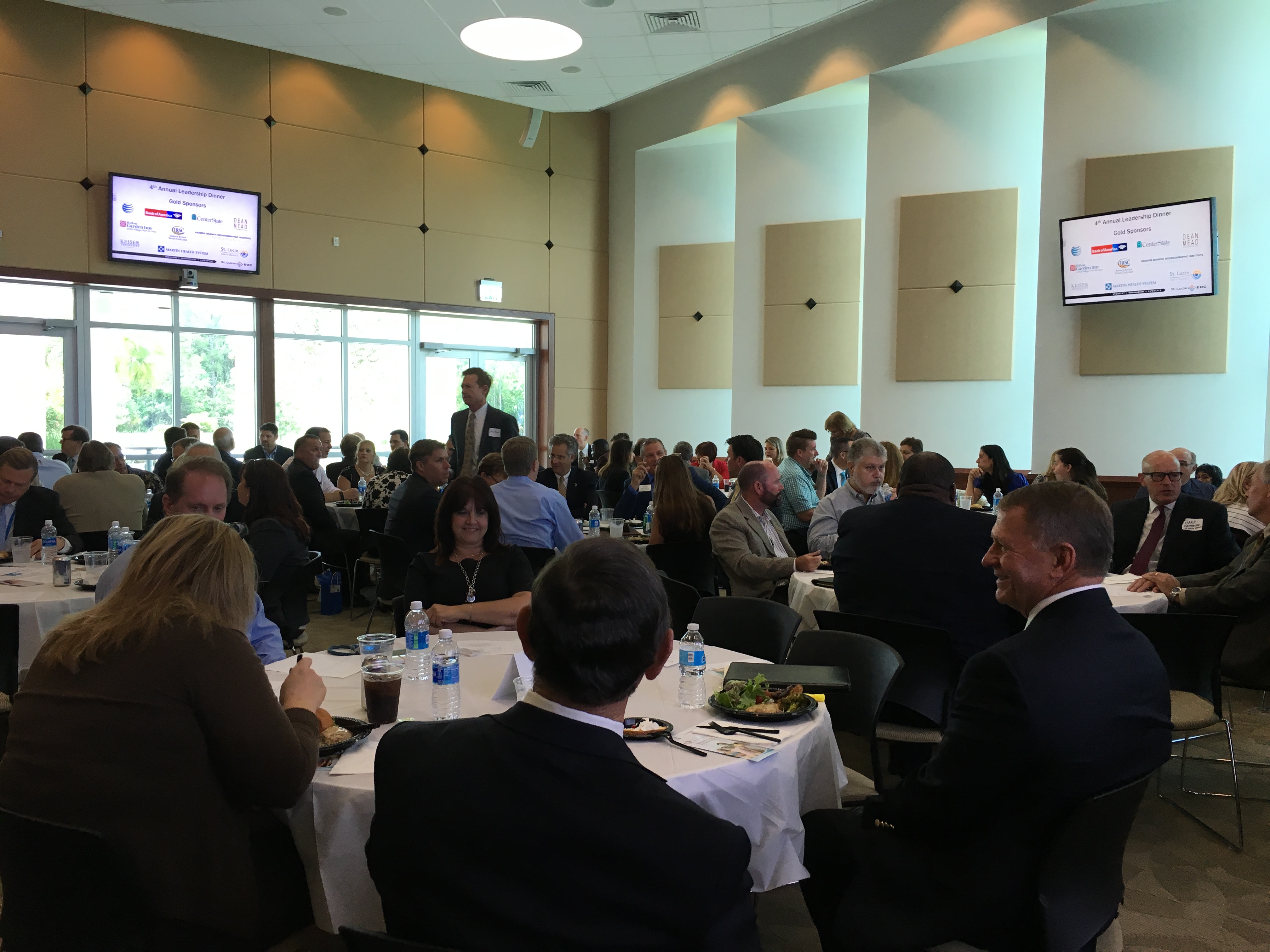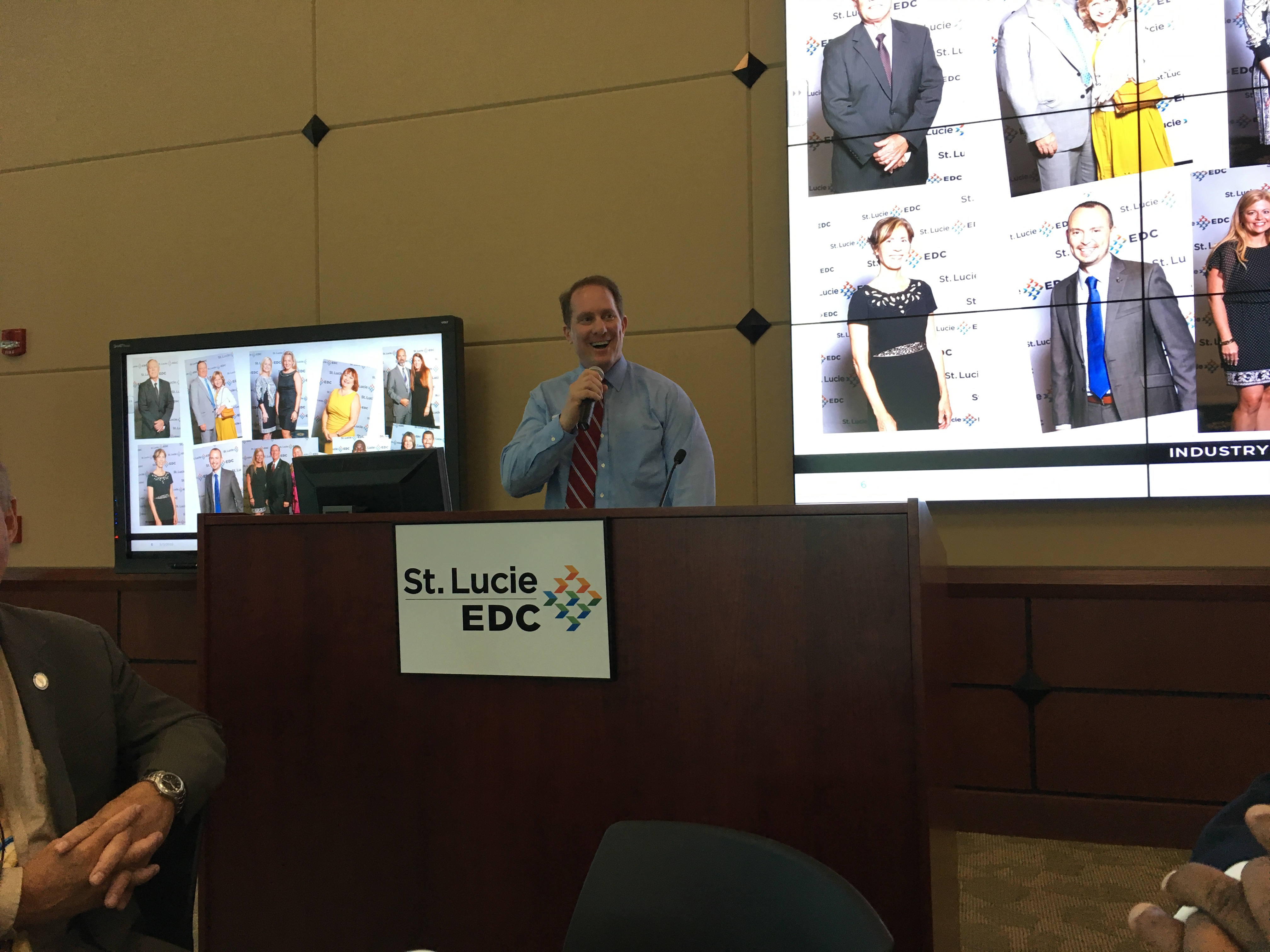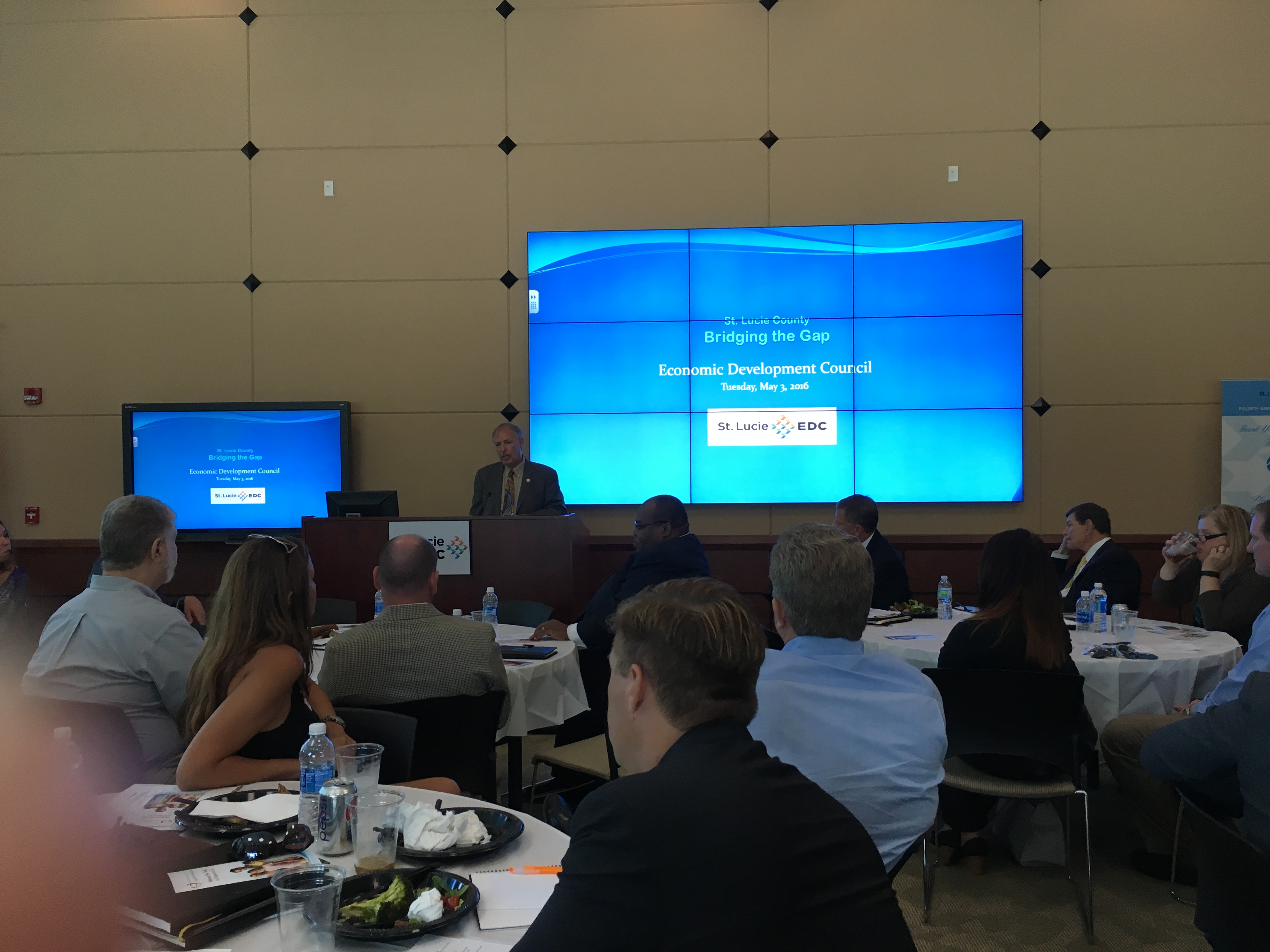 ---
Securing Florida's Future, Together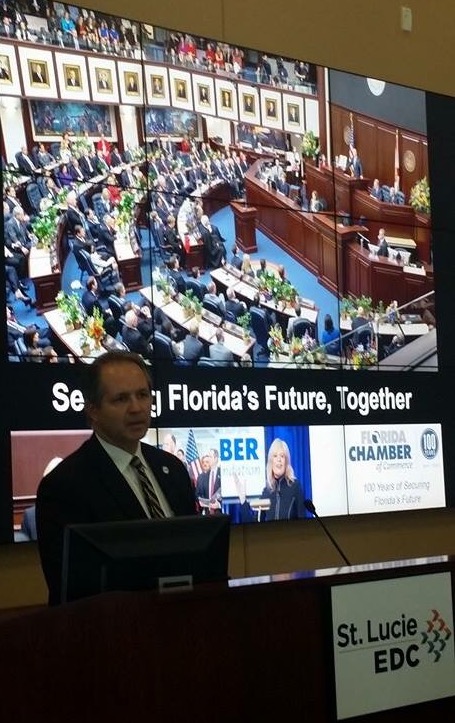 At the June 7, 2016, EDC Investor luncheon, keynote speaker Mark Wilson, President and CEO, Florida Chamber of Commerce discussed the importance of having measurable job creation objectives that everyone involved in economic development efforts – government, chambers, the EDC – can agree on. Job creation goals can be the "common north star" that everyone looks to so we can track where we are and where we're going. Mr. Wilson also stressed the importance of focusing on the youth of our community, specifically beginning with third graders. Doing so will help train young minds, thereby lifting the next generation out of poverty to achieve success in economic development. "If you want a more qualified workforce, start with third graders," Wilson remarked. "We need a more diversified economy with high wages and high skills. Florida needs to be known for more than our weather. The business community has to take leadership. If you invest in early education you will be creating talent right here in St. Lucie County."

Click to view Securing Florida's Future, Together.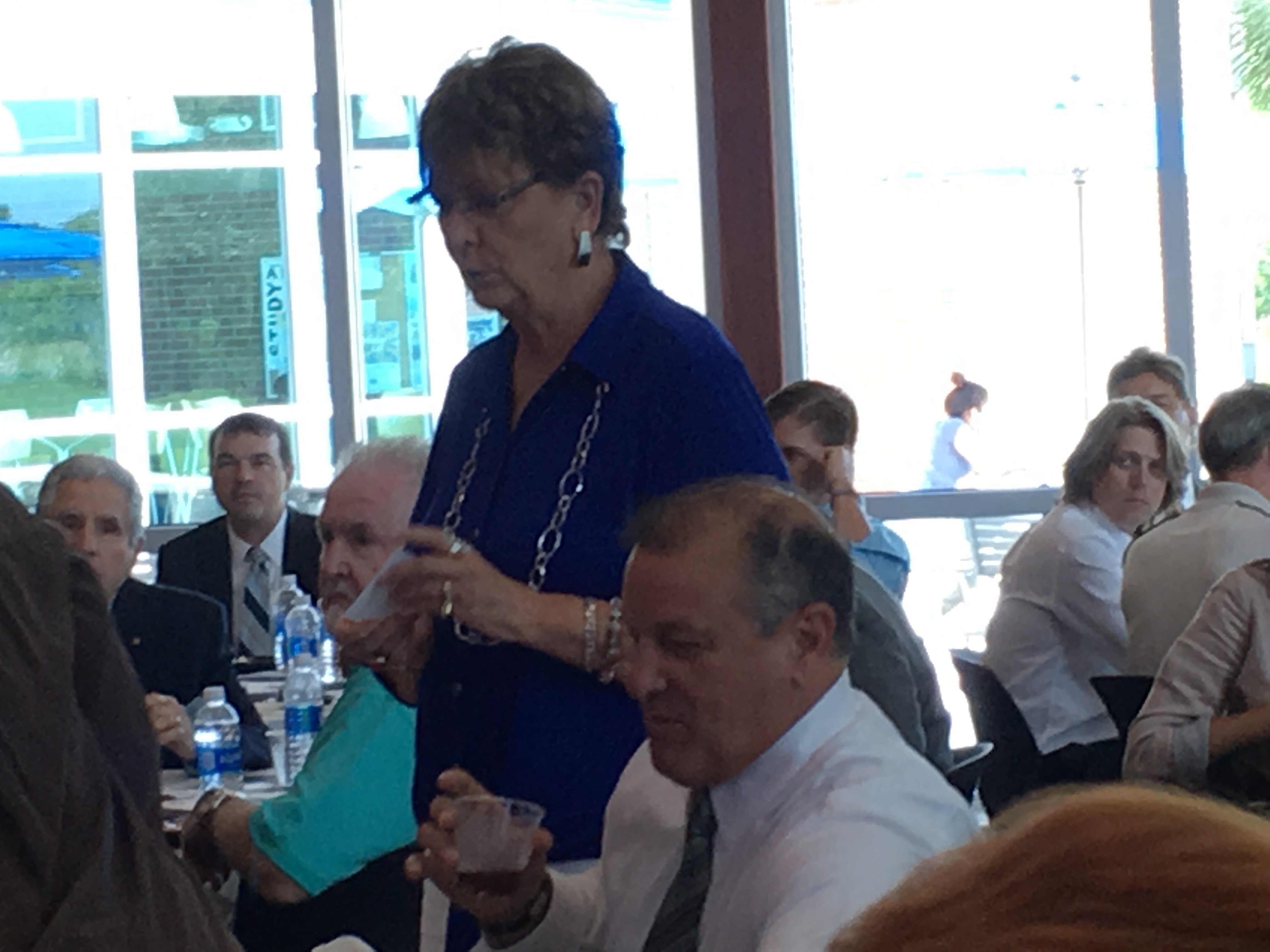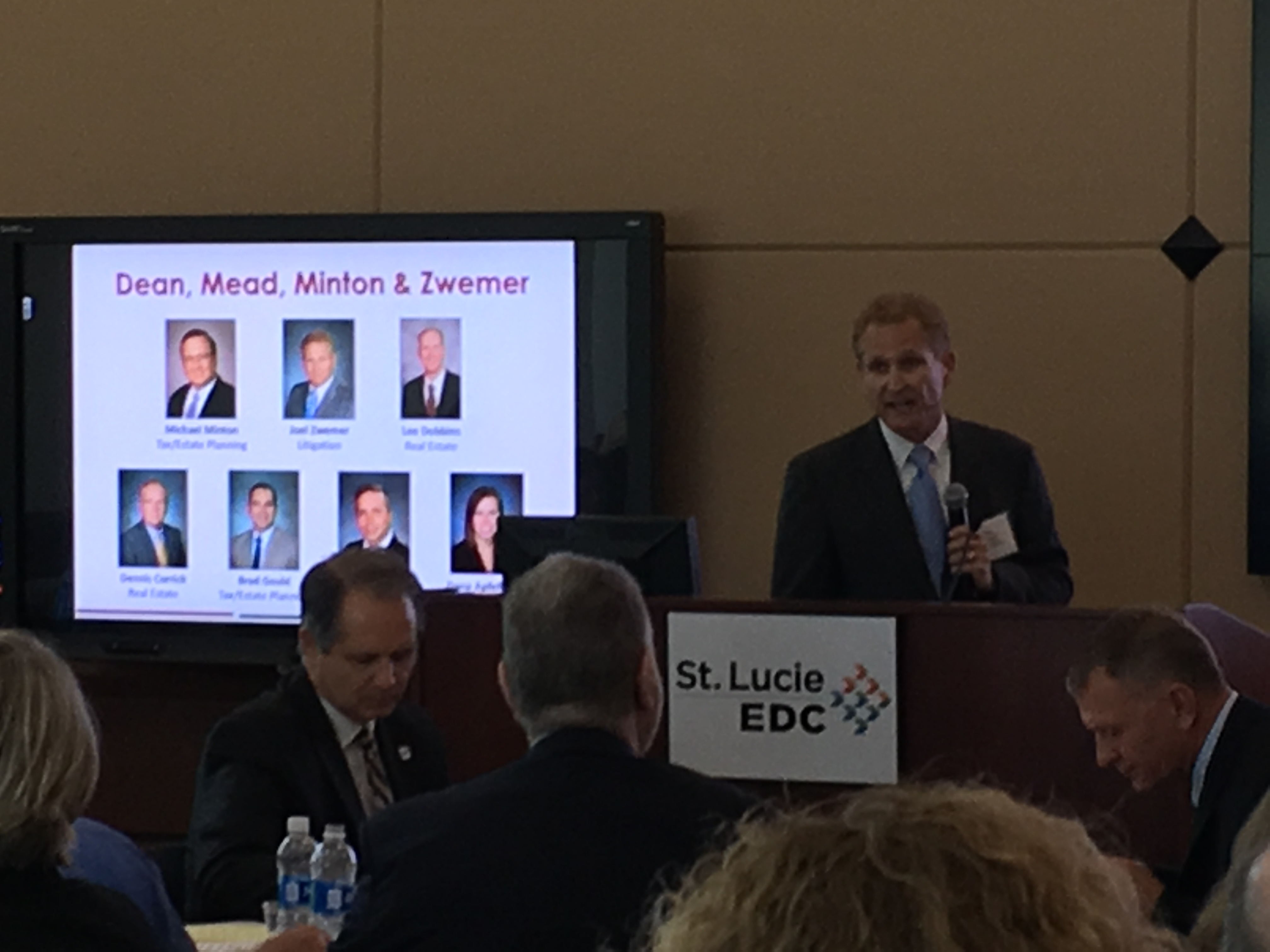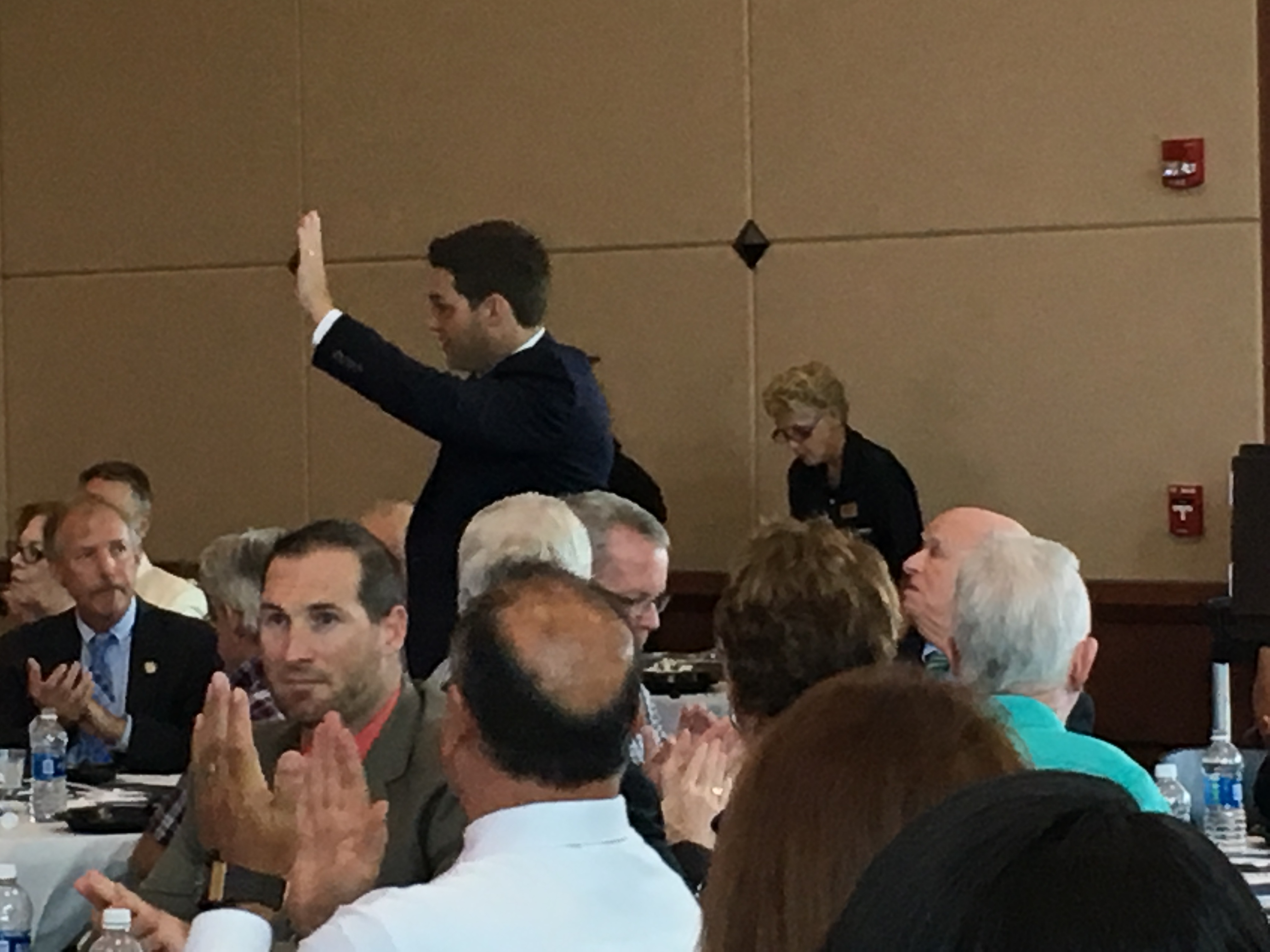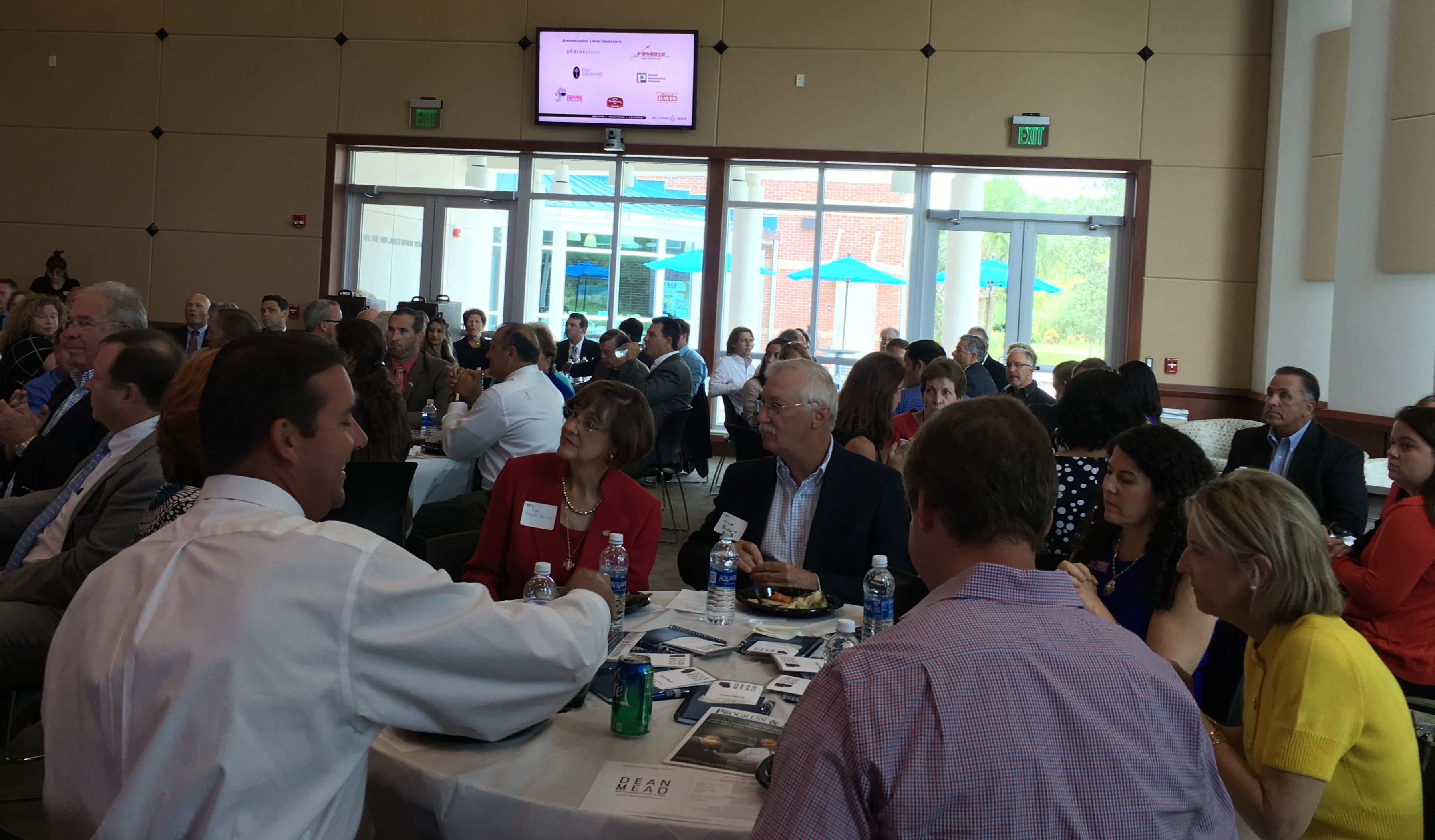 ---
Workforce Readiness
Availability of a skilled workforce is essential for successful economic growth in the region. Many employers are actively discussing expansion plans and are concerned about current employees' and job seekers' skills, experience and work ethic. The EDC's strategic plan has specific objectives for identify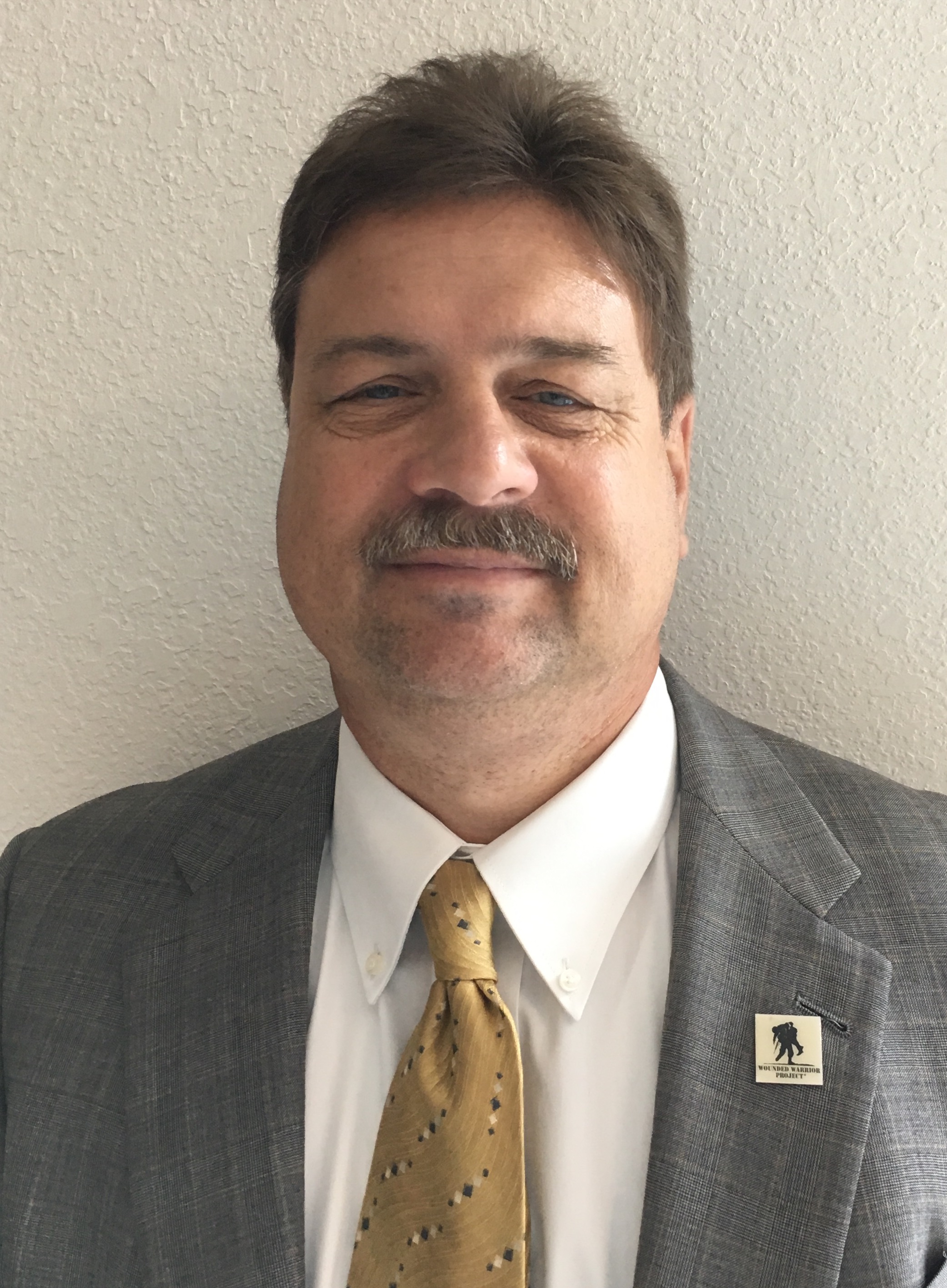 ing this issue and deploying corrective action. The Workforce Readiness and Education Taskforce, who began meeting in November 2015, will undertake this initiative; Rich Kolleda, Spherion agreed to Chair the taskforce.

While there is only directional or anecdotal evidence to support a perceived imbalance in the demand/supply of labor in the key industries of manufacturing, health care and construction, further investigation and study is warranted. The purpose of the study will be to quantify the issues area companies have recruiting qualified staff to fill open positions.
The EDC, working with its educational, workforce and industry partners, has selected Gehant and Associates of St. Petersburg, as a qualified consultant to analyze and conduct a regional labor demand and skills gap study of the Treasure Coast area (Indian River County, St. Lucie County, Martin County, Okeechobee County) in the following sectors: manufacturing, health care and skilled trades in the construction industry.
Gehant and Associates will identify solutions to widen the talent pool, address skills gaps and better prepare the Treasure Coast for future growth. By engaging leaders in key industry sectors, the first objective of the firm is to identify talent gaps in the Treasure Coast region then provide recommendations to address those gaps, in order to expand the pipeline and fill jobs with existing talent.
Gehant and Associates will provide technical assistance to the EDC to conduct the study. The study will consist of one-on-one interviews, an online survey, multiple focus groups and a final written report. Gehant and Associates will lead the study in cooperation with the EDC's taskforce, which will also be the leadership team.
Partners of the Workforce Readiness and Education Taskforce:
Terissa Aronson, St. Lucie County Chamber of Commerce
Michael Carbenia, St. Lucie Public Schools
Megan Davis, FAU's Harbor Branch Oceanographic Institute
Marcelo Dossantos, CareerSource Research Coast
Jose Farinos, Indian River State College
Jack Hopkins, Small Business Development Center
Rich Kolleda, Spherion
Leslie Kristof, Keiser University
Michele Miller, Marine Industries of the Treasure Coast
Tammy Roncaglione, CenterState Bank
Maddie Williams, Treasure Coast Builders Association
Meetings are held on the first Thursday of the month at 8:00 a.m. If you are interested in participating in this initiative, please contact the EDC at 772.336.6250.
---
Growth Development Team
In a joint effort with the St. Lucie County Chamber of Commerce, a newly organized group of private sector partners and non-profit organizations began meeting in April 2016 with representatives from local governments to discuss current processes involving permitting and regulatory procedures. The Growth Development Team will make recommendations to improve and streamline current practices that will expedite the experience for new and expanding businesses in the City of Port St. Lucie. Upcoming meetings will include representation from the City of Fort Pierce and St. Lucie County. Wes McCurry of Tradition Land Company will chair the Growth Development Team.
Growth Development Team participants include:
Terissa Aronson, St. Lucie County Chamber of Commerce
Bob Cenk, Treasure Coast Builders Association
Brad Currie, Engineering Design & Construction
Lee Dobbins, Dean, Mead, Minton & Zwemer
Rod Kennedy, Engineering Design & Construction
Wes McCurry, Tradition Land Company
Glenn Ryals, GL Homes
Pete Tesch, EDC of St. Lucie County
Maddie Williams, Treasure Coast Builders Association

EDC Unveils Video Series of St. Lucie County at Red Carpet Event
On June 16, 2016 investors of the Economic Development Council of St. Lucie County (EDC) were treated to a walk on the red carpet, photo opportunities and a video premiere at an after-hours event showcasing a series of videos promoting St. Lucie County. The unveiling was held at Indian River State College – Pruitt Campus in Port St. Lucie.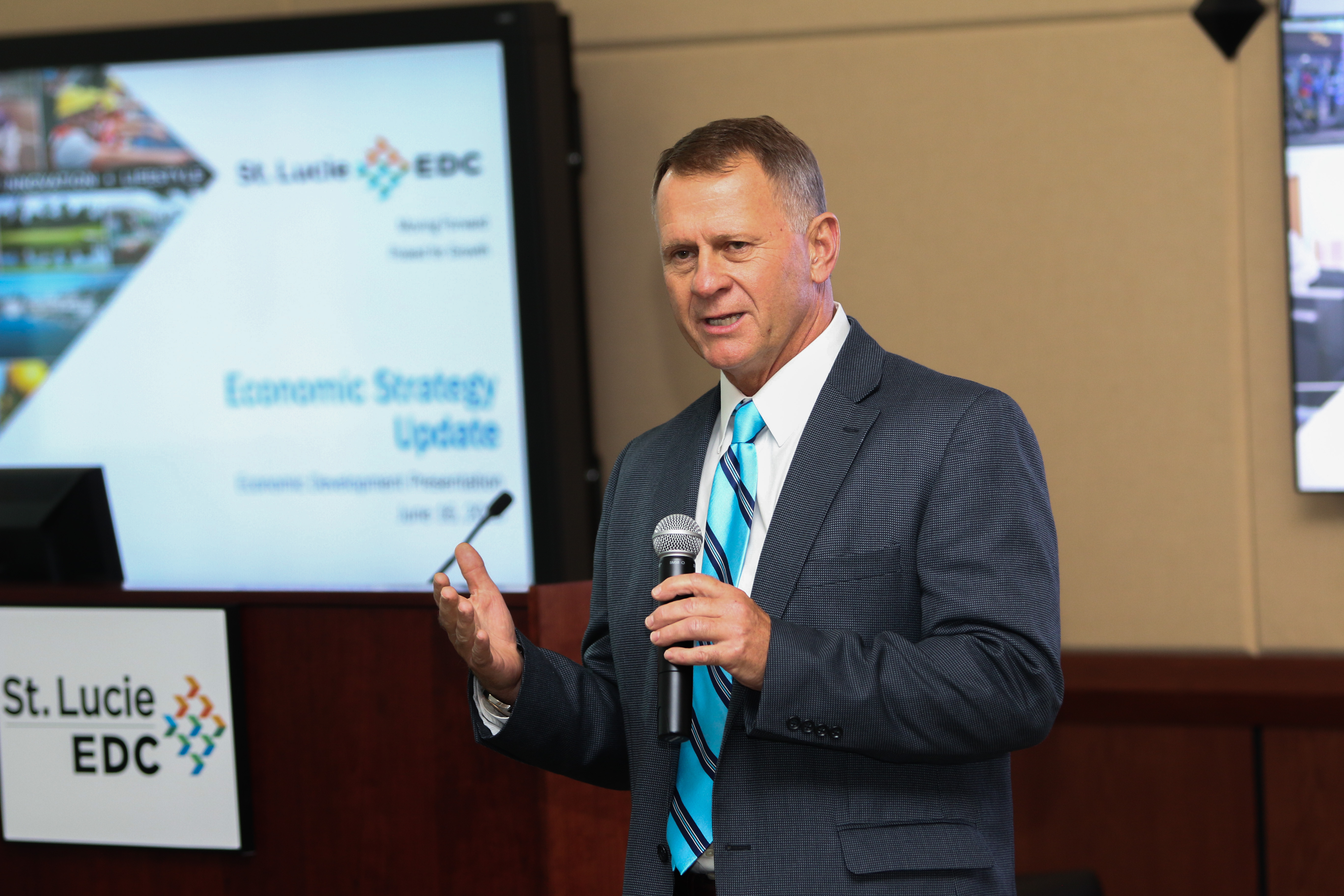 Pete Tesch, EDC President, gave a one year update on the EDC's Five-Year Strategic Plan (2015-2020). Other notables who participated included: Mark Satterlee, St. Lucie County Deputy Administrator; Daniel Holbrook, Port St. Lucie Assistant City Manager; Judy Ramella, President of the Realtors® of the Palm Beaches and St. Lucie and Charlotte Bireley, St. Lucie County Tourism Manager.

"As part of our Five-Year Strategic Plan, the EDC produced a series of five videos to further brand and market the County. The EDC is laser-focused on building our economy and creating high quality, high wage jobs," said Pete Tesch, president of the EDC. "These videos will be used to inspire and draw people to St. Lucie County." In addition to the videos, the EDC also showcased new marketing collateral that serves to strengthen their brand and draw employers to the county.

The videos cover a range of topics including:
an overview of St. Lucie County;
Treasure Coast International Airport & Business Park;
tourism;
commercial and residential real estate.
The videos can be viewed on the EDC's homepage www.youredc.com and Facebook.com/StLucieEDC. We invite you to upload these videos of St. Lucie County on your website and social media!

The videos were produced by Michael Stankoski of Jungle Cinematic through a partnership with the Realtors® of St. Lucie County, St. Lucie County Tourism, St. Lucie County Chamber of Commerce and The Firefly Group.
Click to view the Economic Development Strategic Plan Update.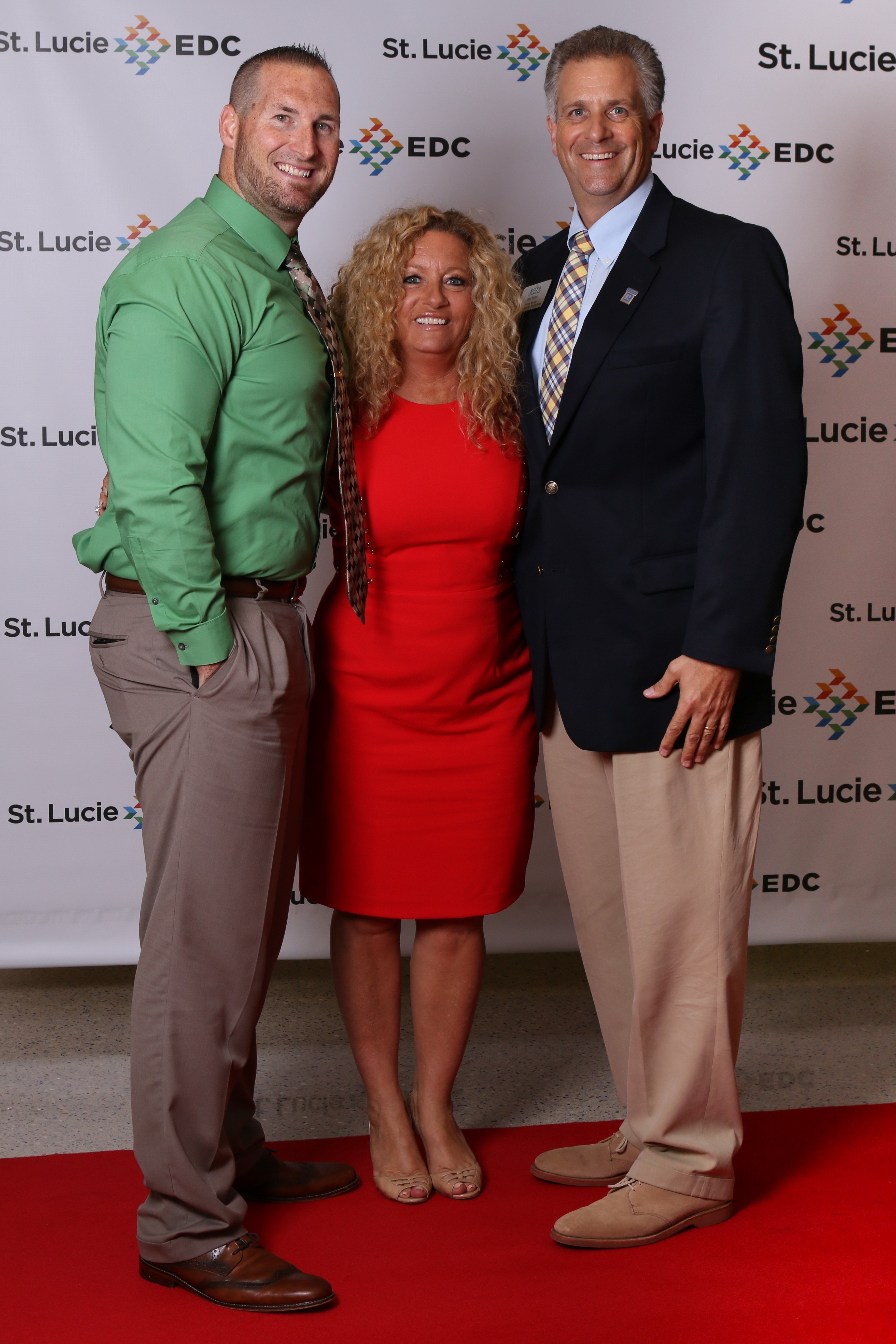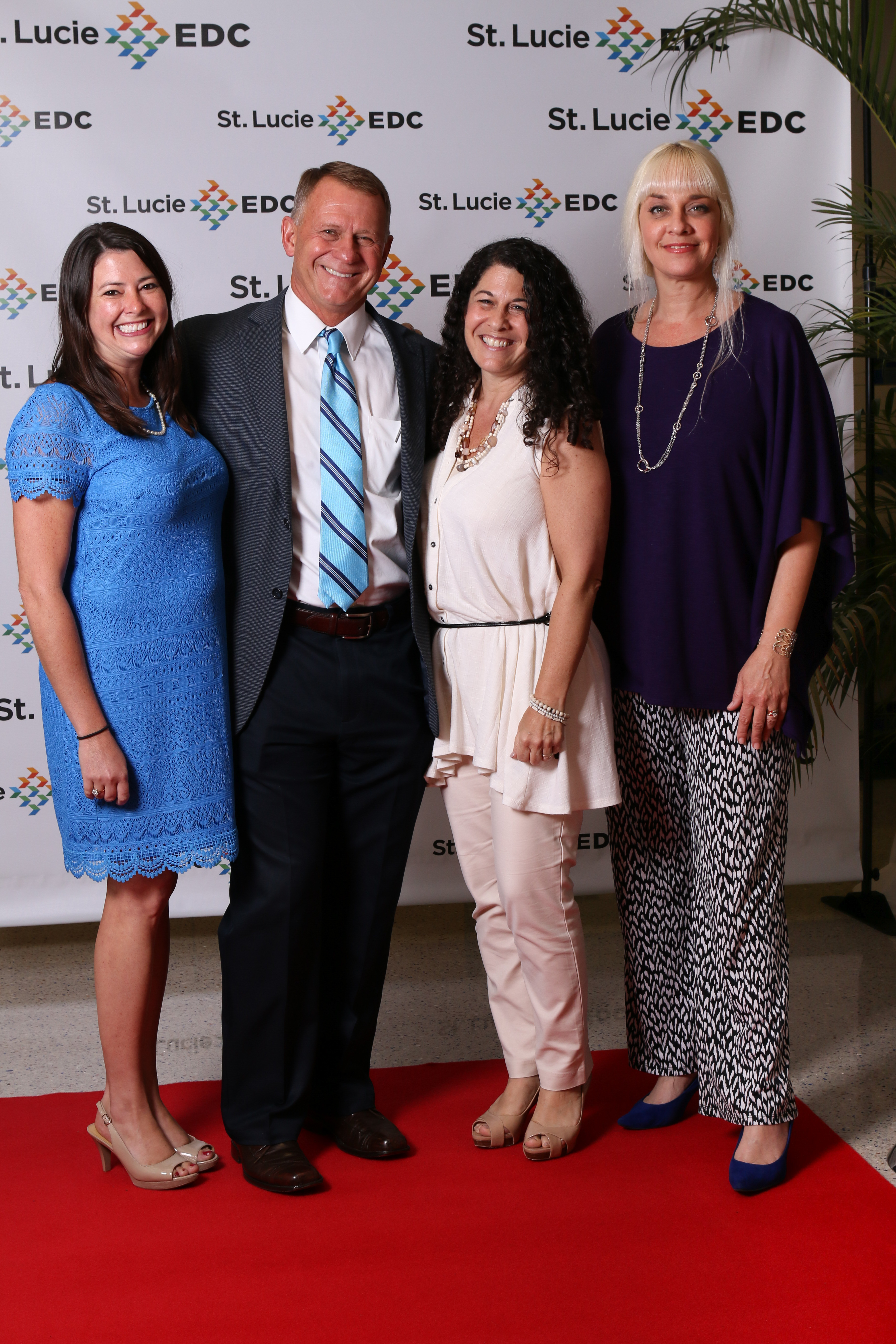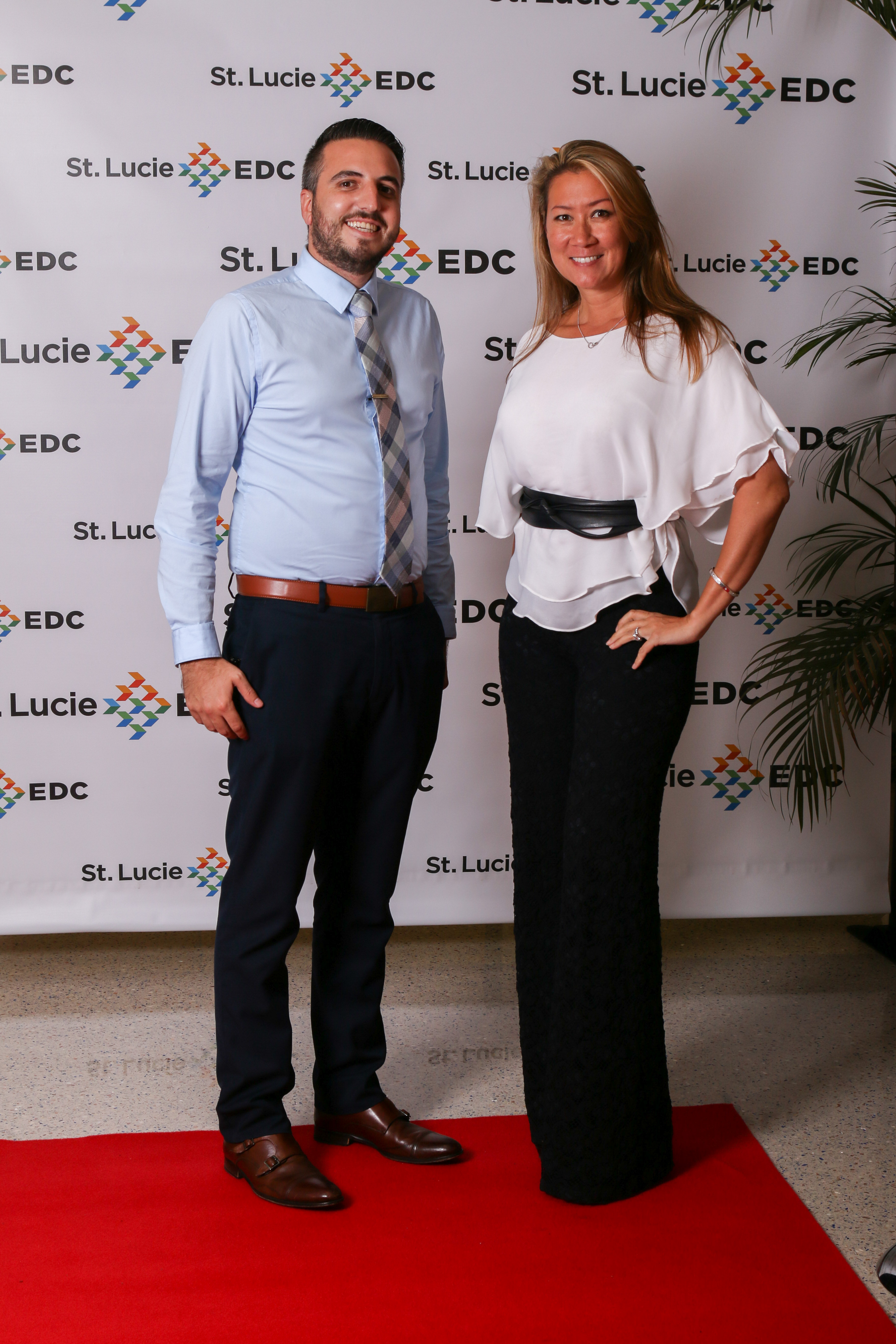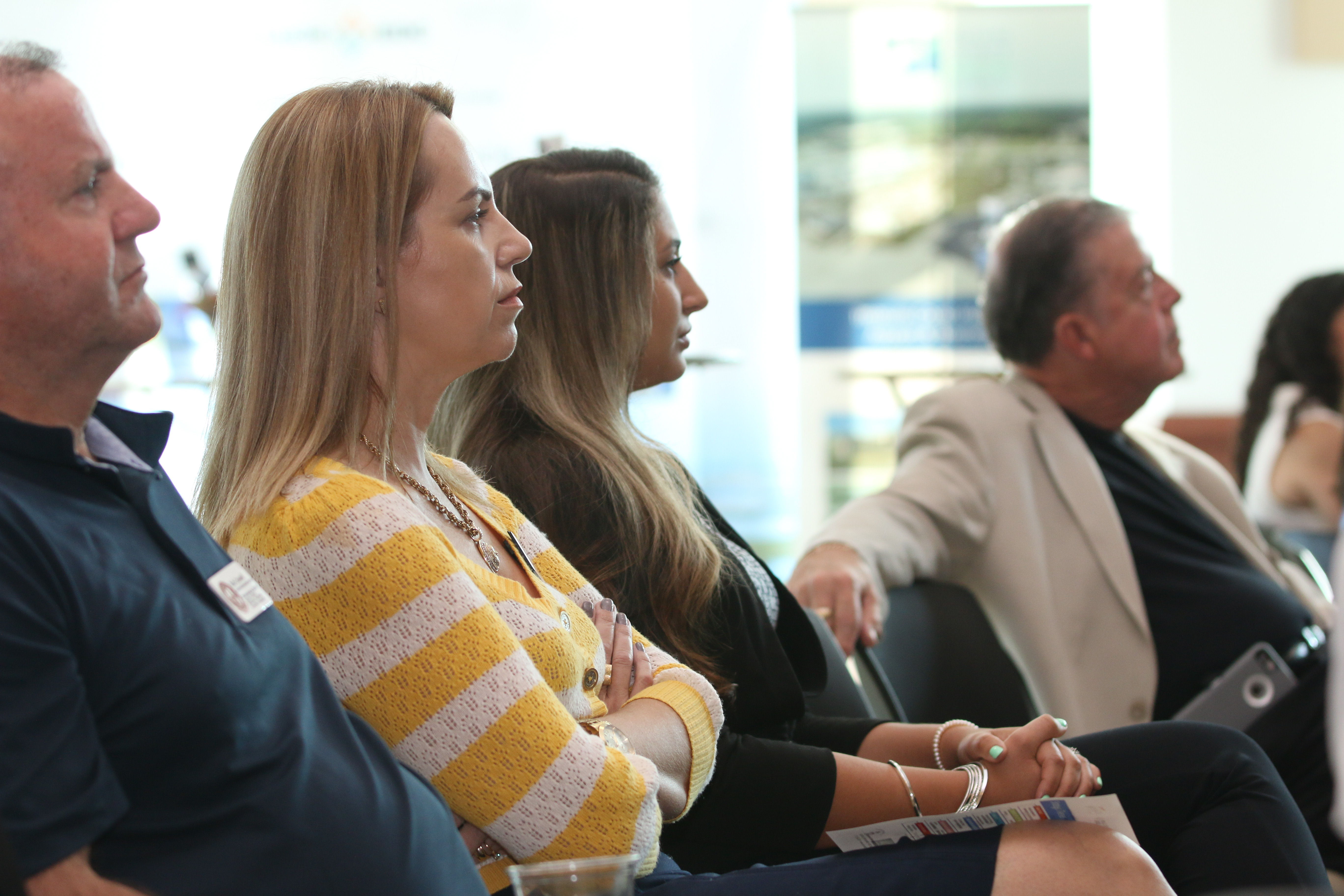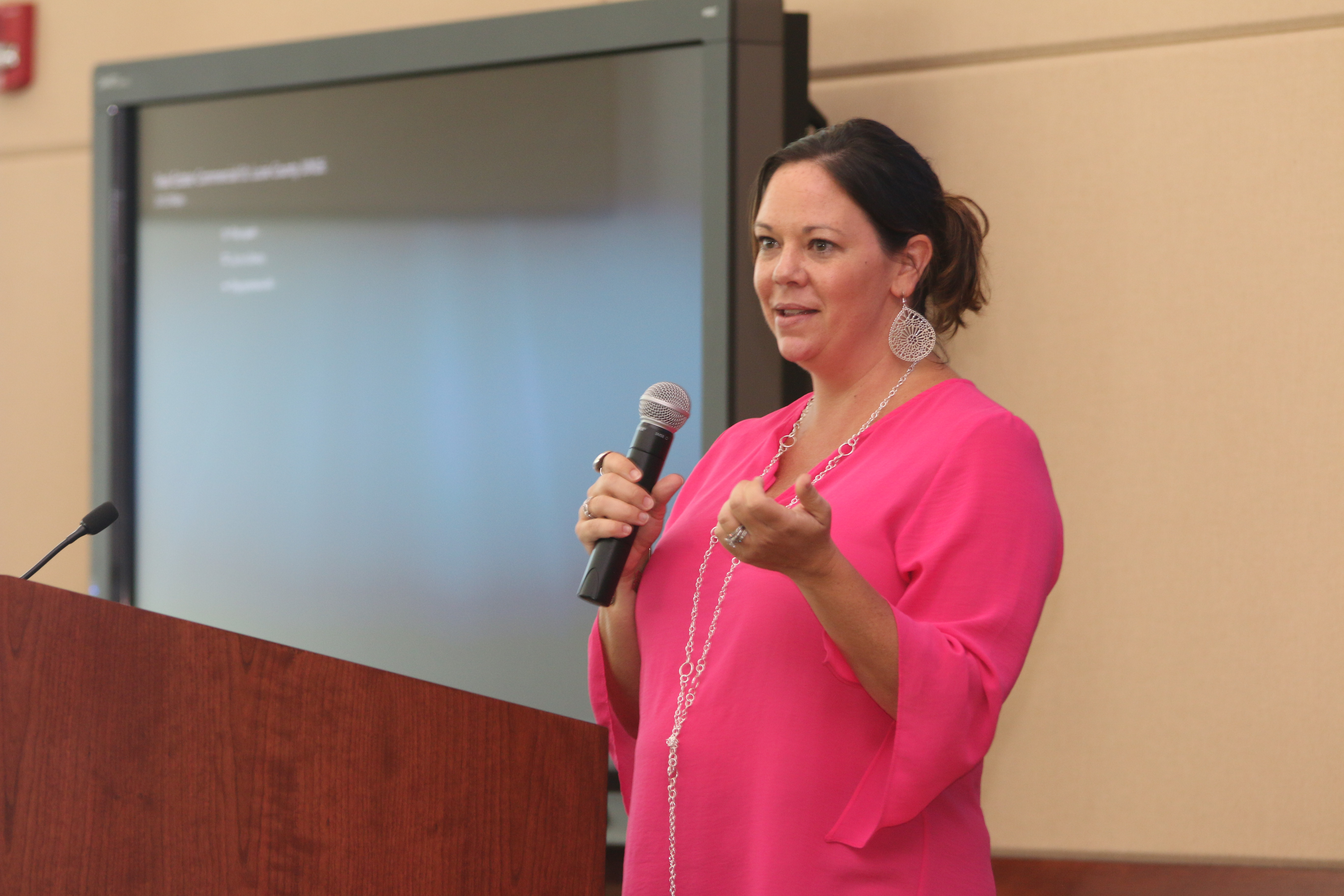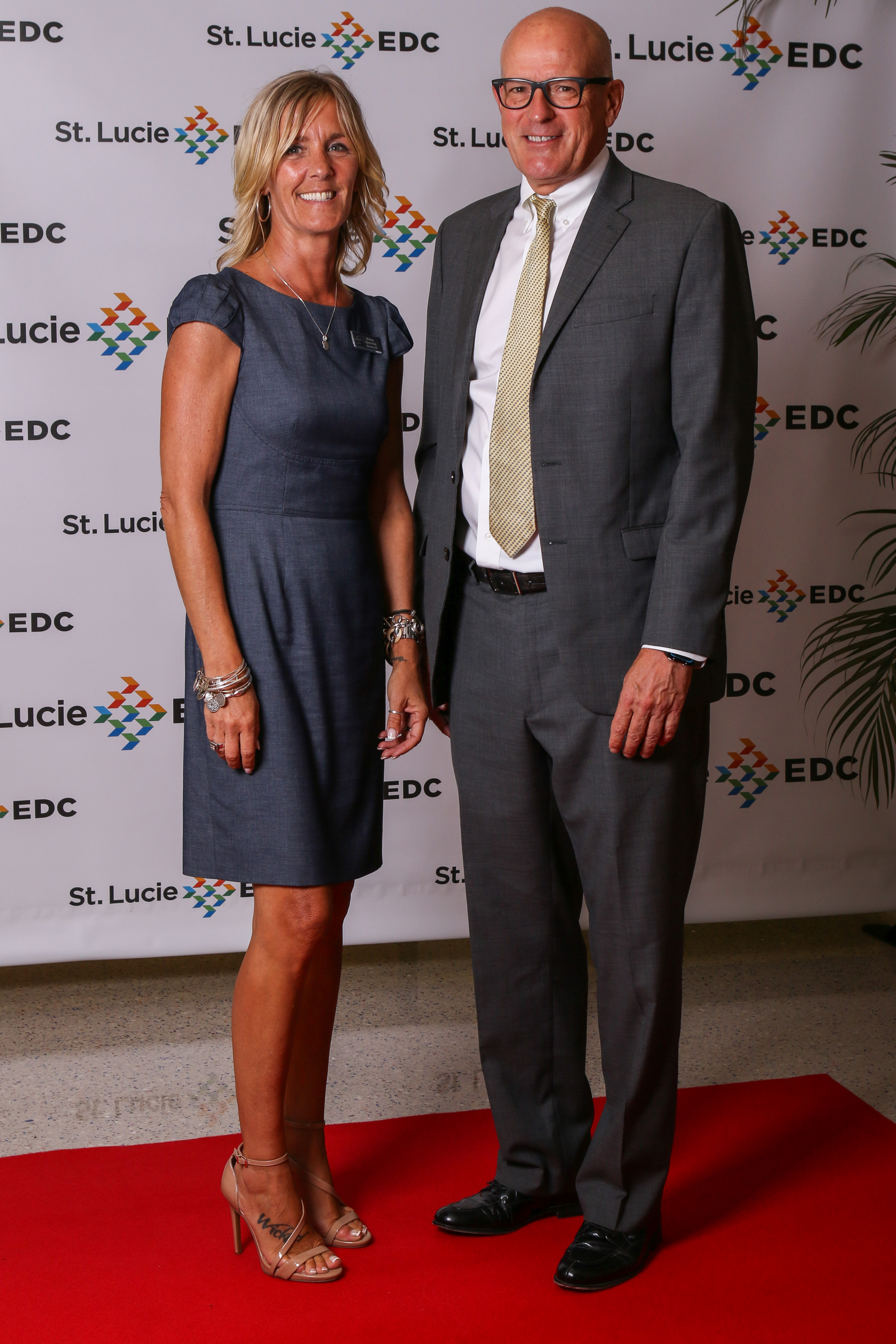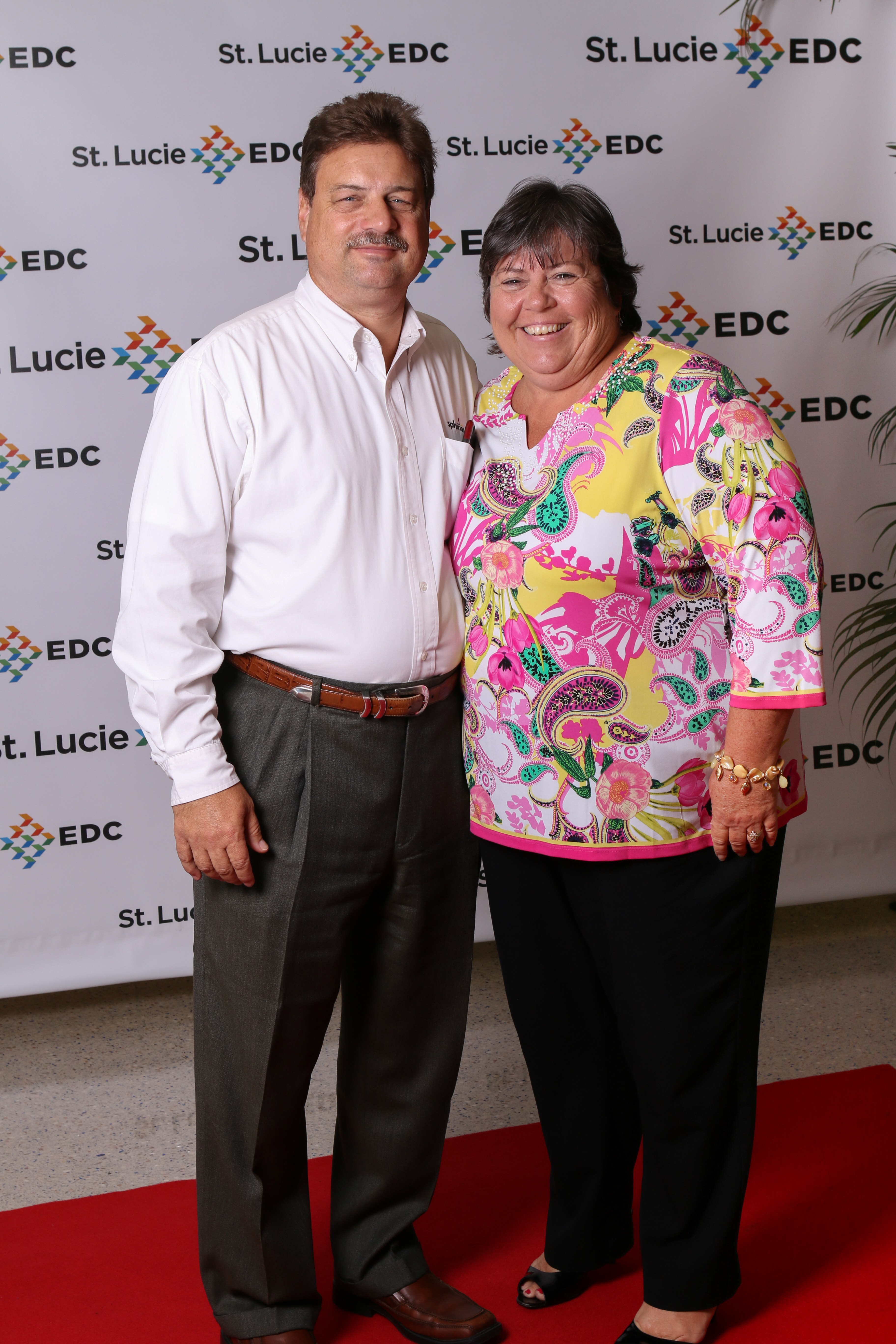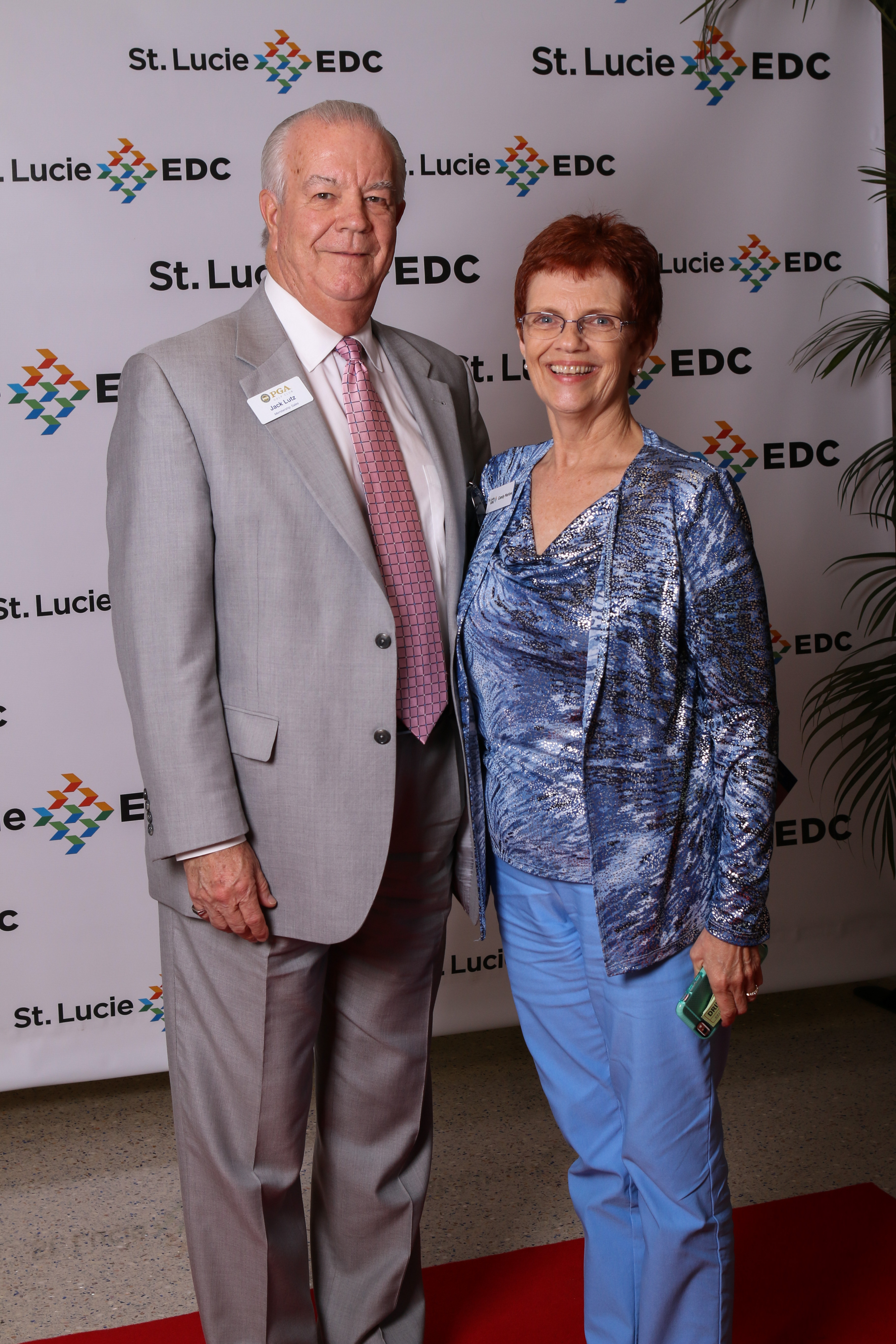 ---
4th Annual Leadership Dinner
Amidst a crowd of more than two hundred St. Lucie County business, community, educational and government leaders, the Economic Development Council of St. Lucie County (EDC) announced Michael D. Minton, as the recipient of the prestigious Pete Hegener Leadership Award during the EDC's 4th Annual Leadership Dinner on April 28 at Harbour Ridge Yacht and Country Club. Minton, a shareholder at Dean, Mead, Minton & Zwemer, received the award for his dedication and contribution to the economy and quality of life in St. Lucie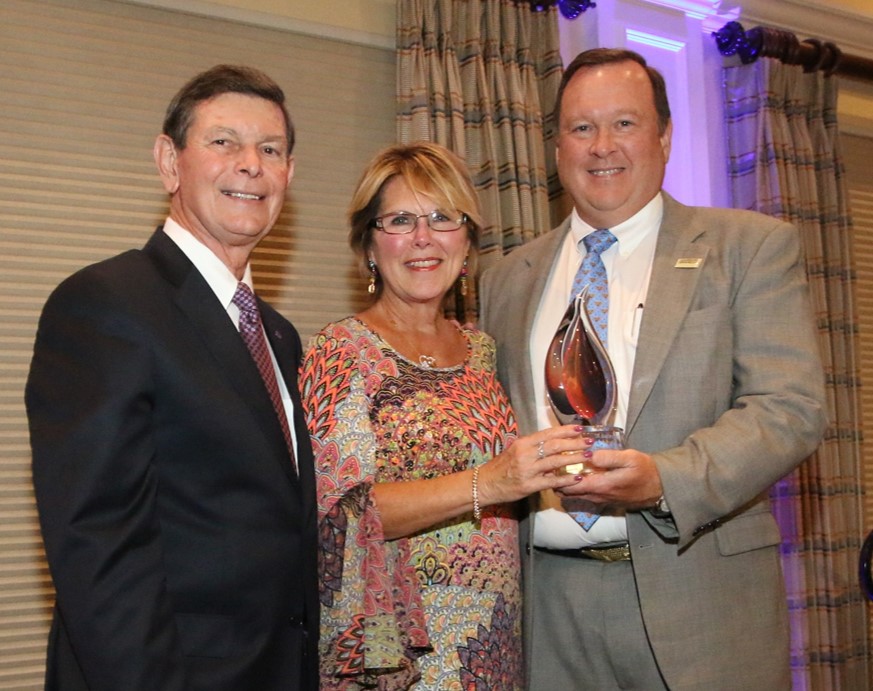 County.

"Not only did Michael help create jobs when he opened the Treasure Coast office of his law firm but he embodies the spirit shared in Pete Hegener's vision for the development of St. Lucie County," said Mark Robitaille, CEO of Martin Health System, and recipient of the last year's Leadership Award. Robitaille presented the award along with EDC Chair Ed Massey, PhD, President of Indian River State College. "There is no better way to honor the legacy of our friend, Pete Hegener, than by realizing a vibrant and sustainable economy for St. Lucie County," said Massey.

Minton has had many notable accomplishments over the years. He helped to establish Main Street Fort Pierce, helped save and restore the historic Sunrise Theatre and was a driving force behind the Manatee Observation and Education Center. While president of the St. Lucie County Chamber of Commerce, he was awarded the Martin Luther King Jr. Award for increasing employment as part of the successful multi-year effort he chaired to relocate the USDA ARS Lab from Orlando to St. Lucie County. Minton also has spearheaded several efforts to enhance education on the Treasure Coast. He has served as Vice Chair of the South Florida Water Management District and has dedicated himself to advancing several projects to divert storm water to stop harmful discharges in the Indian River Lagoon. He is currently Chair of the Harbor Branch Oceanographic Institute Foundation.

"We derive so much from the community, it's important to give back," said Minton. "You want others to appreciate your integrity, your intelligence, and the fact that you are committed to persevere to achieve your goals and objectives. I am not afraid of failure because if you don't try, you'll never know if you can succeed."

This year, eleven well-known and highly respected leaders throughout St. Lucie County were nominated for the Pete Hegener Leadership Award by EDC investors. From that group, the selection committee chose three finalists which included Minton as well as Kathryn Hensley, Vice Chair of the School Board of St. Lucie County and Ken Pruitt, St. Lucie County Property Appraiser.

"While very different in terms of their roles within the community, each one -- Michael Minton, Kathryn Hensley and Ken Pruitt -- embody the attributes of the Leadership Award and have all made significant achievements that have improved St. Lucie County. They are all trusted role models in our community and visionaries in their own right, inspiring others with their enthusiasm and dedication to improving St. Lucie County," said Robitaille.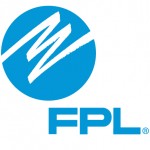 Sponsors of the EDC Leadership Dinner were: Florida Power & Light Company, Title Sponsor; AT&T Florida; Bank of America; CenterState Bank; Dean, Mead, Minton & Zwemer; Harbor Branch Oceanographic Institute Foundation; Hilton Garden Inn; Indian River State College; Keiser University; Martin Health System; PGA Golf Club; Seacoast Bank; St. Lucie News Tribune/TCPalm and St. Lucie Public Schools.
Pete Hegener, the man whose leadership inspired this award, was a founding member and integral partner of the EDC since its inception. As President of Core Communities, he helped bring to completion the master-planned community of St. Lucie West, which is now home to more than 7,000 employees at over 200 businesses.
His vision also extended southward to the development of the master-planned community of Tradition, which is one of St. Lucie County's most important hubs for job creation and economic expansion. Pete passed away in March 2012, but his legacy is fondly remembered and recognized through this award.
---
MRO Trade Show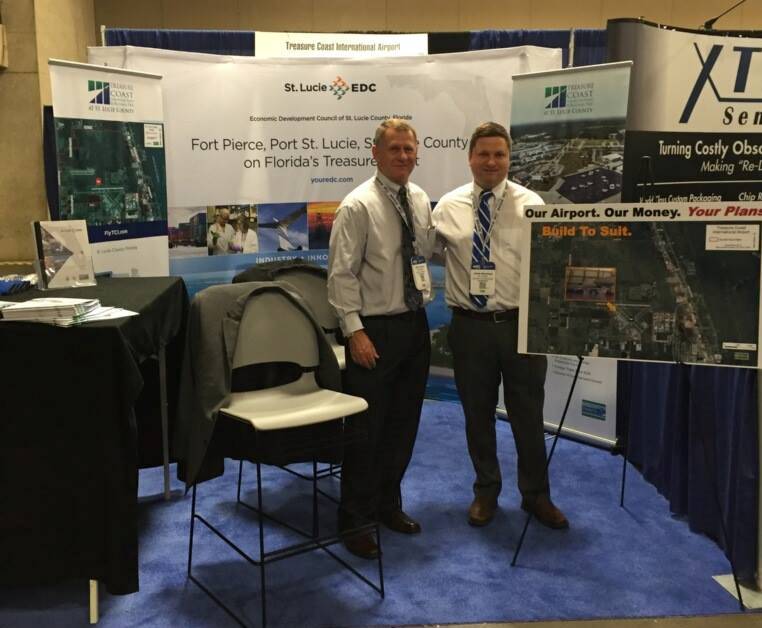 Pete Tesch, President of the EDC, traveled to the Dallas MRO (Maintenance, Repair, Operations) Aviation show with Peter Jones, Business Navigator for St. Lucie County and John Wiatrak, Airport Manager, Treasure Coast International Airport & Business Park in April to promote St. Lucie County and the airport to aviation and aerospace industries.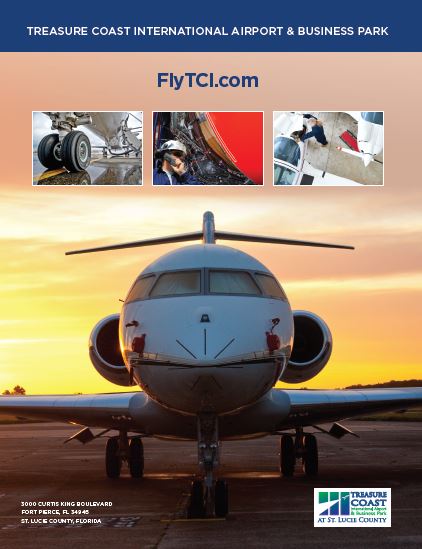 Treasure Coast International Airport and Business Park, known in the aviation world as the "Gateway to the Bahamas," is perfectly poised for economic growth. Situated within 3,844 acres that is already zoned for commercial and industrial uses, there is ample opportunity for aviation expansion and development!
Visit www.FlyTCI.com.
---
Familiarization Tour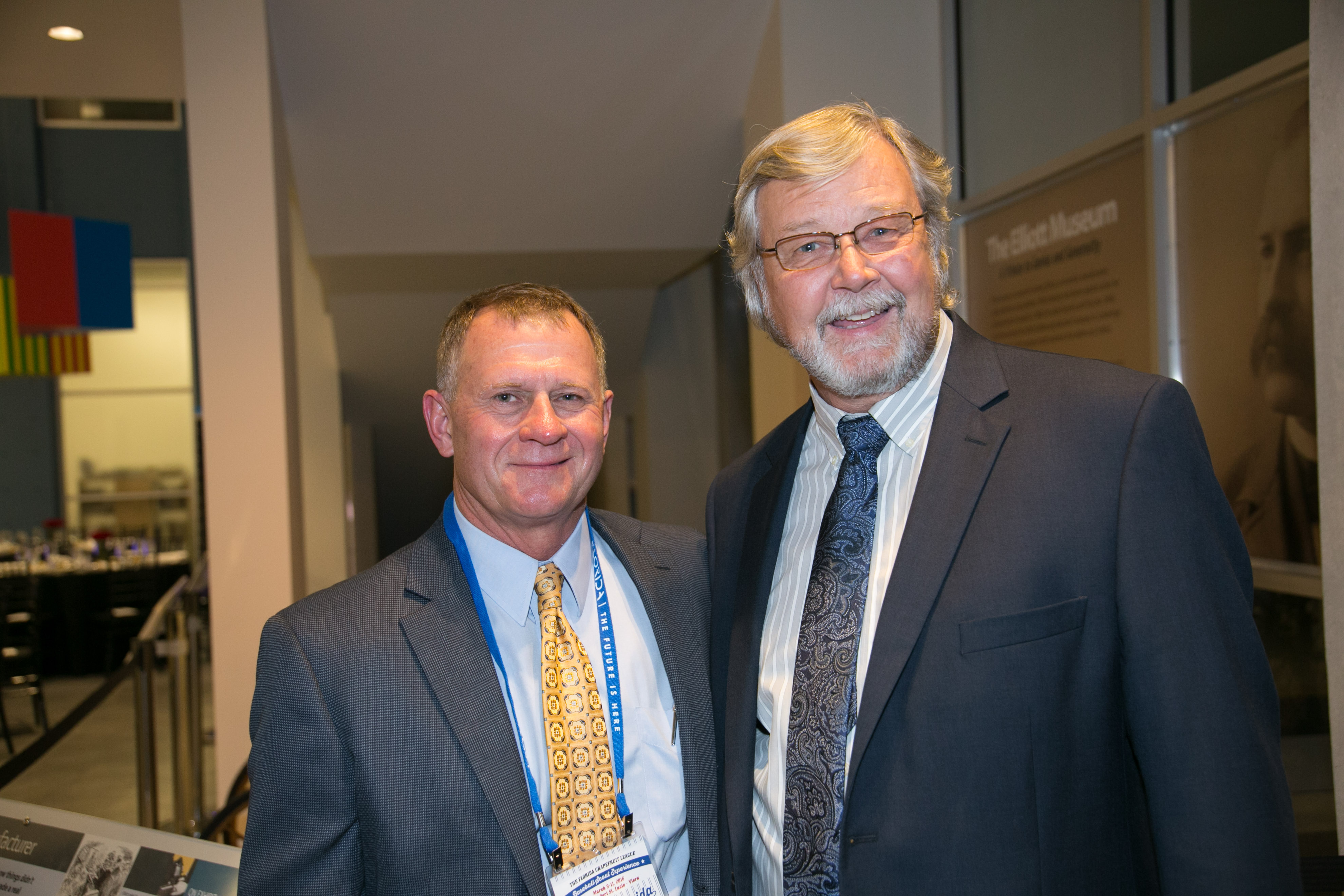 Grapefruit League Site Selectors' familiarization tour of the region and baseball experience was held March 9-11, 2016. Team Florida Marketing (Enterprise Florida Inc.) and site selection consultants from Olsson Associates, Transwestern, Ernst & Young, and Greenfield Development participated in a three-day, three-city, three-game tour during spring training of the Grapefruit League.

The event was hosted by three-county regional economic developers including: Helene Caseltine, Indian River County Chamber of Commerce; Tim Dougher, Business Development Board of Martin County and Pete Tesch, Economic Development Council of St. Lucie County.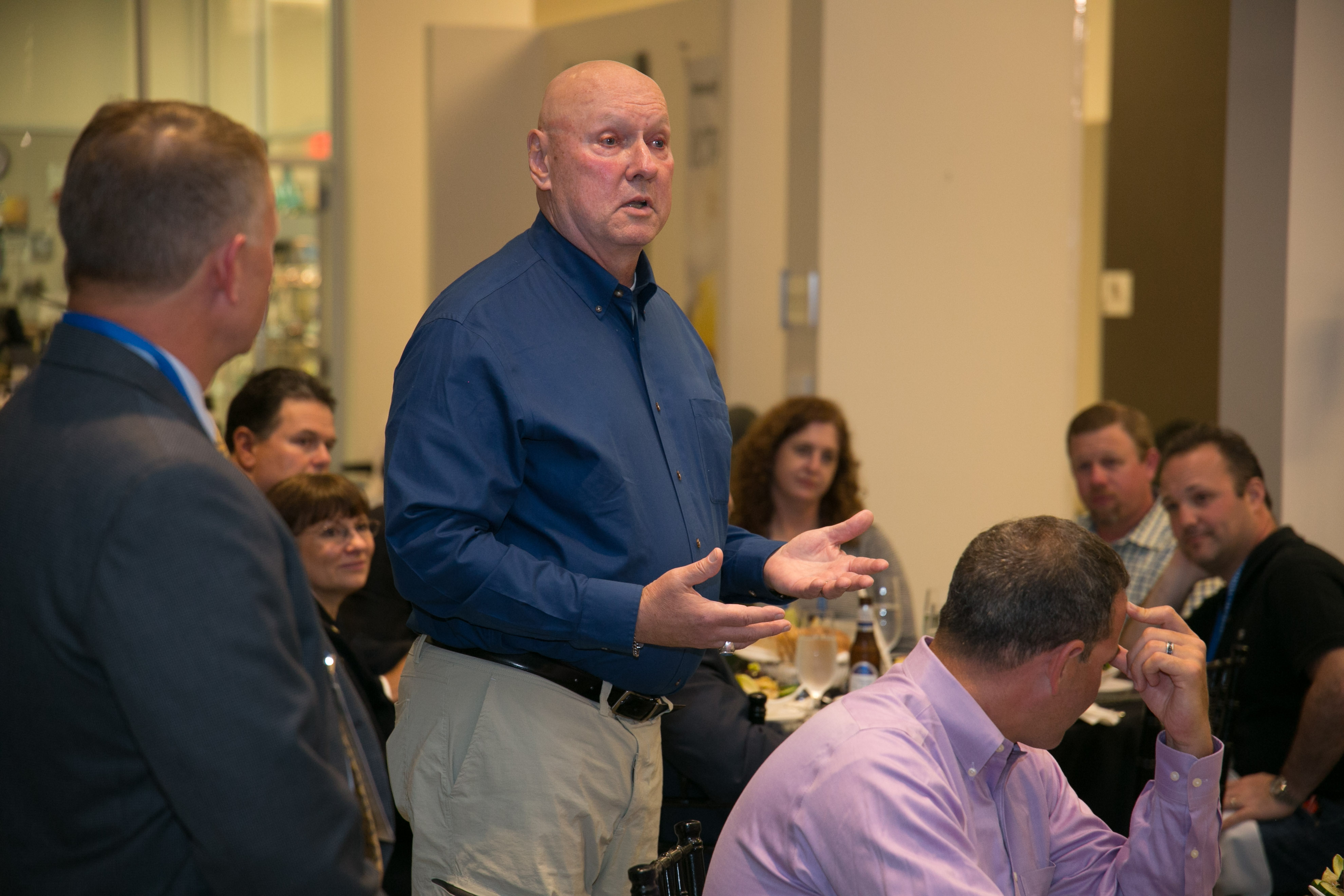 Games visited were St. Louis Cardinals vs. Miami Marlins in Jupiter, NY Mets vs. St. Louis Cardinals in Port St. Lucie, and Washington Nationals vs. NY Mets in Viera, FL.

About the Economic Development Council of St. Lucie County
The Economic Development Council of St. Lucie County (EDC) is a private, not-for-profit organization, dedicated to promoting economic vitality in St. Lucie County through the attraction, retention and expansion of businesses in the community. EDC works in partnership with local governments and the private sector to advance its goals of creating more and better-paying jobs for residents, broadening the tax base and improving St. Lucie County's economic quality of life. Contact the EDC at 772.336.6250, contact@YourEDC.com, www.facebook.com/StLucieEDC or www.YourEDC.com.