Healthcare
St. Lucie County is served by an exceptional array of health care providers including five hospitals as well as a variety of other medical and health related services:
Lawnwood Regional Medical Center & Heart Institute (part of HCA East Florida)
A 380-bed acute care hospital, home of the Treasure Coast Level II Trauma Center.
Specialty services include a full range of cardiac care from diagnostics to open-heart surgery, Pediatric Intensive Care Unit, Inpatient Behavioral Health, an Inpatient Physical Rehabilitation Center as well as the only Mazor Robotics Program that provides highly-accurate, minimally-invasive surgery for complex spinal cases.
A Level III Neonatal Intensive Care Unit and Pediatric ER provides for the smallest and the sickest children, offering quality, child-friendly care, close to home.
Lawnwood is accredited by The Joint Commission and designated at a Top Performer, the only Certified Comprehensive Stroke Center and CARF Accreditation on the Treasure Coast.
Martin Health System is a not-for-profit, community-based healthcare organization that offers a full continuum of care from preventive to acute and post acute care across St. Lucie and Martin counties.
Martin Health has three acute care hospitals: Martin Medical Center and Martin Hospital South in Stuart and Tradition Medical Center in Port St. Lucie. Services at these hospitals include cardiac and cancer care, emergency care, maternal child services, general and specialized surgery, intensive care, GI/endoscopy, rehabilitation, laboratory and diagnostic imaging services.
Martin Health also has locations in St. Lucie West and in east Port St. Lucie on Tiffany Ave. These two locations offer a wide range of services including: primary care and specialist physicians, rehabilitation, diagnostic imaging, lab draw stations and more. The St. Lucie West facility also has a freestanding emergency department and offers radiation oncology care for cancer patients.
St. Lucie Medical Center (part of HCA East Florida)
A 229-bed hospital offering a full range of acute care services, including rehabilitation, obstetrics, inpatient and outpatient surgery and services. Its Orthopedic Center of Excellence is considered one of the best in the country for joint replacement.
The hospital has a 24/7 senior-friendly emergency room, as well as on offsite emergency room located in Darwin Square, and a fast-track program. SLMC's imaging department provides the latest technology for diagnosis and treatment. Certified specialists staff its comprehensive lymphedema program. The Wound Care Center has experienced doctors and nurses that use the most advanced medical research and technology in all areas of wound management.

St. Lucie Medical Center is accredited by The Joint Commission and designated at a Top Performer, a Certified Primary Stroke Center and is the only Chest Pain accredited facility on the Treasure Coast. They are also one of the first hospitals to receive the Blue Distinction® Center+ for Maternity Care.
Tradition Medical Center (part of Martin Health System)
State-of-the-art acute care facility in Port St. Lucie with 90 private rooms. Services include intensive care, labor and delivery, neonatal intensive care, general and specialized surgery, inpatient oncology, diagnostic imaging, MRI, CT, GI/endoscopy, and laboratory services.
On October 2015, Martin Health broke ground on the expansion of Tradition Medical Center which will add 170,000 square feet and three stories. When completed in 2018, the state-of-the-art, acute care hospital will double in size, with a total of nine stories and 90 new patient rooms. The expansion includes the following service enhancements: a catherization lab for cardiac care, interventional radiology and vascular procedures; an expanded maternity, neonatal intensive care and emergency departments; an18-bed observation unit designed to improve the flow of emergency patients who require extended or overnight stays; an enhanced intensive care unit to include a progressive care unit.
A new medical office building, which includes an outpatient surgery center, will also be attached to the hospital.
More than ten walk-in clinics and urgent care centers, multiple assisted living facilities, Treasure Coast Hospice and nearly 500 physicians and 75 dentists serve St. Lucie County.
HANDS of St. Lucie is a network of health providers, agencies, and volunteers dedicated to increasing health care access to those least likely to receive regular health care — uninsured adults age 19 to 64.
Healthcare and Life Science in St. Lucie County & Florida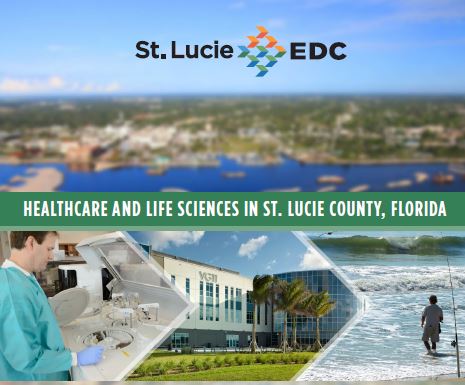 The region is home to a variety of life sciences companies, research institutions and biotech firms including Torrey Pines Institute for Molecular Studies, recently selected as a Center for National Cancer Institute NExT Program, USDA Agricultural & Horticultural Research Lab, Florida Atlantic University's Harbor Branch Oceanographic Institute, Scripps Research and the Maxx Planck Institute.
Research Institutes within a two-hour drive collaborate and partner with a community of over 100 innovative companies in fields including medical devices, pharmaceuticals, therapeutics, biotechnology, and medical IT.