Workforce and Training
Commutation Patterns for County Residents and Employees
Over 131,487 residents of St. Lucie County live and work in the county while over 41,000 residents leave the county to work primarily in Martin, Palm Beach and Indian River Counties. The large outflow of commuters is related to two factors: (1) There aren't enough local jobs to meet the skills of the residents and (2) families and individuals have relocated to St. Lucie County because of the lower cost of quality housing and they commute back to counties further south for employment. This reflects the potential opportunity that employers have to attract local talent and offer a job with less commute time.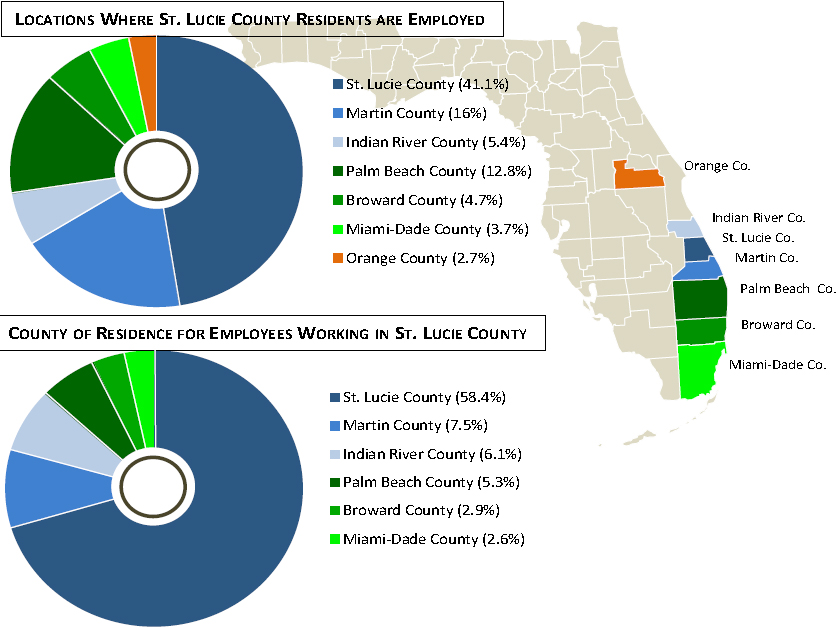 Training
Indian River State College (IRSC)
Indian River State College's Corporate and Community Training Institute (CCTI) offers Customized Training for Businesses and Organizations. The CCTI works one on one with businesses to develop, implement and customize on-site training programs tailored to fit the specific needs of their employees; including pre-licensing training; literacy in the workplace; technical training specialists; computer training specialties and manufacturing technologies training.
Keiser University
Keiser University For nearly 40 years, Keiser University has been a trusted educational resource for Florida's leading industries, developing the workforce talent necessary for employees to advance within their professions, businesses to prosper in tough and thriving economic times, and for the State to lead in the international marketplace. With customized an innovative education programs, Keiser University will quickly adapt to meet your unique and evolving employment demands. The degrees offered by Keiser University are strategically aligned with the needs of Florida's and the global economies.
CareerSource Resource Coast
CareerSource Research Coast is a private, non-profit, Florida corporation with a Board of Directors consisting of private business, economic development and education representatives, community and state agencies, and elected officials. Members of the Board represent the diversity of businesses, organizations and trades that operate in the Treasure Coast Region, including St. Lucie County. CareerSource Research Coast is chartered by the State of Florida to create and manage a workforce development service delivery system responsive to the needs of businesses and job seekers. They have a staff comprised of certified workforce professionals offering award-winning programs recognized locally, statewide and nationally.