Moving Forward. Poised For Growth.
St. Lucie County is located in southeastern Florida within a four-county region – known for its innovation within life sciences, agriculture, marine sciences, oceanography and aerospace. The County is located about 120 miles south of Orlando and 60 miles north of West Palm Beach.
The population of the region is over 600,000 with a 30% growth rate from 2000 to 2010. Primary cities and population centers within the region include the cities of Vero Beach, Fort Pierce, Port St. Lucie, Okeechobee and Stuart. Within the City of Port St. Lucie, the emerging community of Tradition is in the process of building out an 8,200 acre mixed use planned development located west of I-95.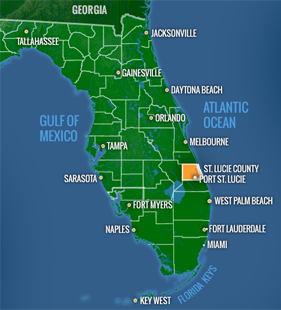 Extensive, dependable transportation and easy access is the key to growth, and St. Lucie County has both in abundance. Interstate Highway 95 and U.S. Highway 1 provide easy access to the country's east coast, from Key West to Maine. The Florida Turnpike stretches from just south of Miami through northern-central Florida, while State Road 70 runs from U.S Highway 1 in Fort Pierce west to Bradenton, Florida.Strategic resources in the County/region that may be of interest to prospective companies, include:
Manufacturing: strong presence of food processing (primarily citrus) as well as manufacturing of aircraft/components and boats. High quality assurance is required in food handling, multiple composite manufacturing and plastics modeling.
World Class R&D: renowned private, government and university research related to life sciences, agriculture, marine science, oceanography and aerospace.
Transportation Access: direct access to I-95 and Florida's Turnpike, rail access, local executive airport and direct global air access through multiple international airports.
Education and Training: area is supported by Indian River State College that is very business-focused with five locations for easy student access providing selected four-year programs and a variety of two-year and certificate programs.
Workforce: St. Lucie County has workers with highly specialized skills especially in high-tech manufacturing and the life sciences.