Workshop for Businesses Impacted by Lake Okeechobee releases
March 16, 2016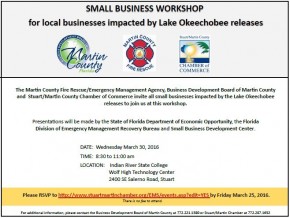 The Martin County Fire Rescue/Emergence Management Agency, Business Development Board of Martin County and Stuart/Martin County Chamber of Commerce invite all small businesses impacted by the Lake Okeechobee releases to join us at this workshop.
Presentations will be made by the State of Florida Department of Economic Opportunity, the Florida Division of Emergency Management and Recovery Bureau and Small Business Development Center.
Date: Wednesday, March 30, 2016, 8:30-11:00 a.m.

Location: Indian Rvier State College, Wolf High Technology Center, 2400 SE Salerno Road, Stuart
Please RSVP to http://www.stuartmartinchamber.org/EMS/event.asp?edit=YES
There is no fee to attend.