EDC Newsletter - Fall 2017
October 18, 2017


Throughout this month's EDC Newsletter, you will notice an exciting theme beginning to emerge: Manufacturing is firmly planted as an industry in St. Lucie County, and it is thriving.
As one of the three main components of the Treasure Coast Skills Gap Study (the others being Trades and Healthcare), we knew this community held great potential for expanding the capacity of manufacturing businesses. It was for this very reason that industry leaders, local officials, and those vested in economic development came together to form the Treasure Coast Manufacturing Association. Having celebrated its first year as an organization, there is no doubt that the TCMA proved to be a tremendous asset in promoting and advocating for this targeted sector.
Renewed focus on manufacturing is also paying off for the efforts of the St. Lucie EDC. In the past several months alone, our organization has provided assistance to a half dozen manufacturers with relocation or expansion efforts in St. Lucie County.
While the present offers much to get excited about, it pales in comparison to the prospect of our manufacturing industry future.
The St. Lucie County Board of County Commissioners has approved moving forward with purchasing property at the Port of Fort Pierce, opening up new doors for manufacturing in marine- and yacht-related industries;
St. Lucie County, Indian River State College, CareerSource Research Coast, and numerous other partners are awaiting word on training and infrastructure grants through the Department of Economic Opportunity, many of which would enhance manufacturing;
Indian River State College continues to push for legislative funding ($14.8M) in the 2018 session to break ground on the much needed Treasure Coast Advanced Manufacturing Center, a community focal point for manufacturing and trades education.
As these pieces begin to come to fruition, manufacturing has the opportunity to rise to even greater prominence in St. Lucie County. And that's a theme I know we'd all be pleased to see continue.
Dr. Edwin R. Massey, PhD
EDC Chairman
President, Indian River State College

Did your business take a hit from Irma? Help is here
St. Lucie County businesses impacted by Hurricane Irma may apply for state and federal disaster loan programs. The Florida Small Business Emergency Bridge Loan Program provides short-term, interest-free loans to businesses damaged by the storm. This program is available for businesses with two to 100 employees that have demonstrated economic injury or physical damage.
The bridge loan program provides loans from $1,000 to $25,000 for 90- or 180-day terms. Typically, these short-term loans would be used to allow time for insurance claims to be paid or while a business secures other financial resources. This is the first step in assistance for impacted businesses, offering timely turnaround approvals and distribution of funds.
Business Physical Disaster Loans are intended to help repair or replace disaster-damaged property. Companies and nonprofits can apply for up to $2 million to repair or replace property, real estate, equipment, inventory, machinery and other business assets.
The Economic Injury Disaster Loan Program provides working capital loans for small businesses, agricultural cooperatives, aquaculture businesses and most private nonprofits to help meet financial obligations and operating expenses through the disaster recovery period. Interest rates are as low as 3.305 percent for businesses and 2.5 percent for nonprofits. Loan amounts can also include money to protect property from future damage, such as adding a storm shelter or safe room.
The filing deadline for physical property damage is November 9, 2017. The economic injury application deadline is June 11, 2018.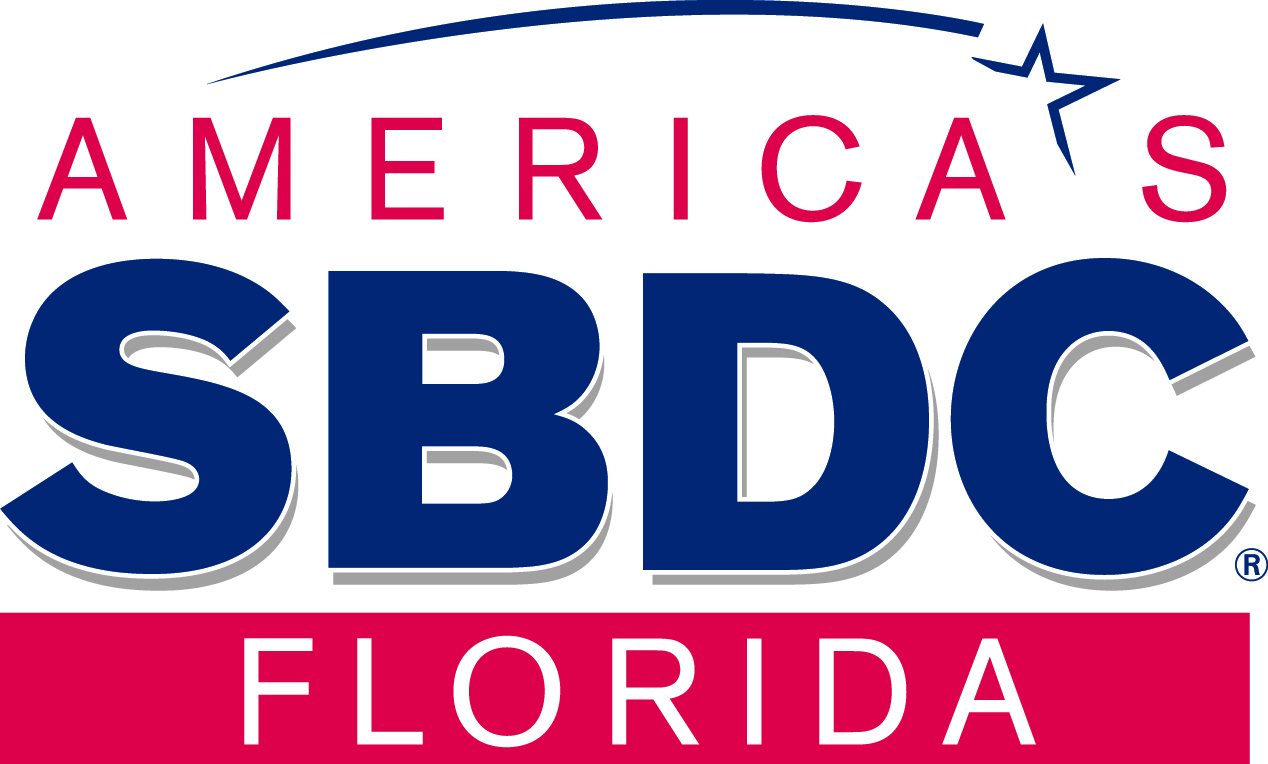 The Florida Small Business Development Center at Indian River State College is our community's primary contact for the emergency bridge loan program. Business owners can meet with a representative at St. Lucie County's Hurricane Irma SBA and FSBDC Joint Business Recovery Center, located at Indian River State College Pruitt Campus in the Enterprise Hub, Building F, or an SBDC representative will come to you. The loan application can be found at http://www.floridadisasterloan.org.
For more information, call Florida SBDC Regional Director Tom Kindred Jr. at 772-462-7087.
---
Economic expansion continues strong throughout 2017
The core work of the EDC is to attract new businesses and help existing companies grow to advance community and economic development. Building on a very progressive start in 2017, the EDC anticipates that expansions and commitments will generate a combined payroll of $21.5 million and a capital investment of $32 million this year. Notable points of progress include:
NEW PROJECTS
In addition to the projects we included in our June newsletter – ABC Home Medical Supply (35 new jobs, $3.5M capital investment), Precast Specialties (100+ new jobs, 75-acre facility), Radical Cosmetics (50 new jobs, $2.5M capital investment), and Tattoo Yachts (49 new jobs, $1.5M capital investment) – your EDC also facilitated the location of

Builders FirstSource will be making a $3.5 million capital investment in an existing 45,000 sq. ft. facility to manufacture roof trusses, bringing 50 jobs to St. Lucie County. Builders FirstSource is headquartered in Dallas, Texas and has over 400 outlets nationwide. The company supplies structural building materials and services to homebuilders and remodelers across the nation.
EXPANSIONS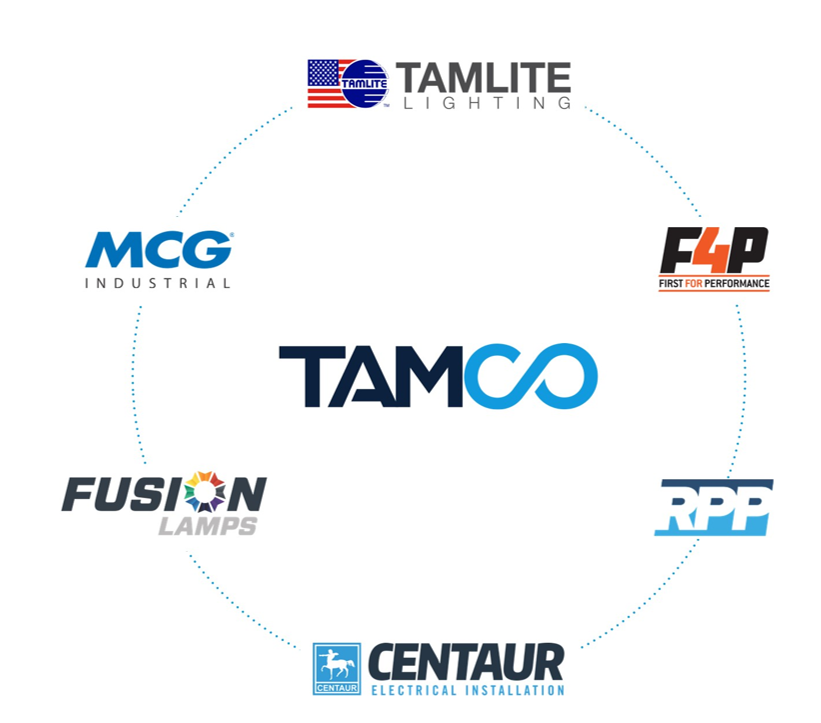 City Electric Supply to plug into Tradition. Working together, the City of Port St. Lucie, St. Lucie County, State of Florida and the EDC locked in more than 270 living-wage jobs for area residents this week.
City Electric Supply's subsidiary TAMCO currently employs 222 workers at five facilities in St. Lucie West. The company is seeking to improve manufacturing efficiency by consolidating their workforce into a single facility, and had been considering Dallas, Texas and Charlotte, North Carolina in addition to Tradition.
The company anticipates breaking ground on 36 acres in Tradition in the first quarter of 2018. Their state-of-the-art manufacturing facility is scheduled to open in early 2019, at which time 50 additional employees will be hired.
TAMCO currently occupies approximately 200,000 square feet in St. Lucie West, the new facility will be 400,000 square feet of manufacturing, distribution and administrative space. City Electric Supply will invest $28 million in new construction and $10 million in machinery and equipment.

In June, we reported that Maverick Boat Group's expansion, adding a 106,000 sq. ft. facility at a capital investment of $3.5M, will create 100 new jobs. Your EDC also assisted with expansions for
Fort Pierce-based boat manufacturer Pursuit is adding a 14,000 sq. ft. facility on their existing site, investing $2M and creating more than 50 new jobs. Pursuit manufactures several lines of award-winning fishing and sport boats.

Natures Ground, a landscaping services and horticultural nursery, is making a $1M capital investment in their existing facility and will expand to 100+ jobs.
EXISTING BUSINESS SUPPORT

The EDC assisted in securing an incumbent Worker Training Grant for Whiticar Boatworks' Fort Pierce boat yard. The grant will pay for 50 percent of $18,000 in training expenses.
In June, your EDC assisted plastic pipe manufacturer Silver-Line Plastics with a two-day job fair. The event drew 345 job seekers and resulted in 11 new hires.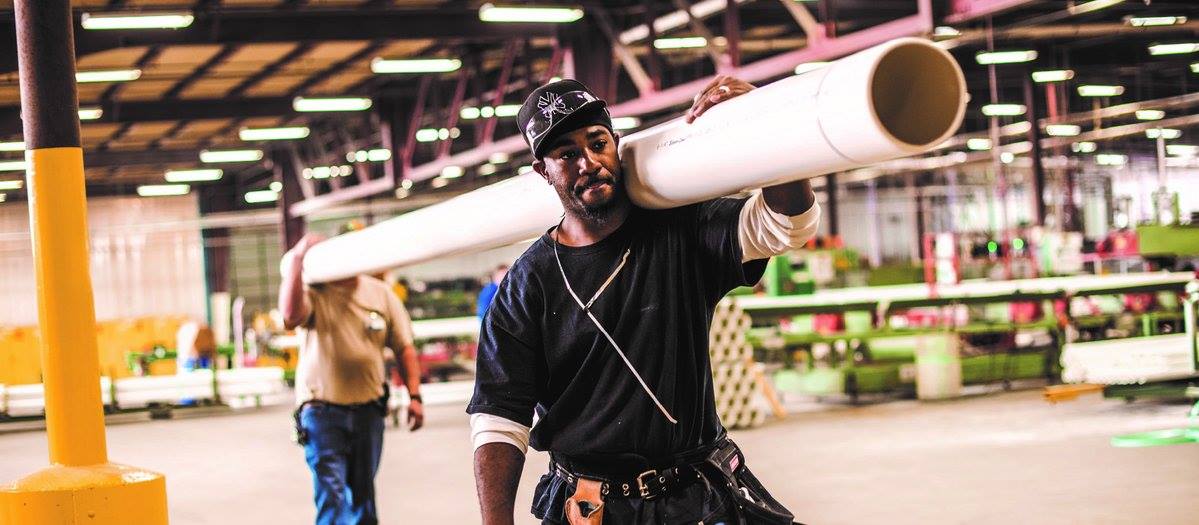 ---
Workforce Readiness Taskforce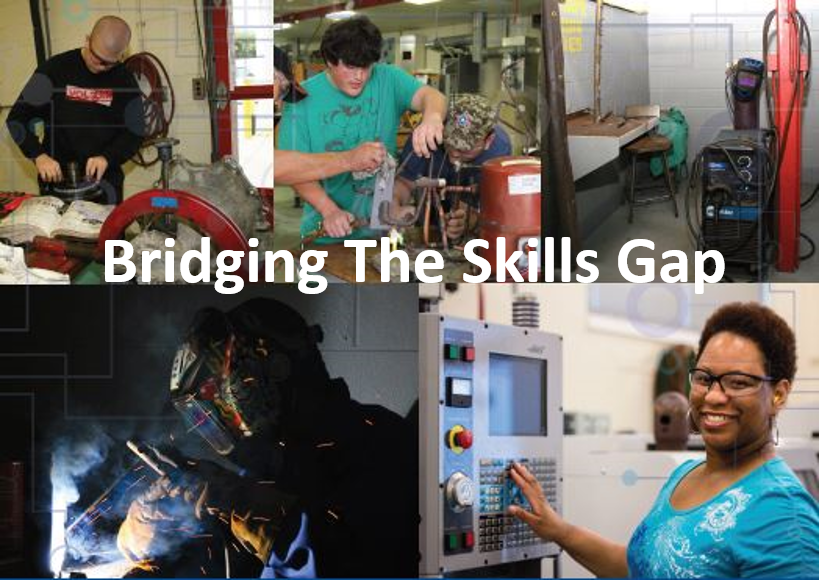 With the information from the Skills Gap Study in hand, the Workforce Readiness Taskforce continues to work on the Bridging the Gap initiative. The study focused on the manufacturing, healthcare and construction industry skilled trades sectors in Indian River, St. Lucie, Martin and Okeechobee counties.
The initiative's game plan includes:
Advocating for an Indian River State College Training Center
Development of internships, apprenticeships, externships
Connecting employees and students to existing certification programs
Identifying or creating scholarships that will fund training
Introducing subject matter experts into classrooms
Offering boot camps, reality education, sponsored meet-ups
Promoting Bridging the Gap initiatives through social media, Channel 20, St. Lucie County Chamber of Commerce, school communications networks, and more.
One of the task force's next steps will be to create an asset map detailing what training programs are currently offered in our county in manufacturing, construction skilled trades and healthcare as well as available funding sources for these programs.
A scholarship committee is both researching available training funding and seeking new sources of funding.
---
EDC Announces New Scholarship Program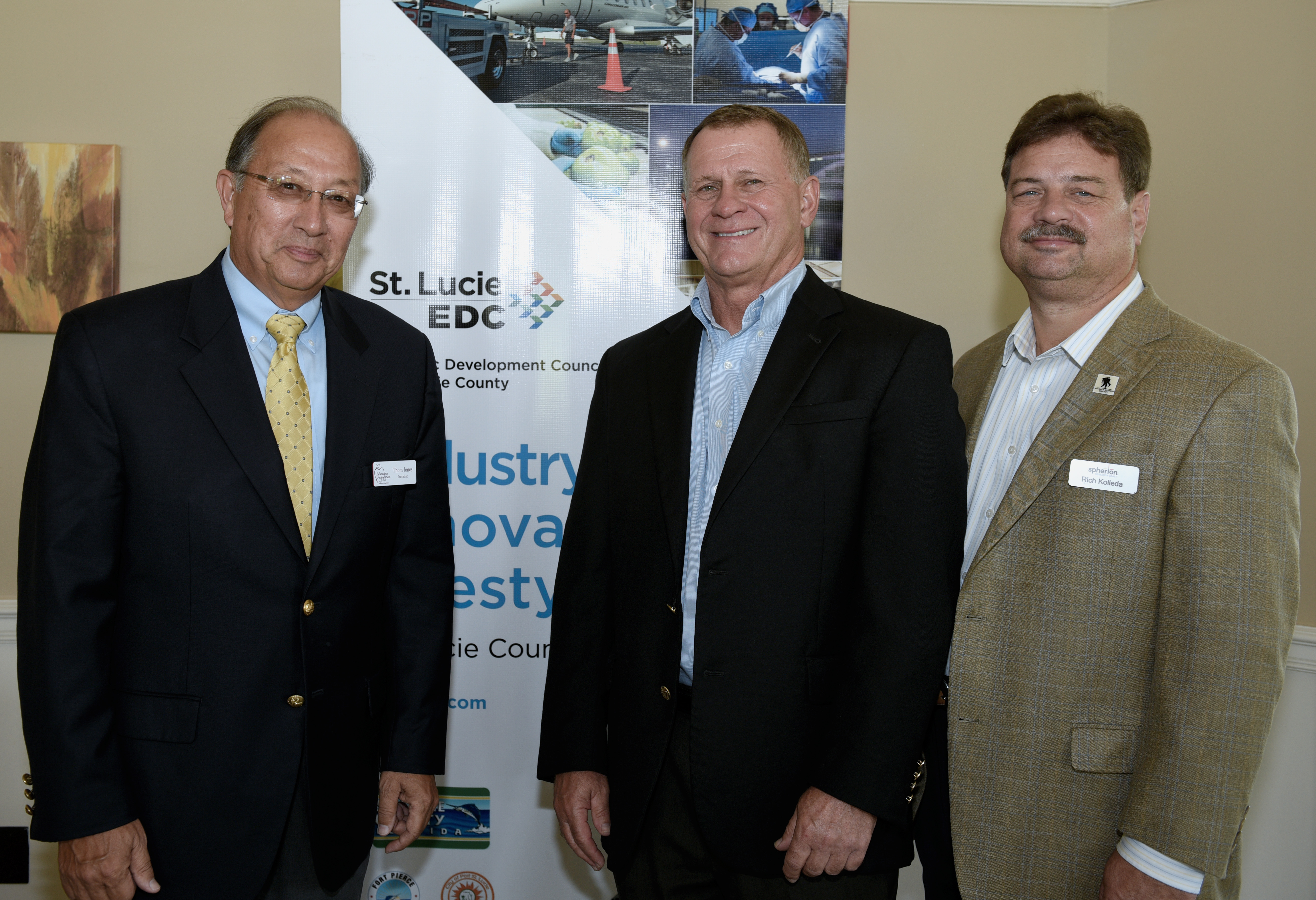 The EDC hosted the 2017 Leaders on the Links kick-off event at the PGA Golf Club on August 15. One of the highlights of the evening was the announcement about a new scholarship program to help fund workforce training opportunities. A quarter of the proceeds from this year's tournament will be donated to the Peter W. Busch Family Foundation. In turn, the foundation will help fund training scholarships for local students.
"We'll start out with Certified Production Technician and Certified Welder programs as part of a pilot program," said Rich Kolleda of Spherion, chair of the Workforce Readiness Task Force. These scholarships will reduce the cost of training and certification programs needed for local residents to pursue careers in manufacturing, healthcare and skilled trades in the construction industry.
The EDC, the Peter W. Busch Family Foundation and the Education Foundation of St. Lucie County have joined together to raise $100,000 over three years to fund 36 scholarships for St. Lucie County students and residents to obtain certificates in the three targeted sectors. For information on how to participate, please contact Candy Marlow at cmarlow@youredc.com.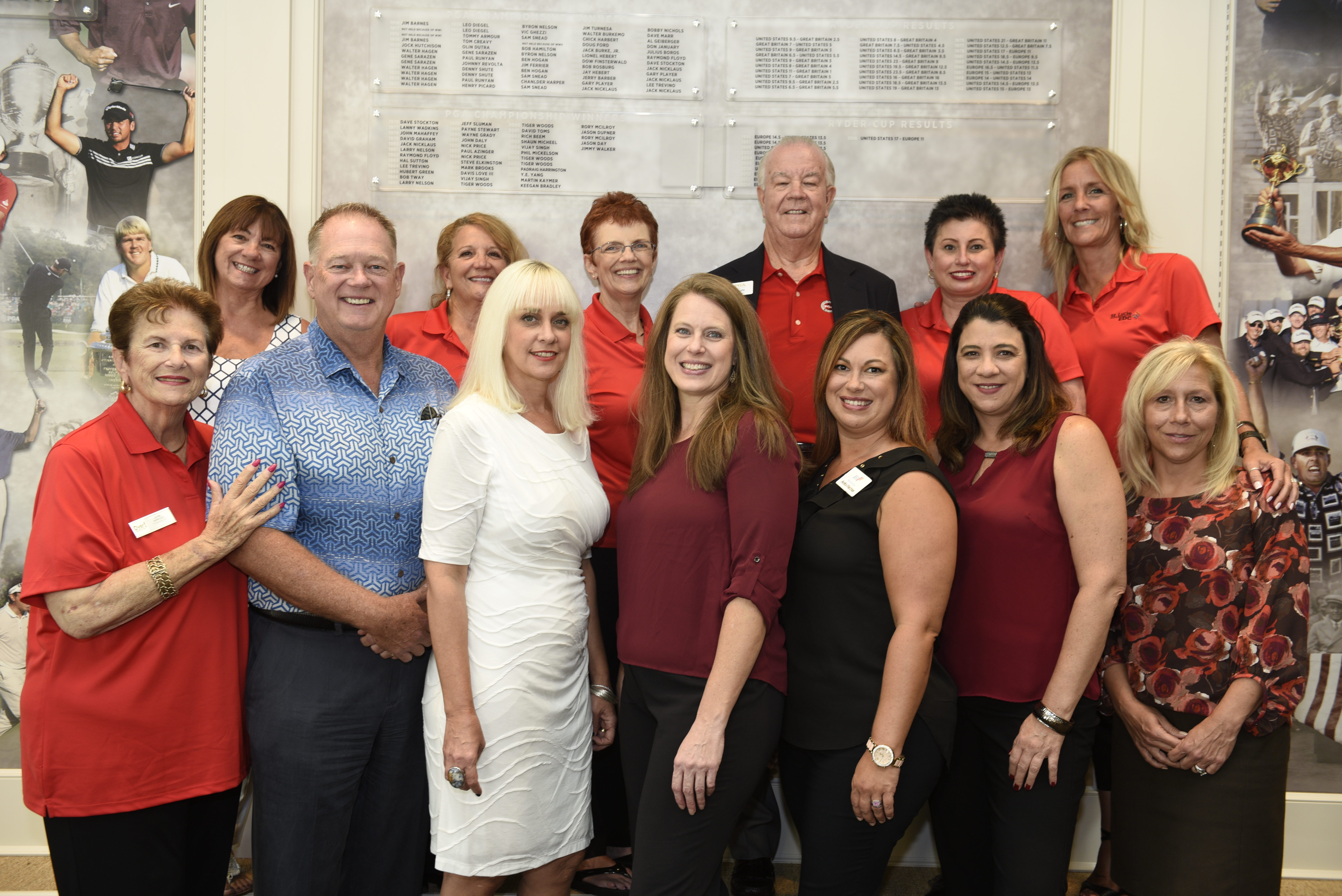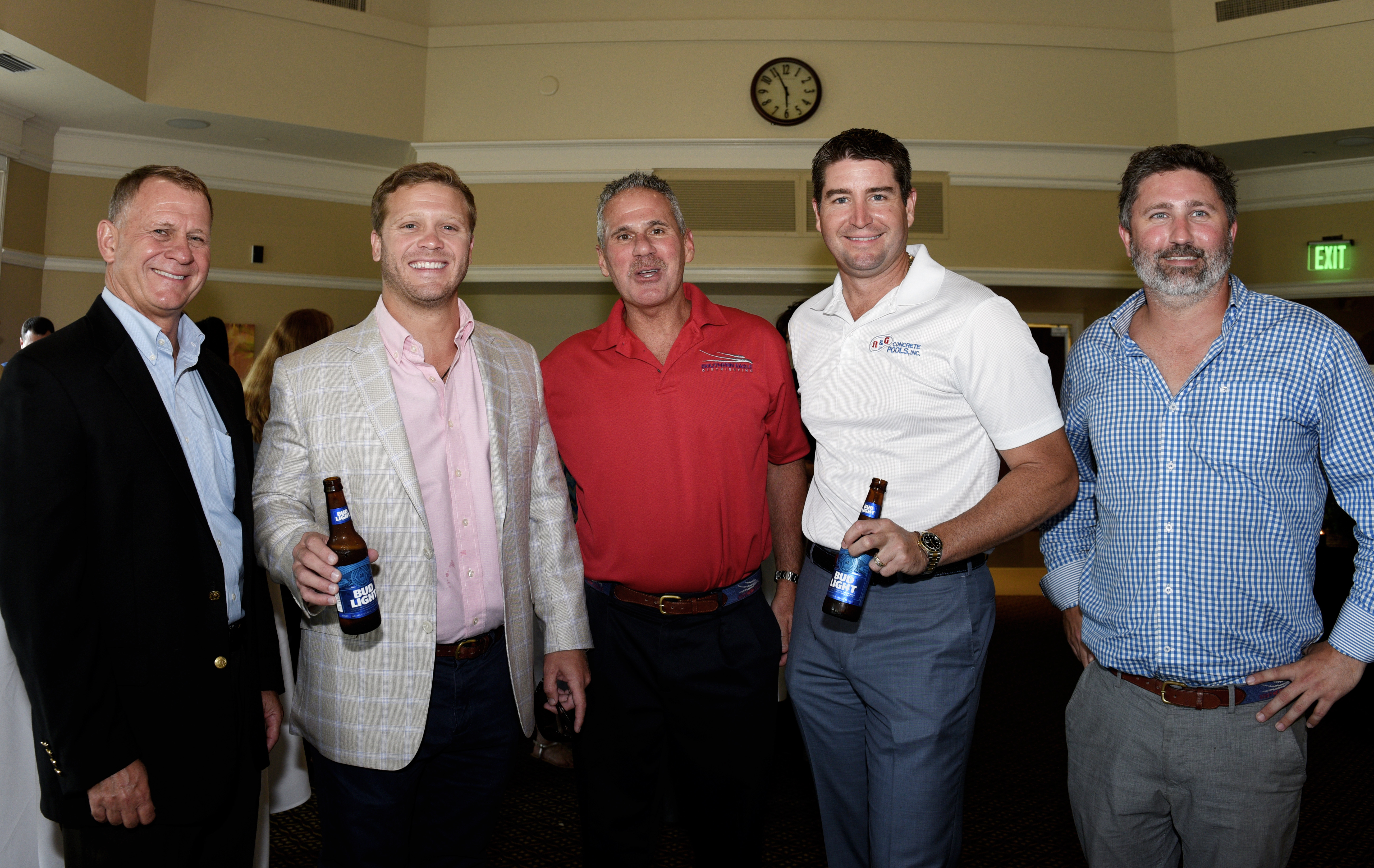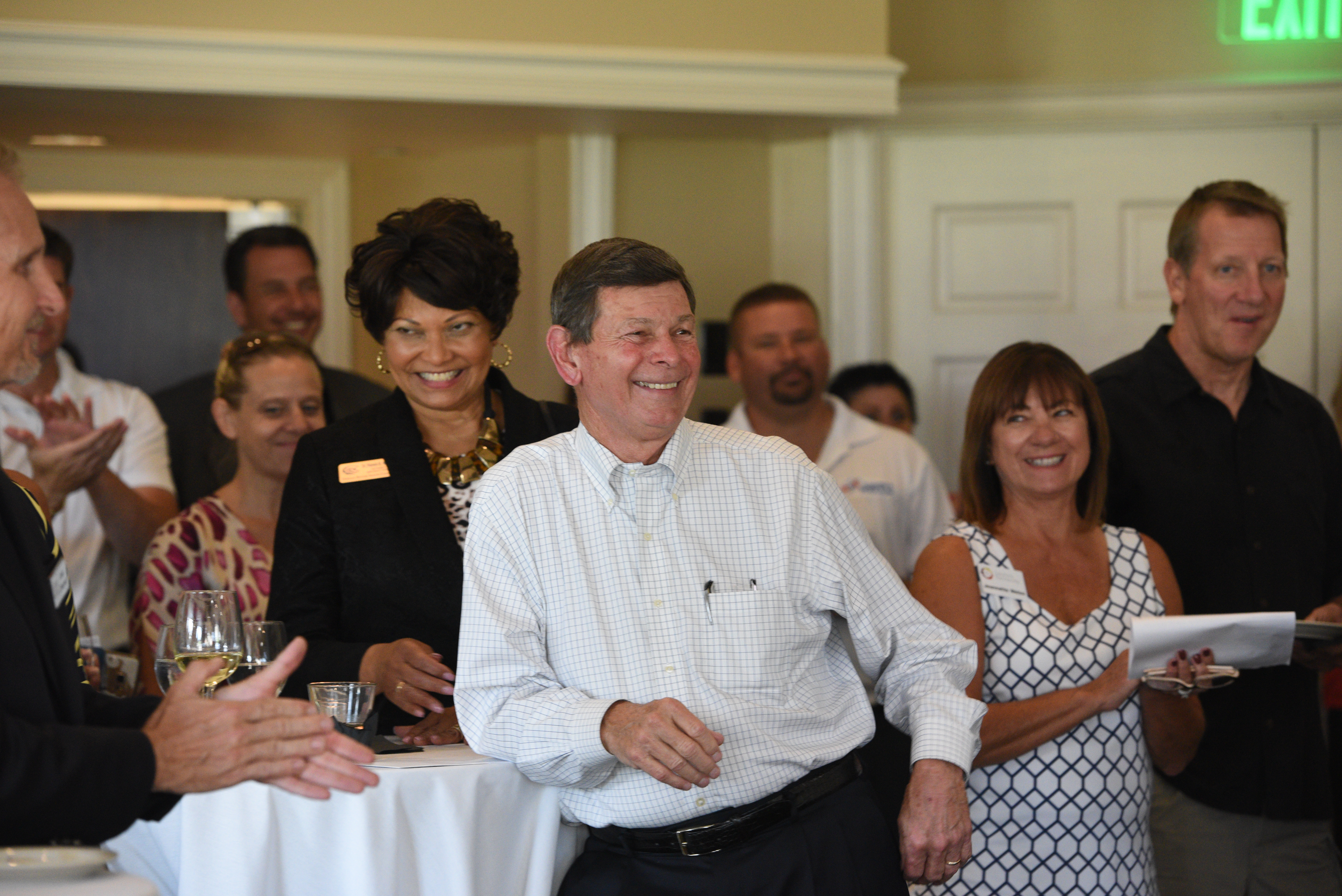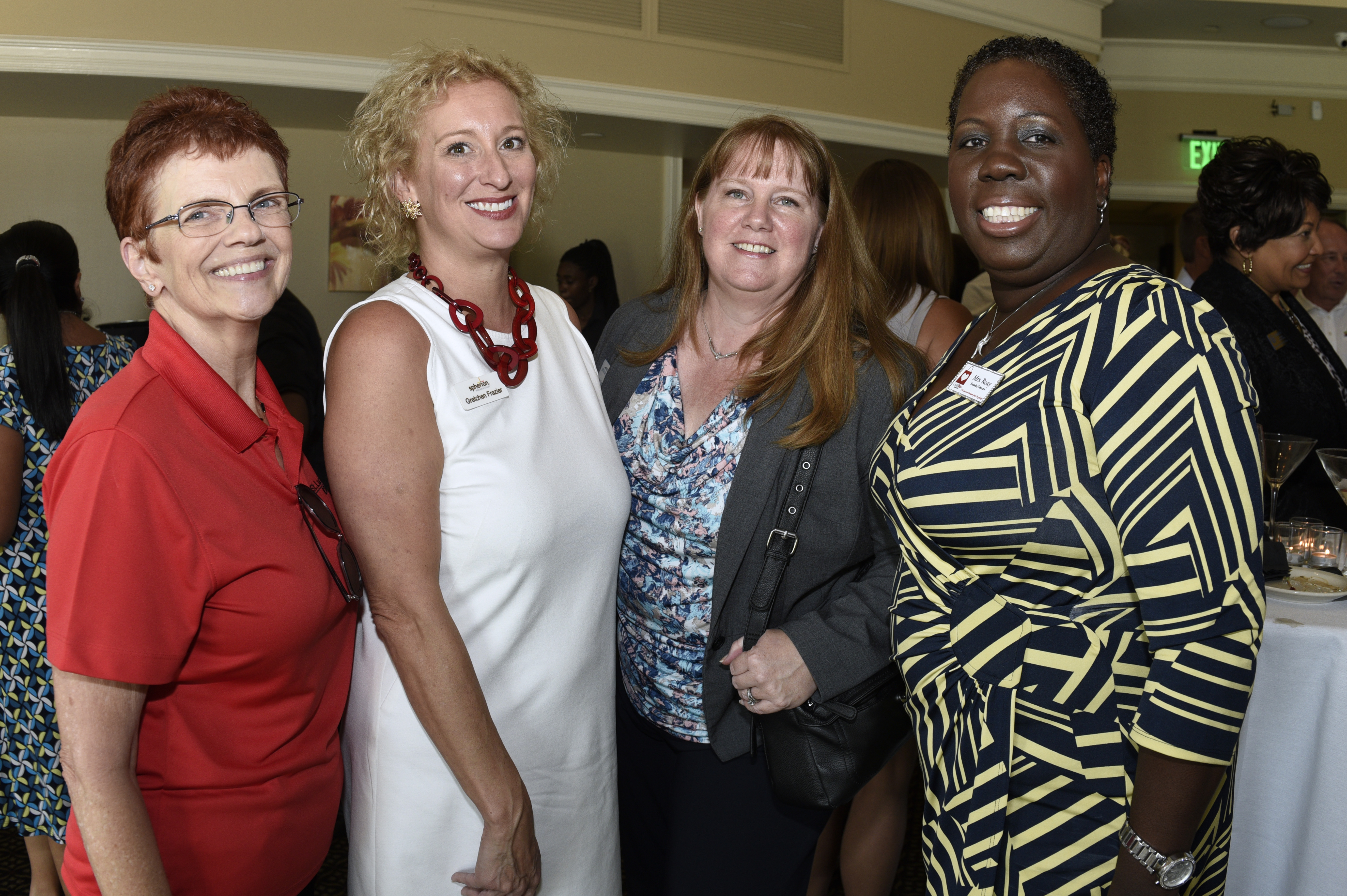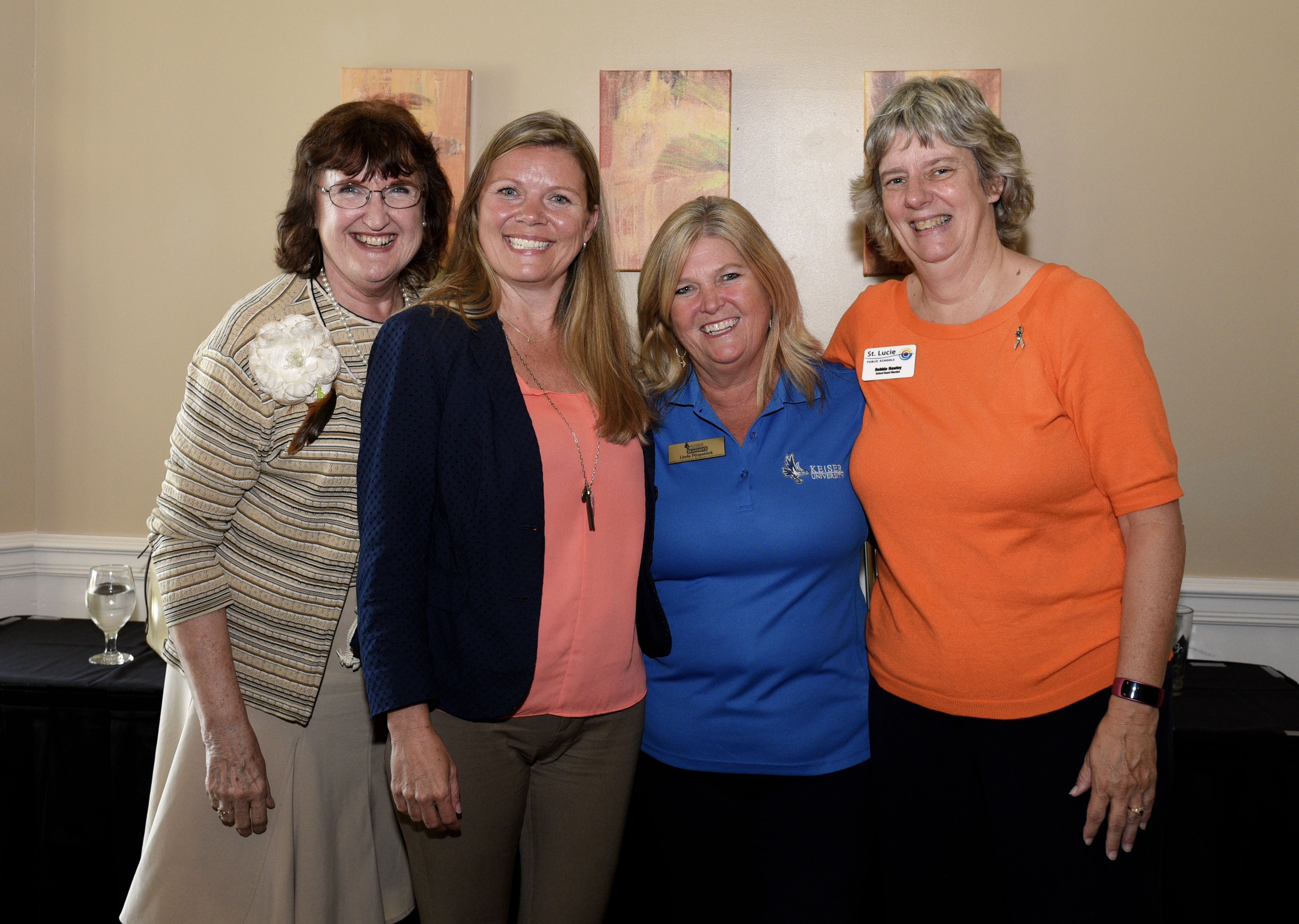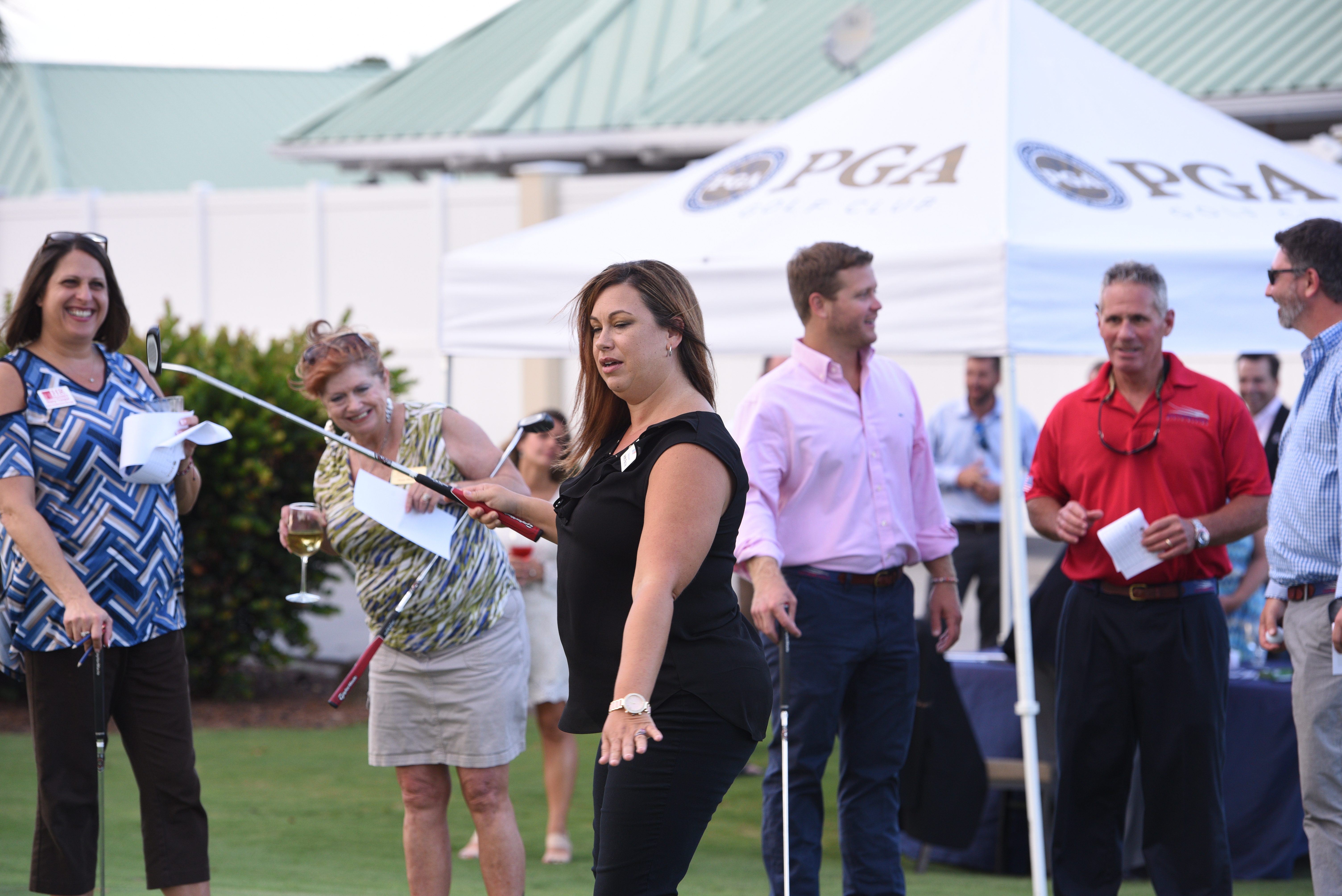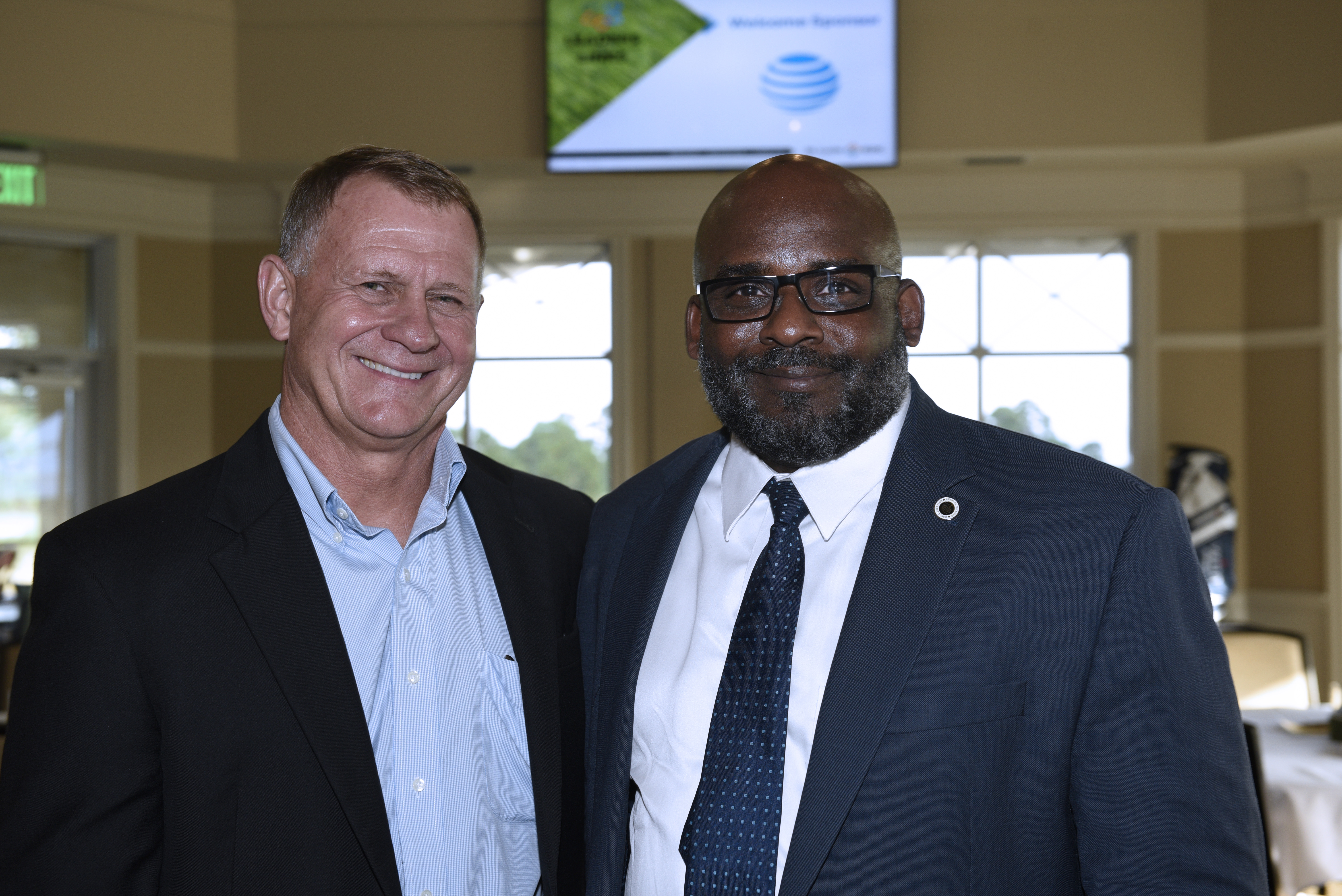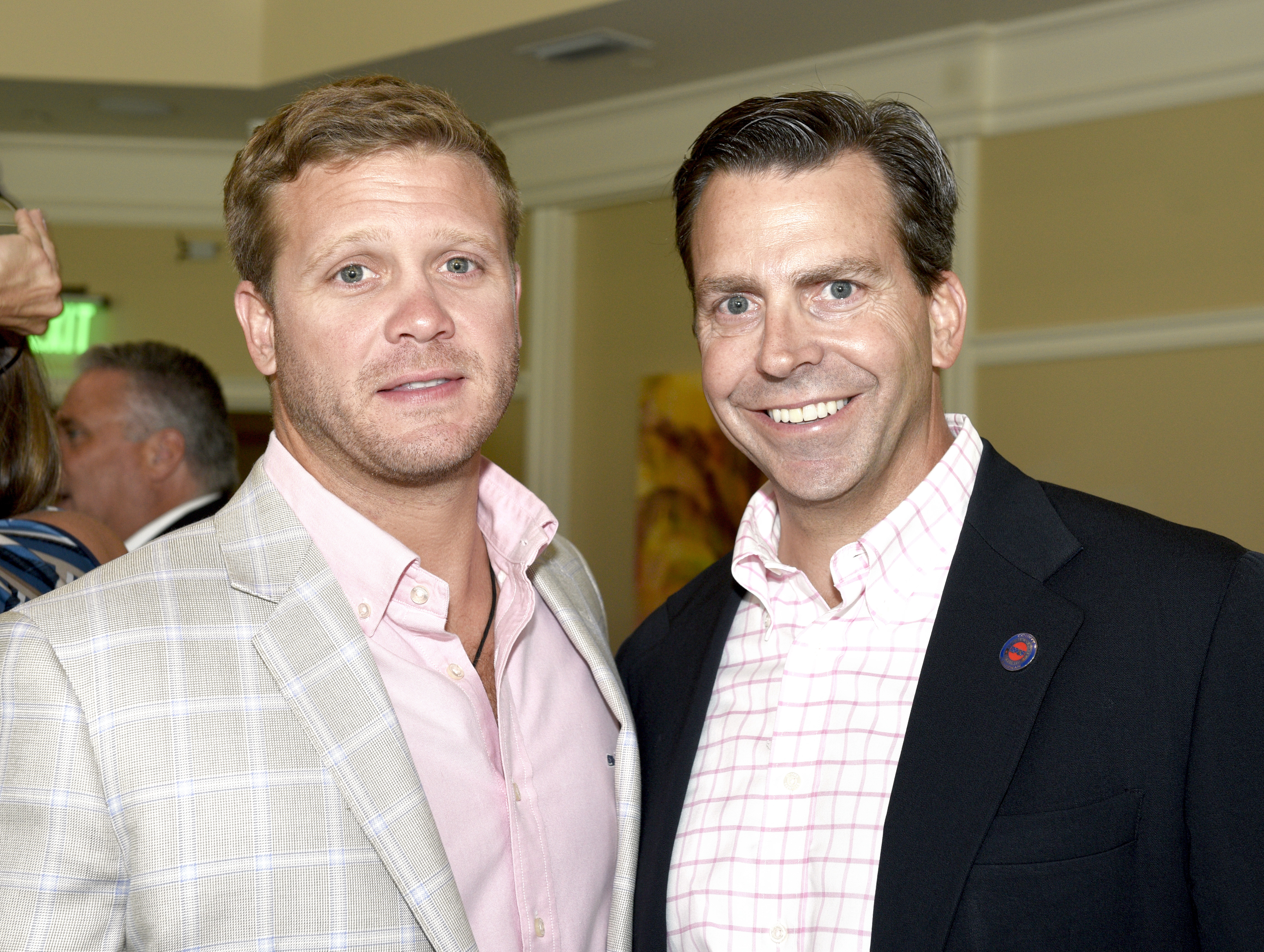 New Investors
Corporate Level
Orange Blossom Business Center
SLC Commercial Realty and Development (upgrade)
Ambassador Level
Century 21 All Professional
Media Giant Design
HealthSouth Rehabilitation Hospital at Martin Health
Do you know someone who would benefit from learning about EDC member benefits and opportunities to grow their business while investing in the economic future of St. Lucie County? If so, please contact Staci Storms at (772) 336-6253 or sstorms@youredc.com.

Realtor® Roundtable

In July, the EDC and Florida East Coast Railway (FEC) co-sponsored a Realtor® Roundtable with the Kings Highway Corridor Association, Realtors and land owners of property adjacent to FEC.
The roundtable provided an overview of FEC's new industrial development sites and buildings database and design services and also gave updates on the Kings Highway Corridor, the Treasure Coast Education Research Development Authority, Sunshine Kitchen and St. Lucie County economic development projects.
To view the FEC database, visit http://www.fecrwy.com/properties.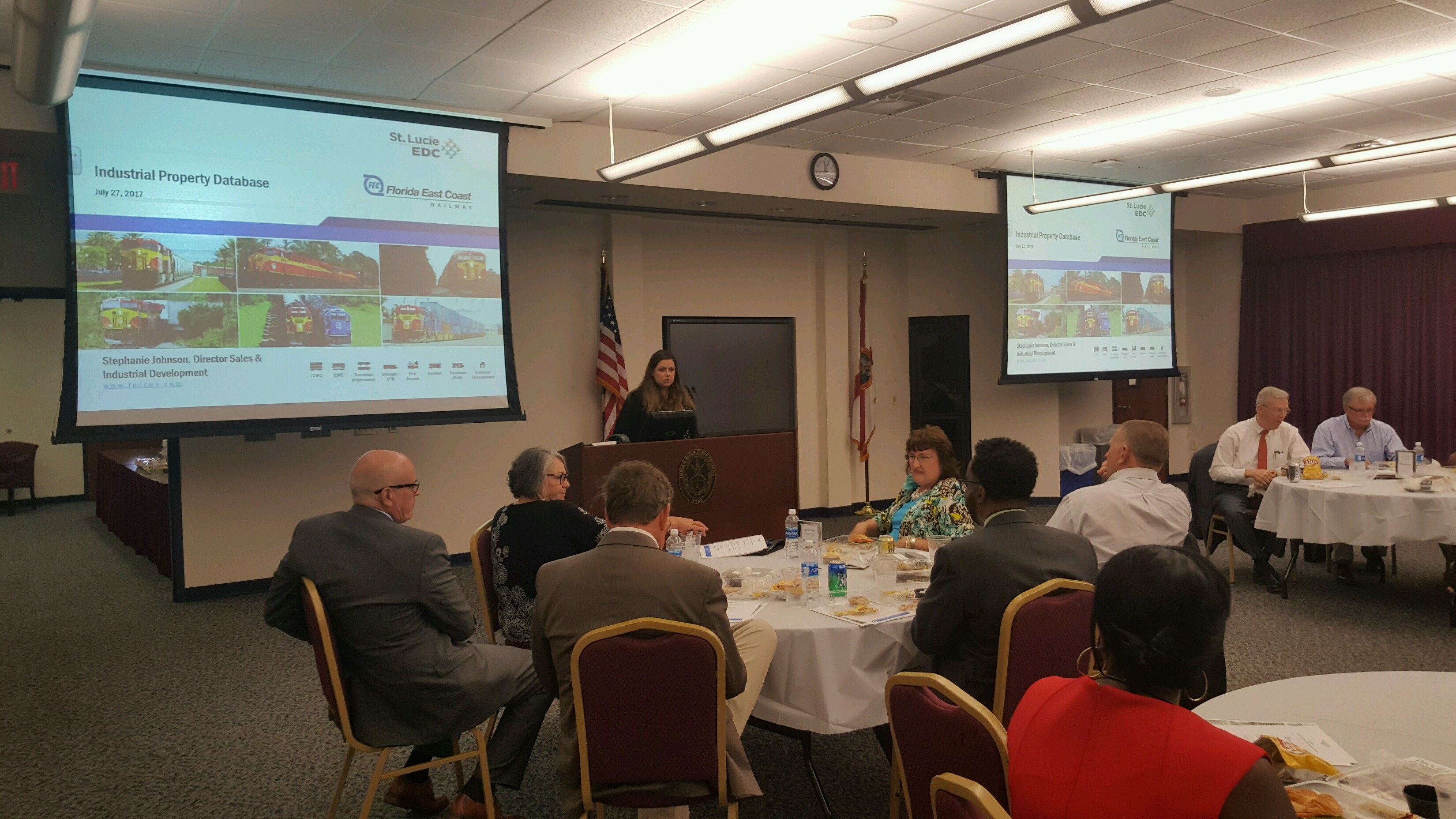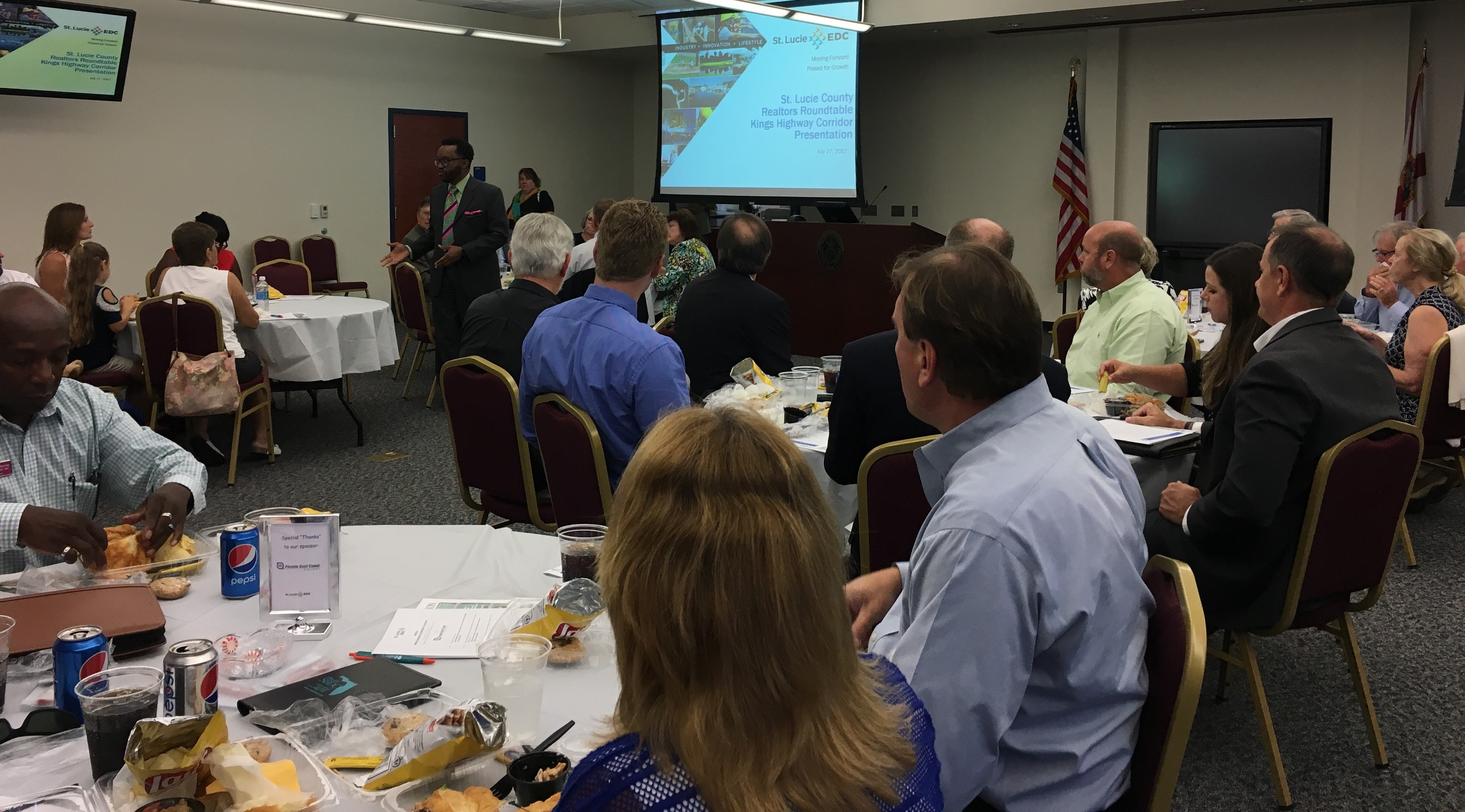 ---
Treasure Coast Manufacturers Association
Dignitaries from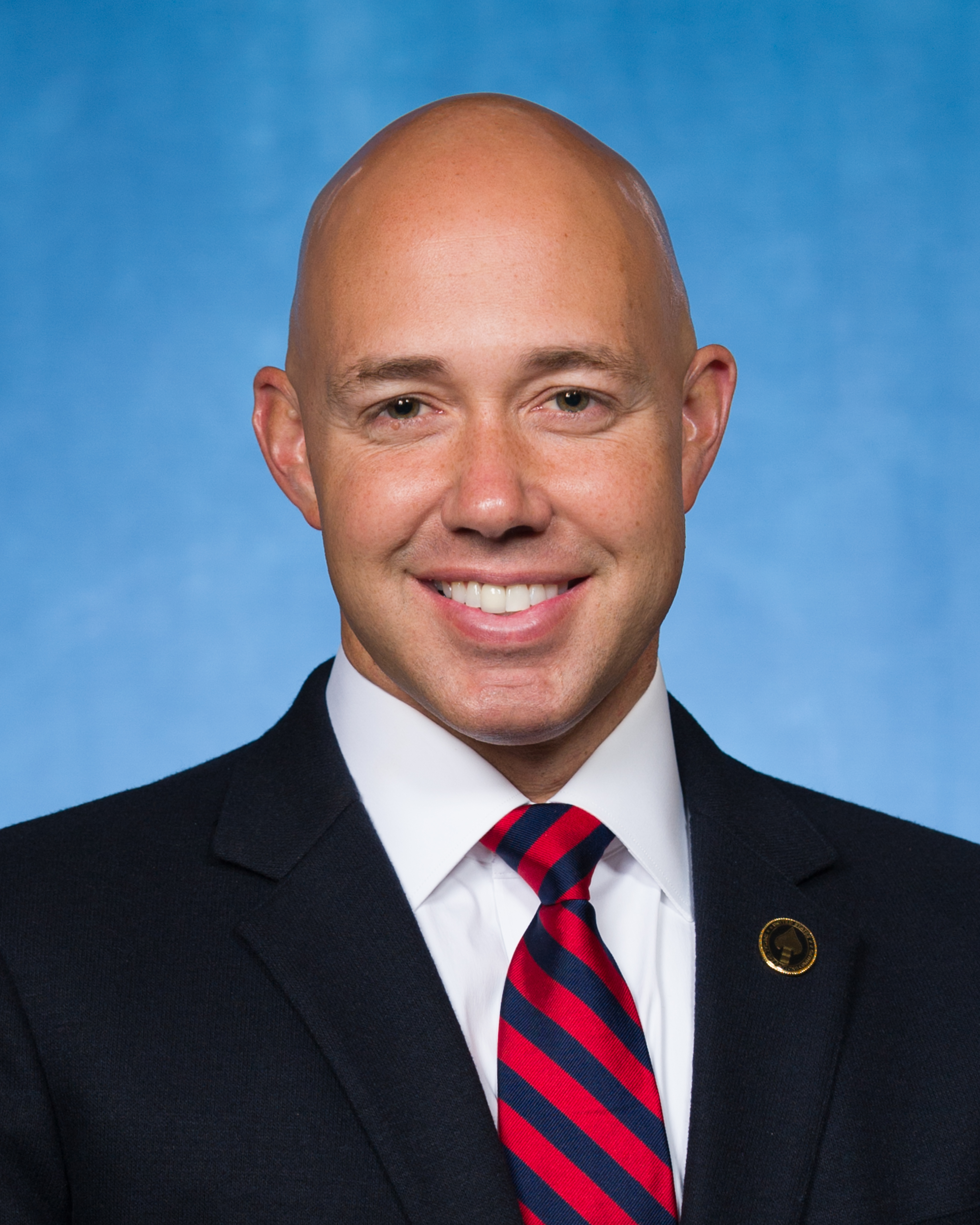 across the region helped the Treasure Coast Manufacturers Association (TCMA) mark its first anniversary at the organization's annual meeting on August 2 at the Pelican Yacht Club in Fort Pierce. U.S. Rep. Brian Mast, the keynote speaker, was joined by commission chairs from St. Lucie, Indian River and Martin counties; three mayors; multiple commissioners; multiple council members from throughout the region, and more than 100 guests representing the manufacturing and distribution industries. TCMA, officially formed in June 2016, has grown its membership to over 40 in the first year.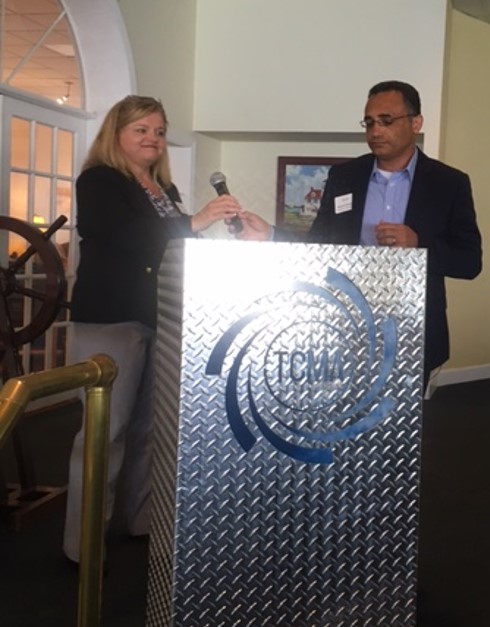 TCMA is an advocacy association organized to improve the business climate for manufacturers on the Treasure Coast. Manufacturers, professionals and associates who share a common interest in promoting the industry are invited to join TCMA.
For an application, visit https://www.tcmamfg.com/membership.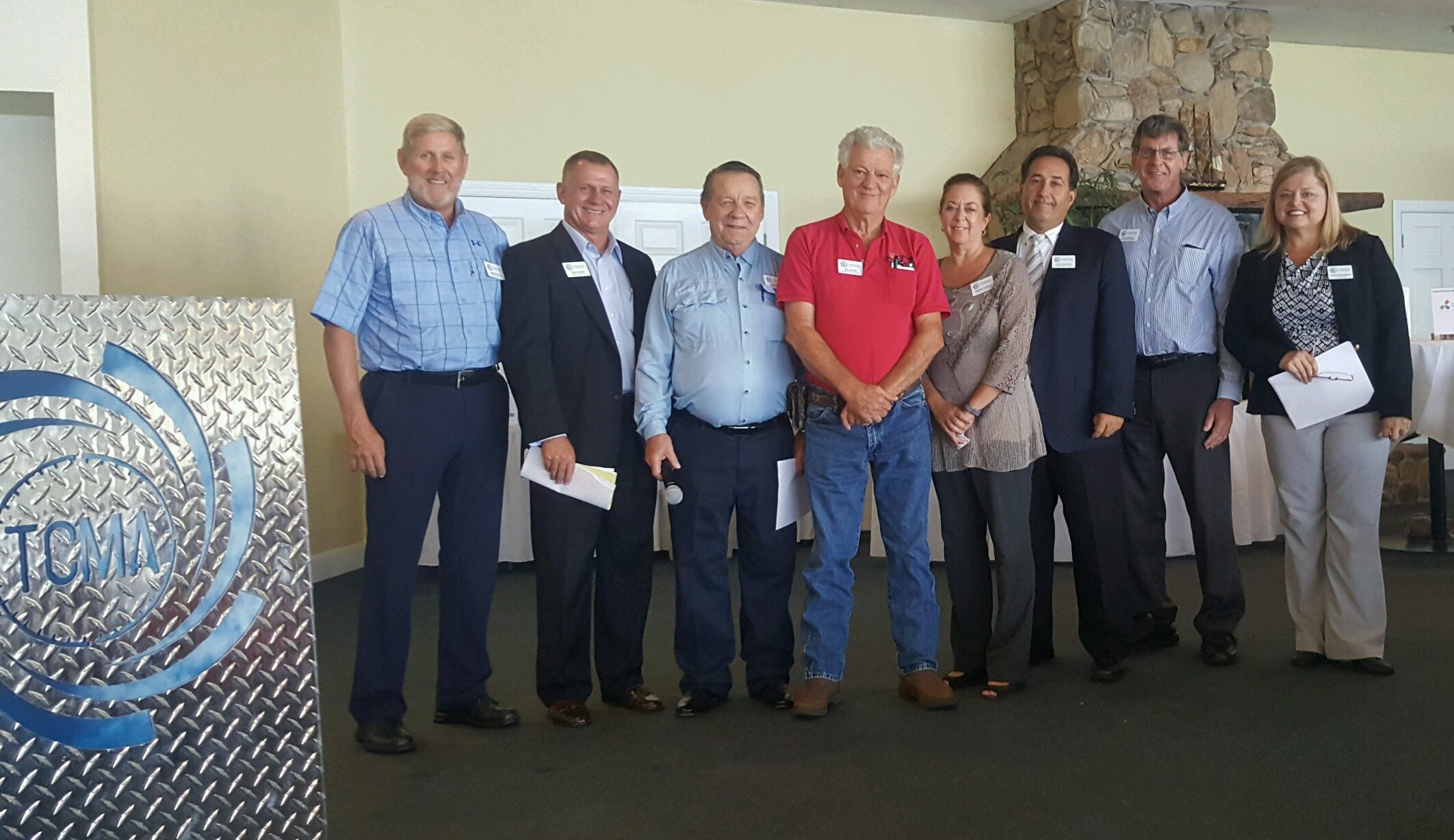 ---
Healthcare Roundtable
A spin-off of the Workforce Readiness Taskforce, the Healthcare Roundtable held its initial meeting on August 18 at Treasure Health. The 20-person committee is made up of high school Career & Technical Education Program directors, university representatives, healthcare providers, and EDC and CareerSource Research Coast representatives.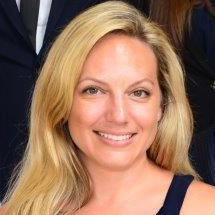 "Our mission is to provide on open forum for educators and employers to connect and fill local healthcare employment needs within the community," said Leslie Haviland, Director of Student Services at Keiser University, who facilitated the group's first meeting.
The mission of the roundtable is to identify ways to communicate with local youth and college students to encourage career paths in healthcare. Initial ideas included hosting events for students and their families as well as creating a career path chart to market local healthcare roles in hospitals and healthcare facilities on the Treasure Coast. The group is also forming a speaker's bureau to address soft skills, interviewing, phone etiquette, and resume writing so students are more prepared for the workplace.
In addition to St. Lucie County and regional representatives, the Healthcare Roundtable of the Treasure Coast includes Martin, St. Lucie and Indian River County healthcare employers and educators. Please contact Leslie Haviland, Keiser University at (772) 398-9990 if you would like to participate.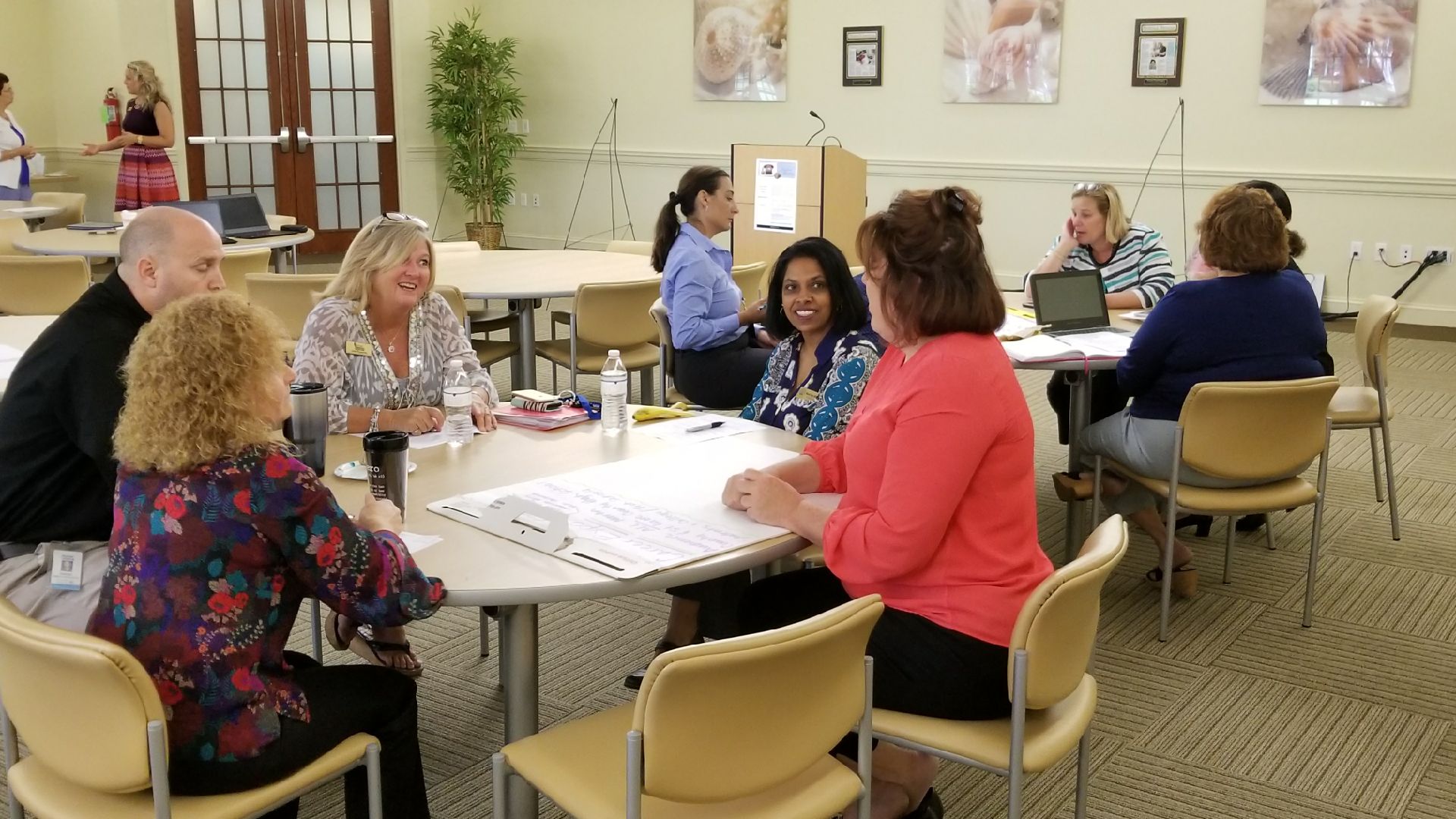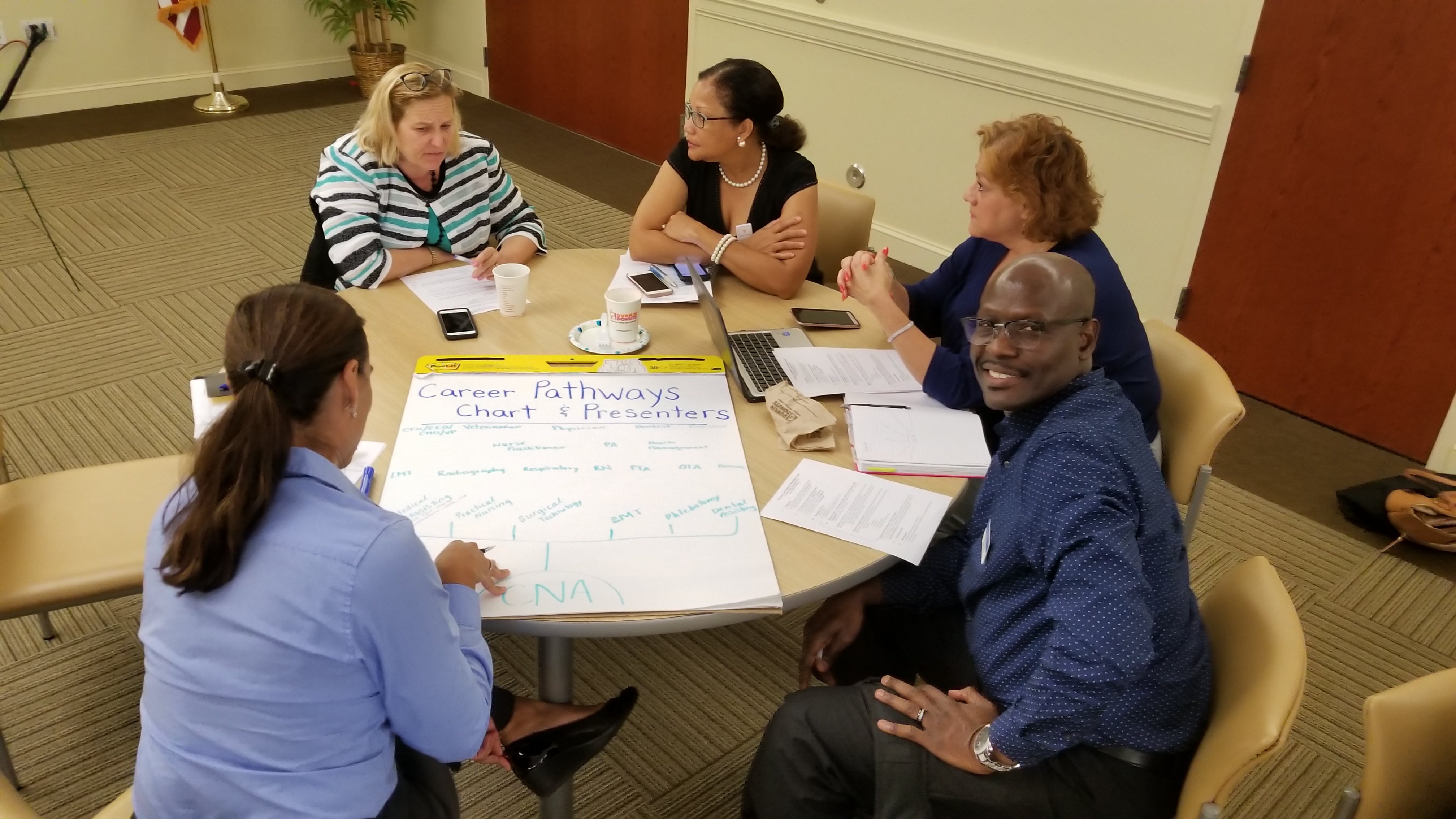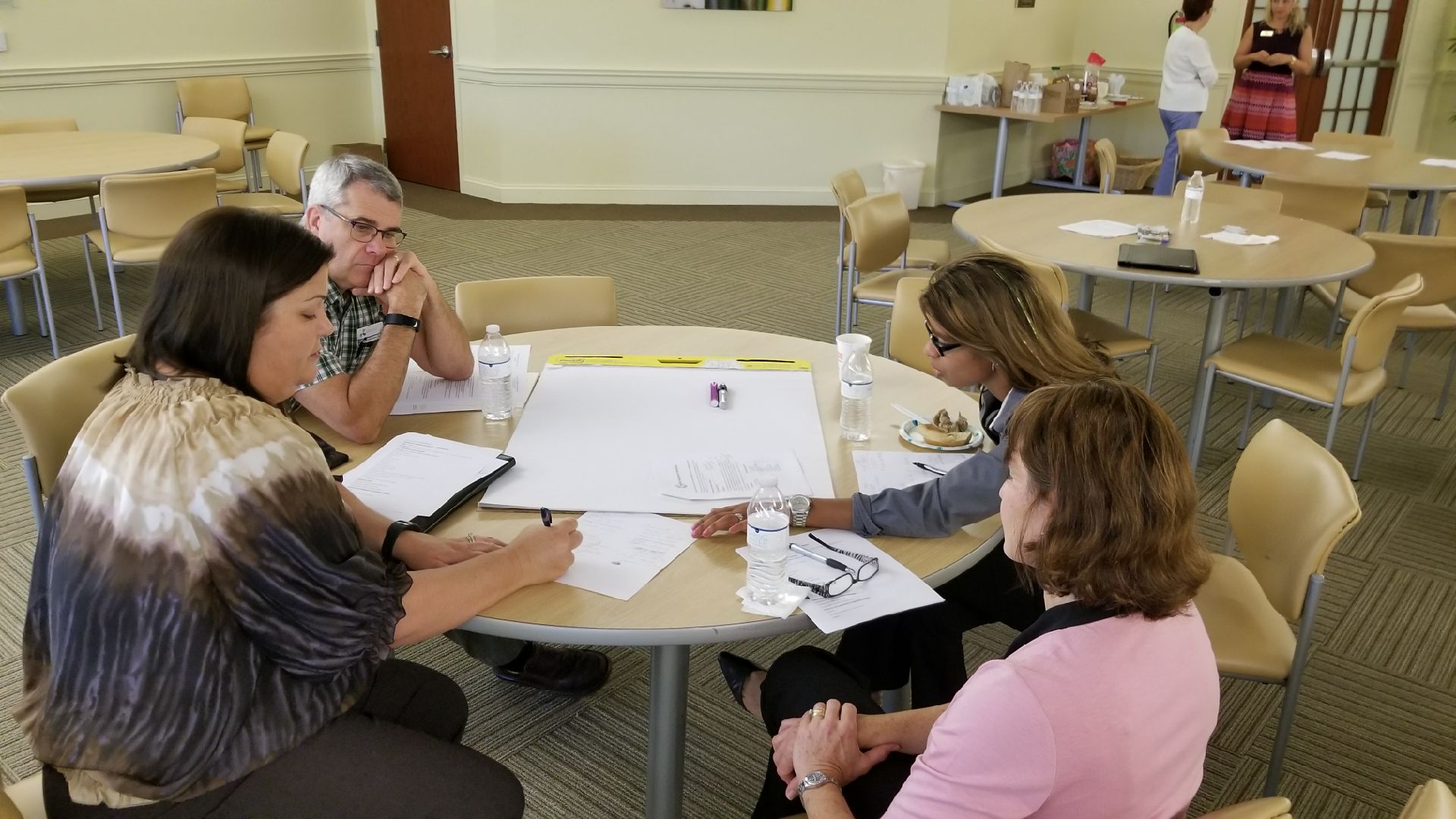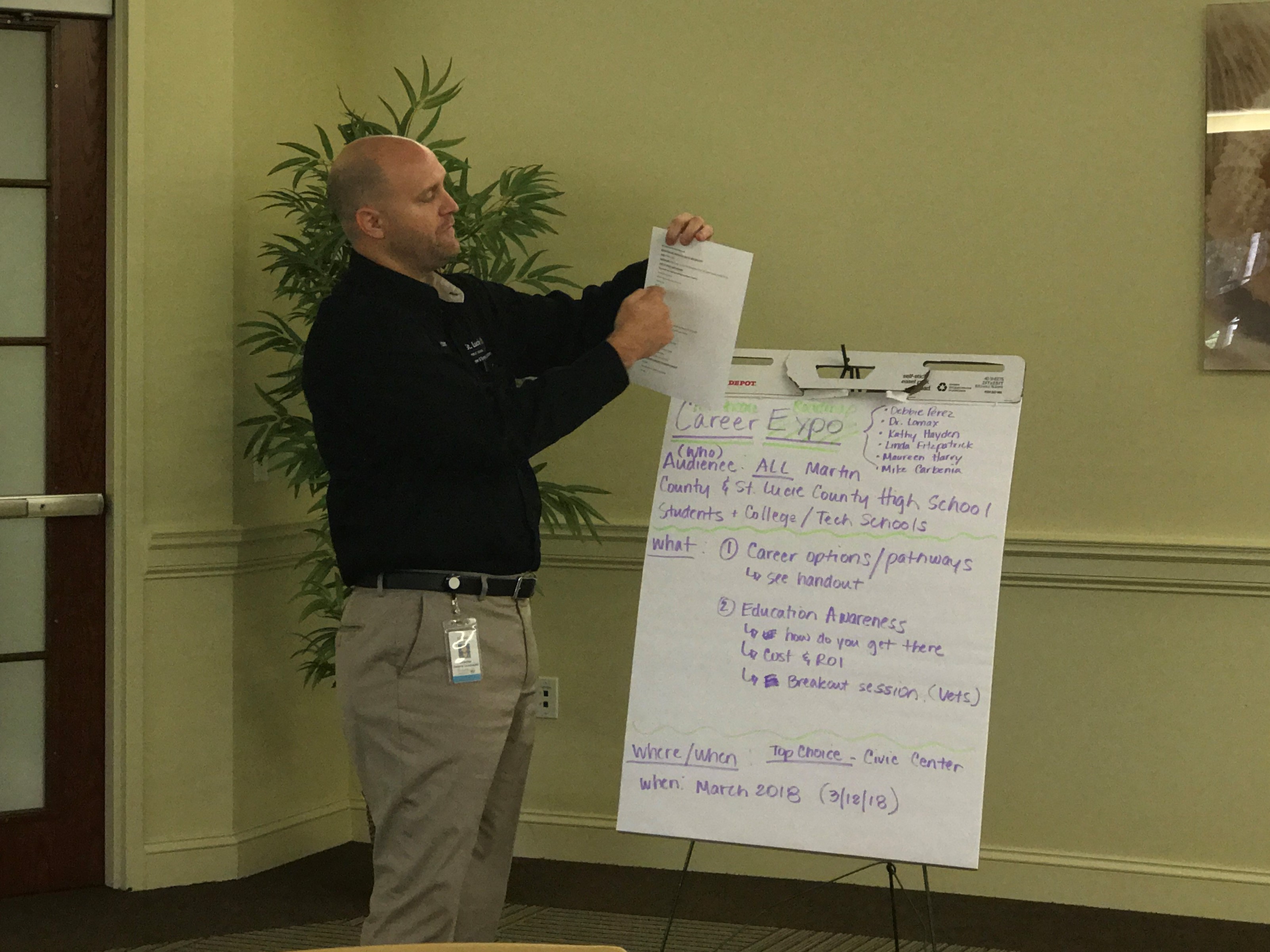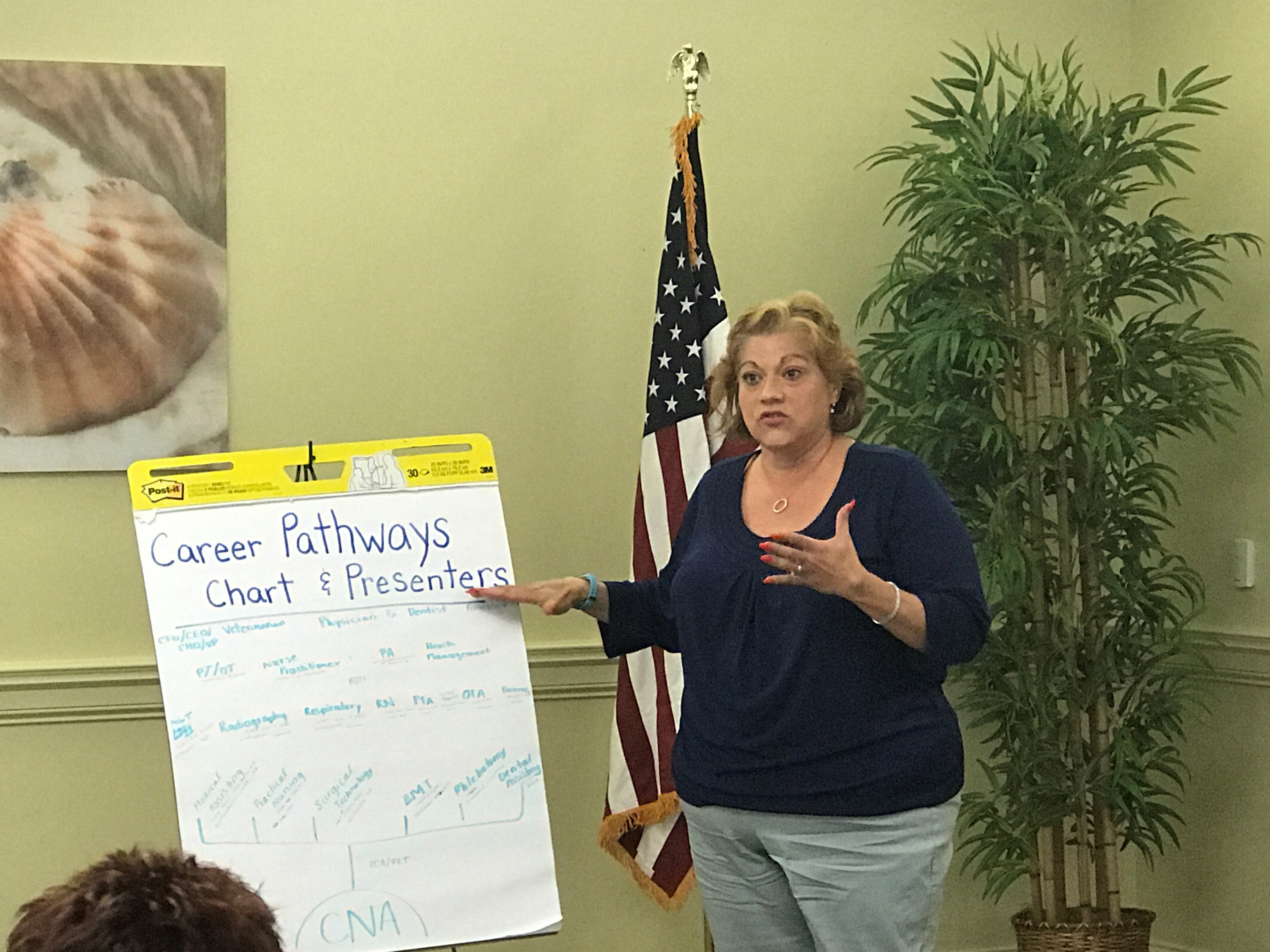 ---
New Online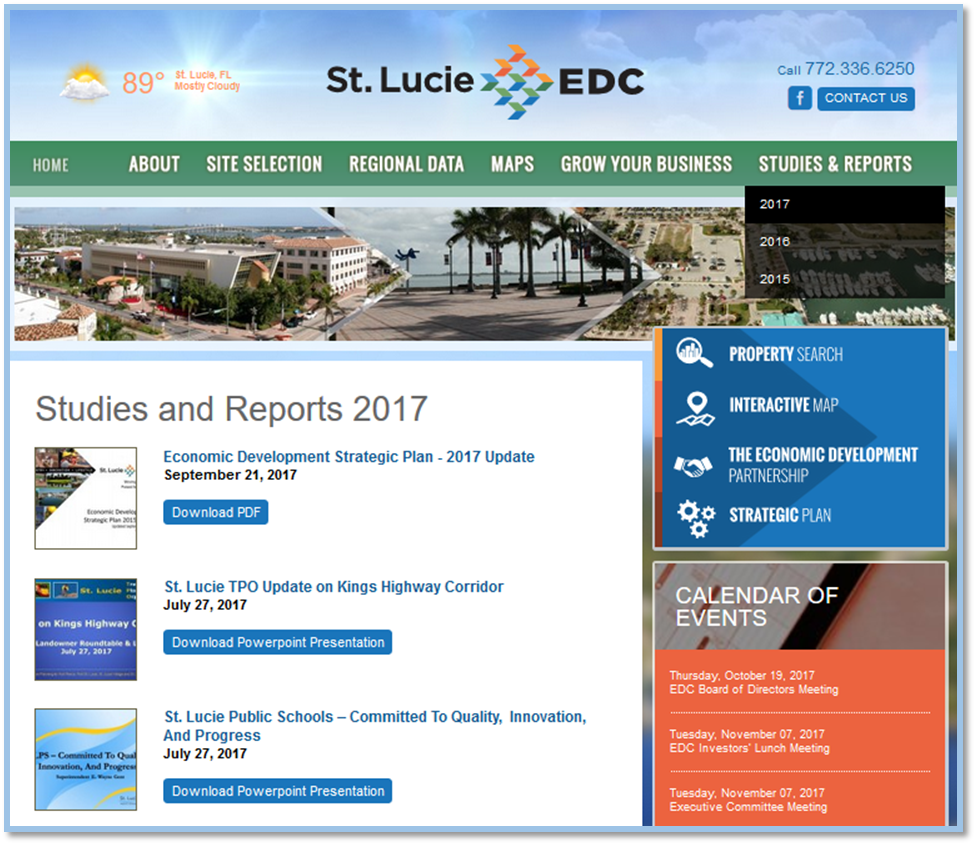 Have you seen our most recent presentations, studies and reports? Check out http://youredc.com/studies_reports/2017
Economic Development Strategic Plan 2017 update (SEP)
St. Lucie Transportation Planning Organization's Update on the Kings Highway Corridor (JUL)
St. Lucie Public Schools – Committed to Quality, Innovation, Progress (JUL)
---
Investor Luncheons
AUGUST 1: As part of the EDC's popular and informative investor lunch meetings, Tim Vanderhoof, Sr. Vice President of Enterprise Florida presented the State of the State.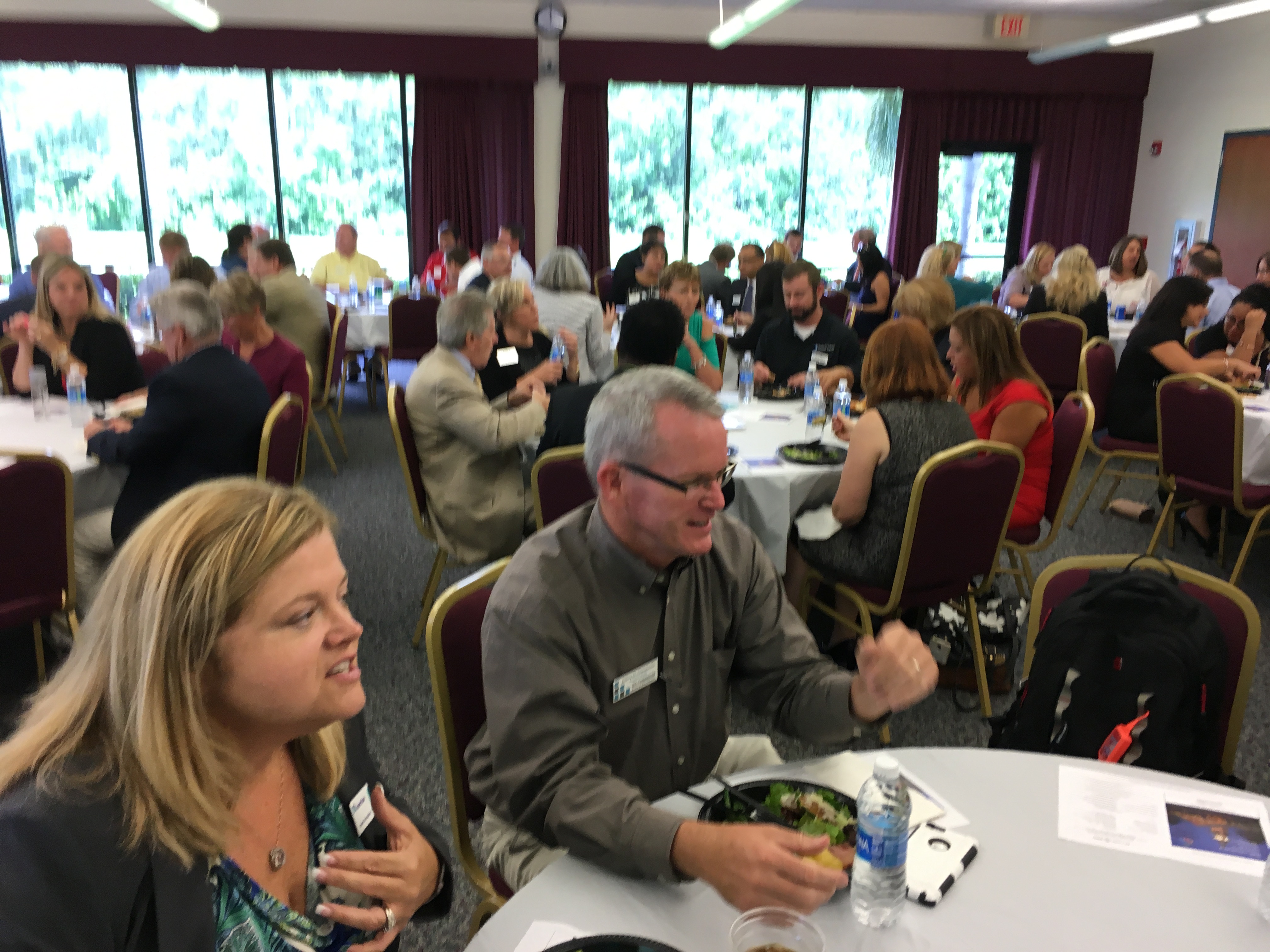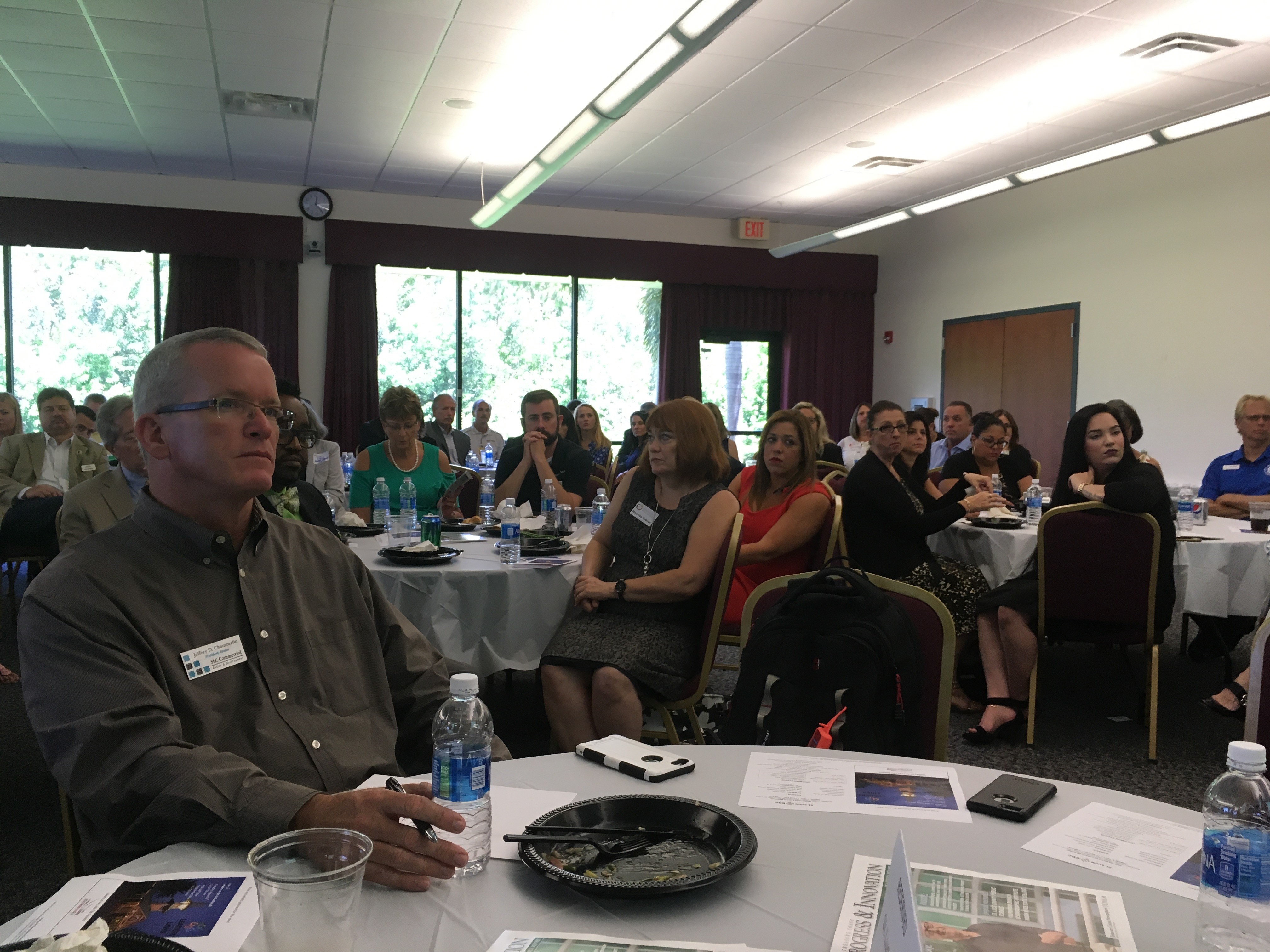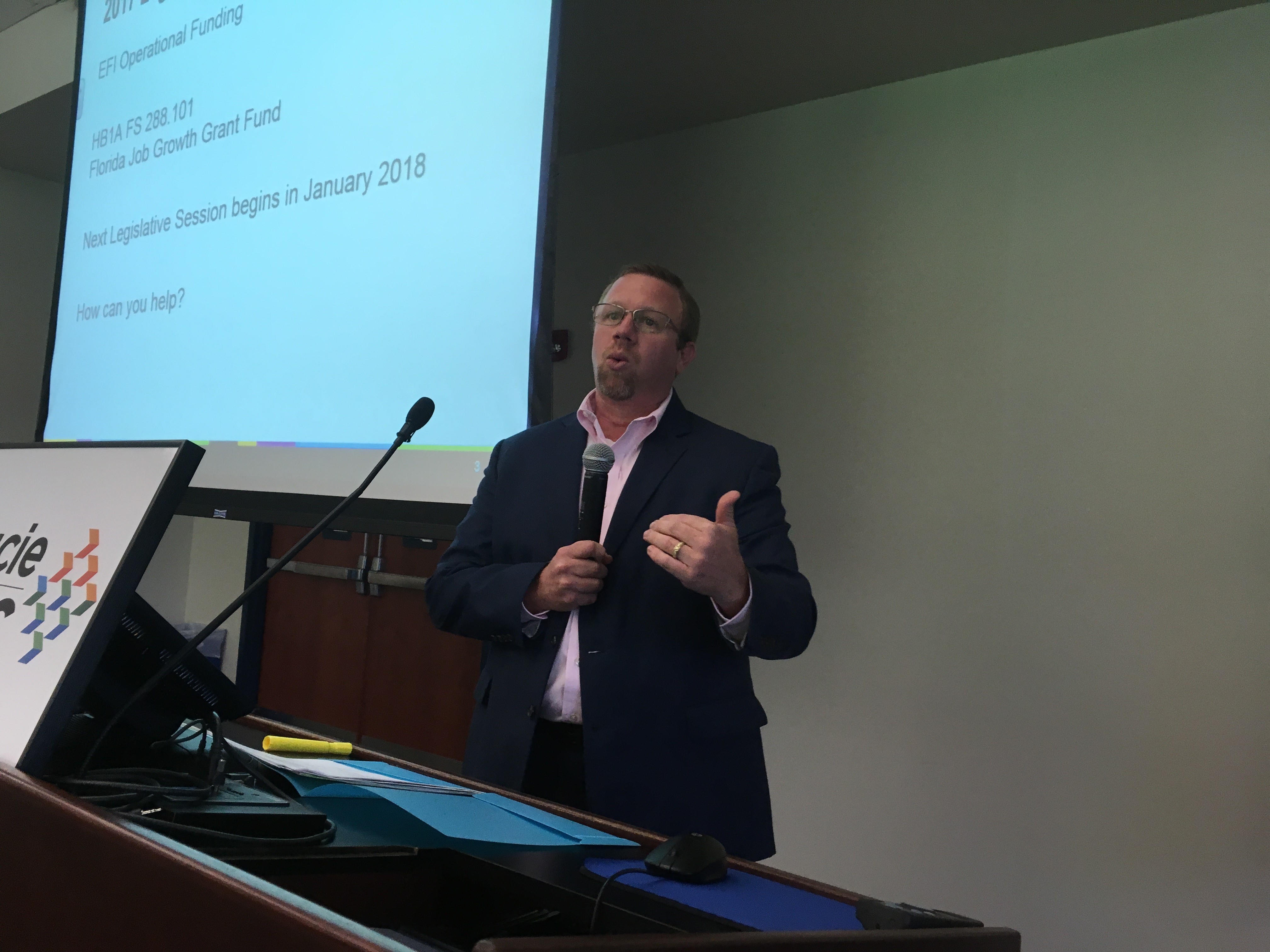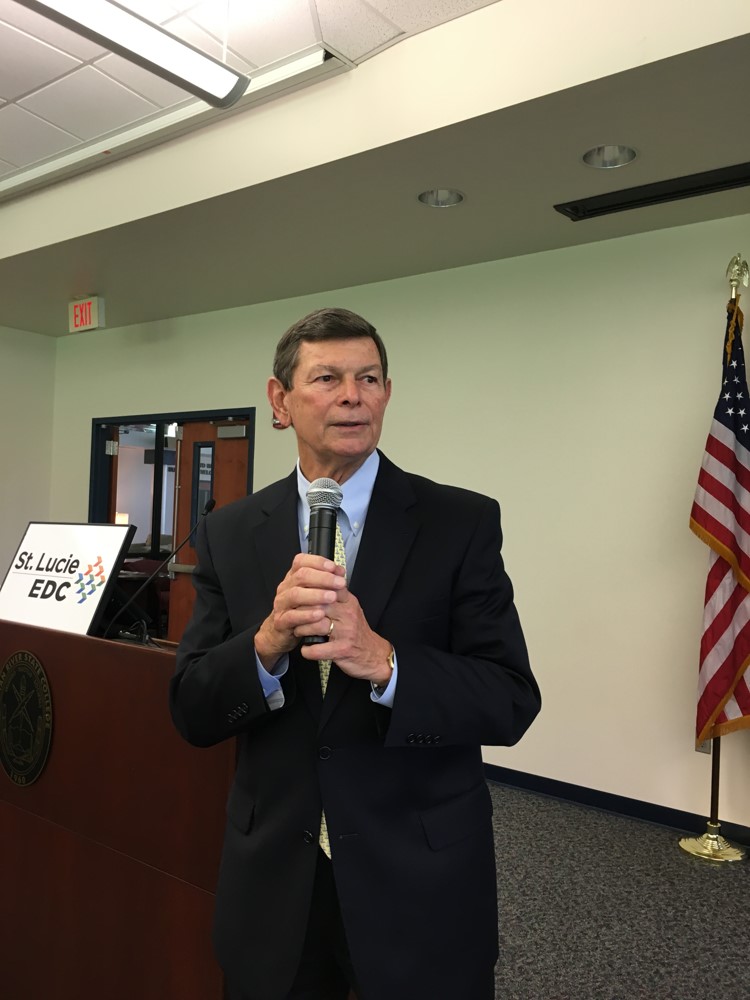 SEPTEMBER 12: Canceled by Hurricane Irma, Kathy George's presentation on "Becoming the Employer of Choice" will be rescheduled to a future date.
OCTOBER 3: Host and guest speaker Dr. Anton Post, Executive Director at FAU Harbor Branch shared "FAU Harbor Branch 2020: Pairing an Academic Mission with Economic Development". In spite of windy rainy weather, several EDC investors also enjoyed a tour of Harbor Branch following the meeting.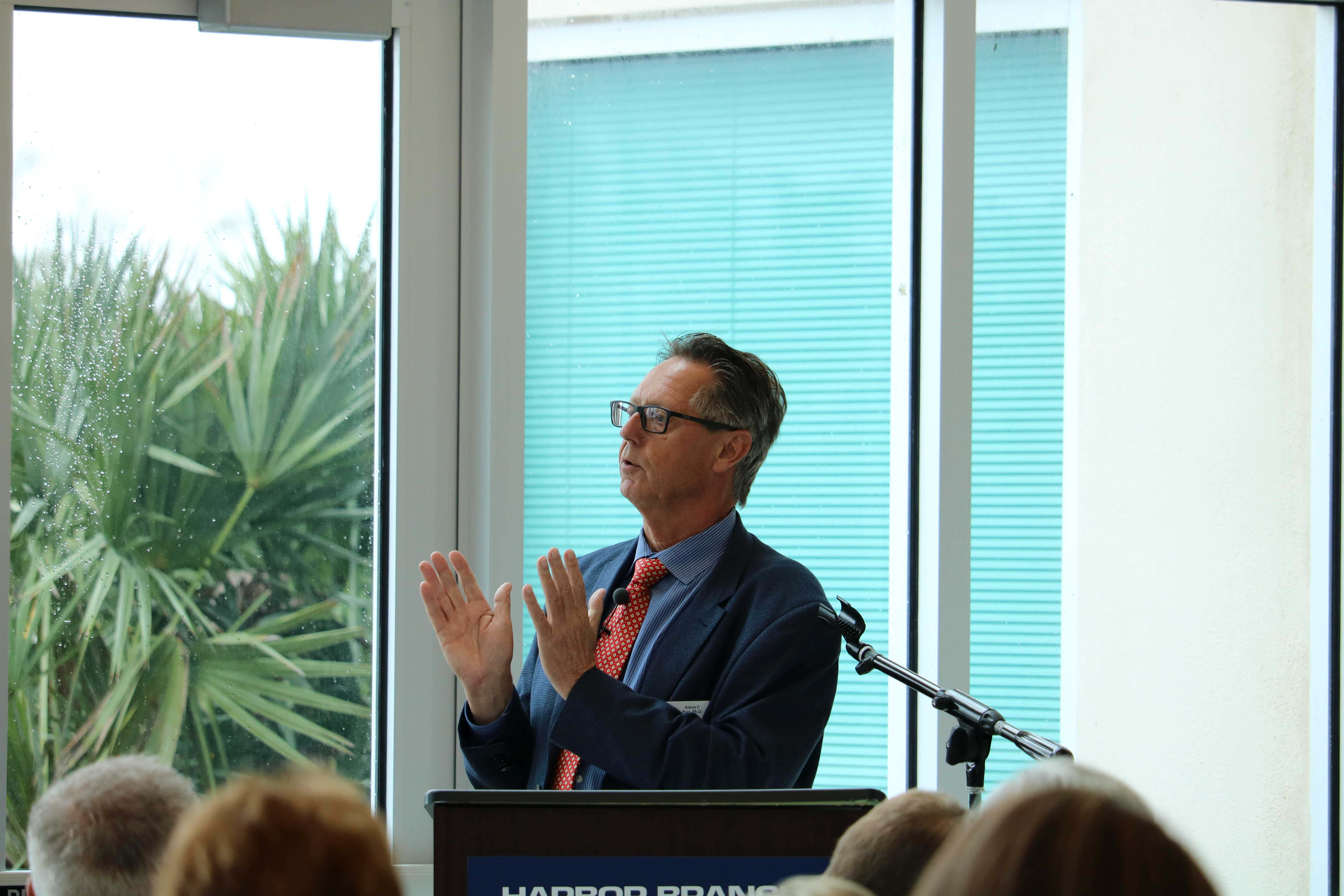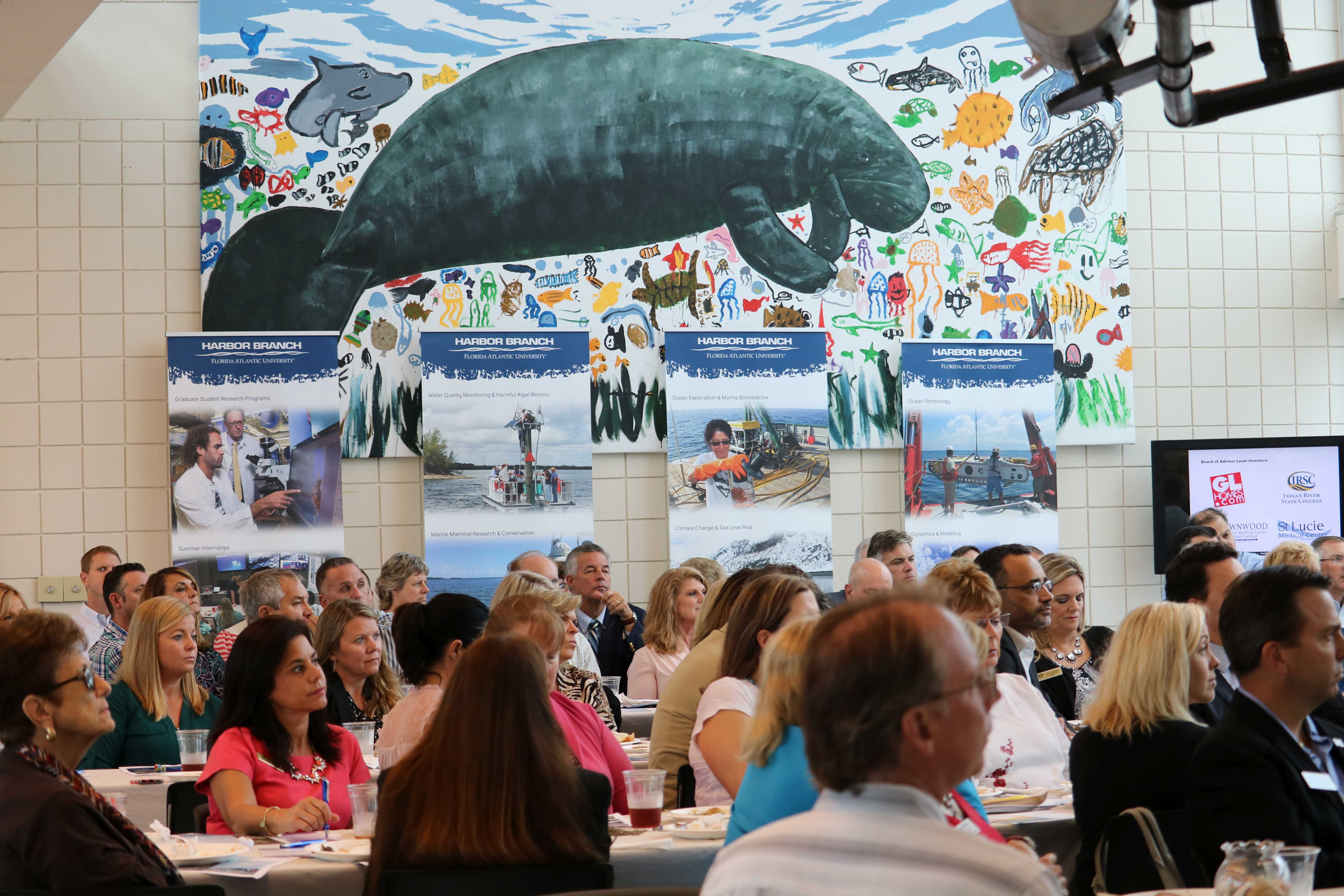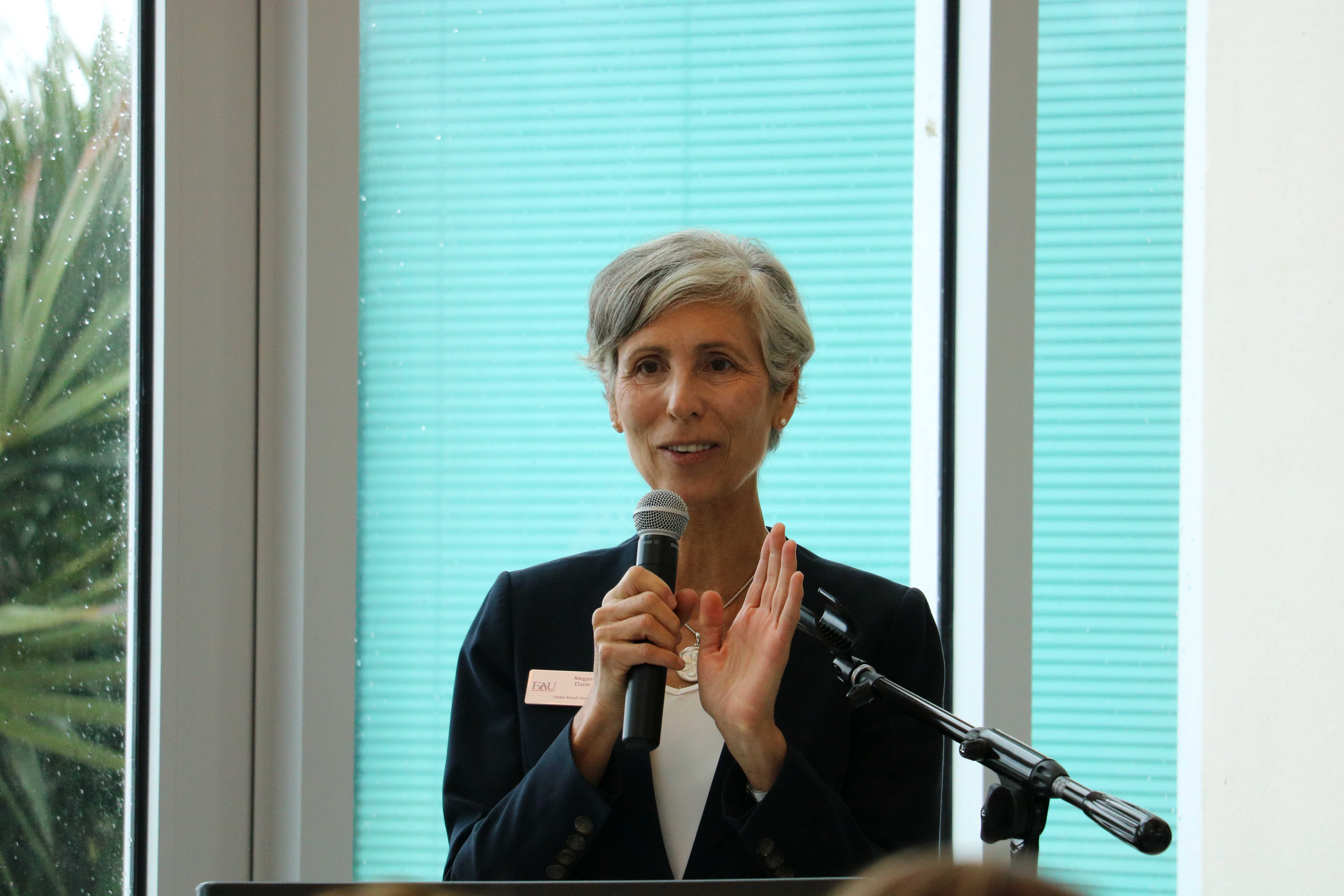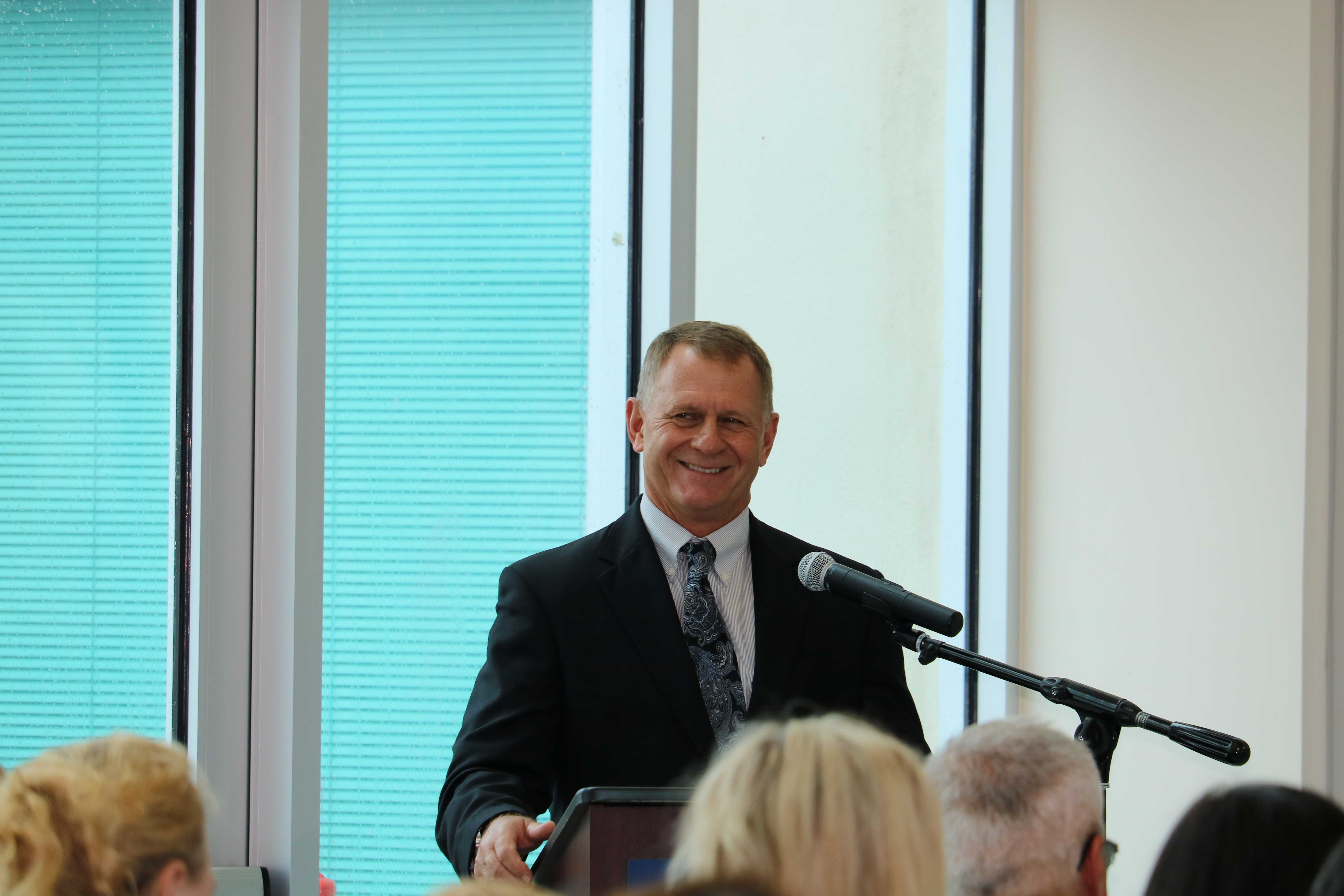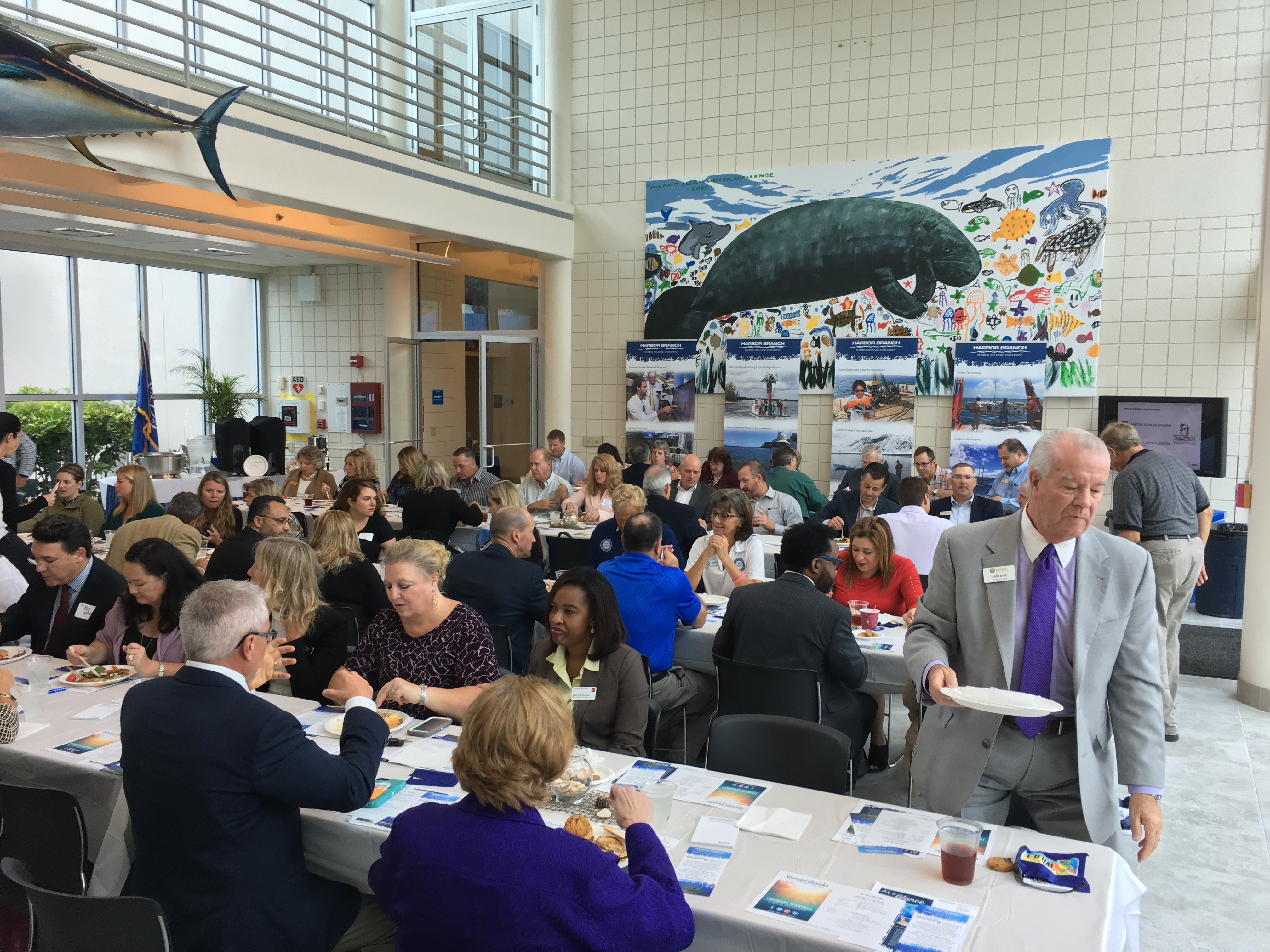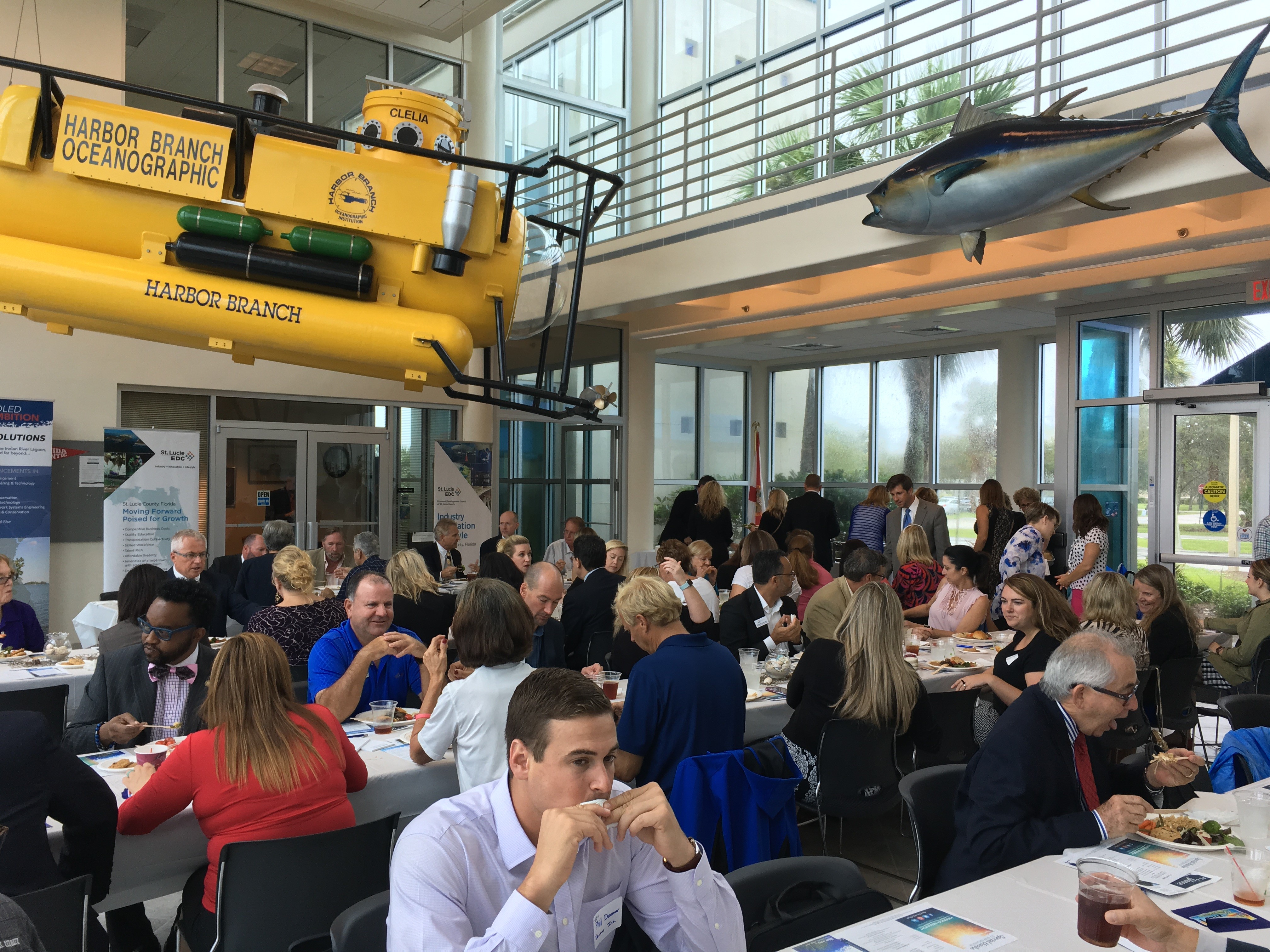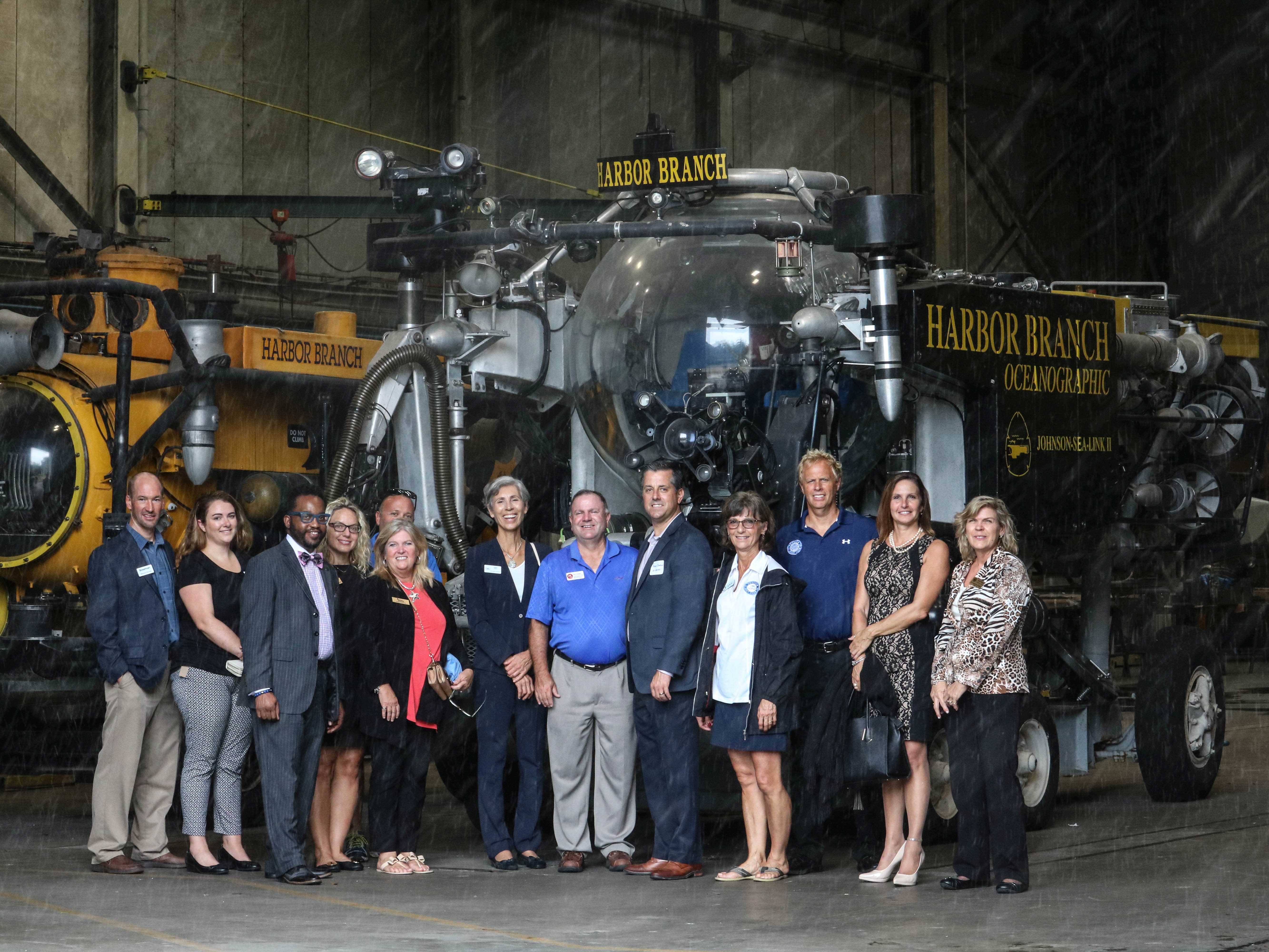 Conferences and Meetings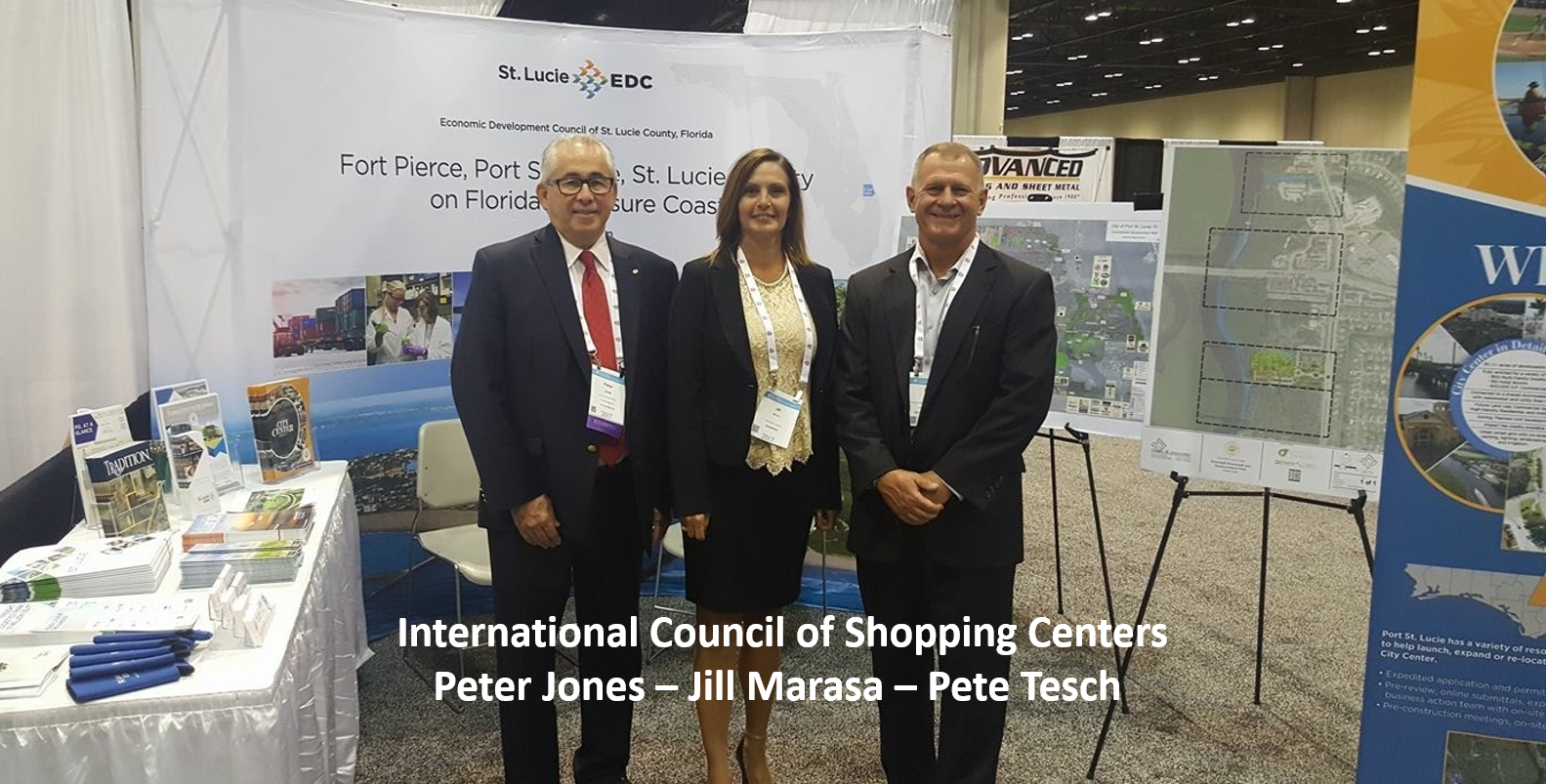 Your EDC seeks out multiple opportunities to promote St. Lucie County, area businesses, our business-friendly environment and to meet developers and site location specialists who may be interested in all that our county has to offer.
May 7-9: The Florida Economic Development Conference was held in Fort Lauderdale at the Hyatt Regency Pier 66. This conference is the premier annual event attended by economic, workforce, and community development professionals working in Florida. Each year the conference attracts more than 250 professionals interested in building their toolkits and learning best practices to grow Florida's economy; the 2017 meeting was a rousing success!
In June Florida's Research Coast Economic Development Coalition partners attended a site selector event in Greenville, So Carolina to market the region
August 17-18: Enterprise Florida, Inc. (EFI) Team Florida site selector event in New York. Team Florida partners help economic development professionals promote Florida's business advantages and create awareness among key audiences, both domestically and internationally.
August 27-29: EDC, county and city officials participated at the International Council of Shopping Centers Trade Show held in Orlando. Held annually these deal making events are a great opportunity for owners, developers, retailers, brokers, lenders, municipalities, property asset managers and product and service providers to gather under one roof to exhibit, make deals and form successful business partnerships.
---
2017 Leaders on the Links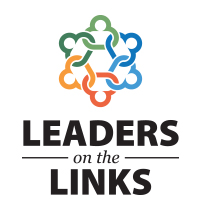 Don't miss the 3rd Annual Leaders on the Links December 7 and 8!
The Economic Development Council of St. Lucie County, in partnership with title sponsor Southern Eagle Distributing, will host the party and tournament at the prestigious PGA Golf Club in Port St. Lucie. Thursday evening's holiday party will feature multiple stations of delectable cuisine, passed hors d'oeuvres throughout the evening, music and amazing silent auction items. Friday includes a memorable day of golf, fantastic tee gifts and extraordinary hole-in-one contests!
Presenting sponsors include Hi-Tide Boat Lifts, Frozen A/C Solutions, Comcast Business.
What's new? The EDC is proud to announce 25% of Leaders on the Links proceeds will be donated to the Peter W. Busch Family Foundation, to help fund scholarships for local students, reducing the costs of training and certification programs needed for careers identified in the EDC's skills gap study. Please join us at Leaders on the Links!
Thursday, December 7: Holiday Party, 6:00 – 9:00 p.m.
Friday, December 8: Golf Tournament
7:00 a.m. Check-in / Continental Breakfast
9:00 a.m. Shotgun Start
2:00 p.m. Hole-in-One Shoot-out, Lunch and Awards
Click here for sponsorship and tickets or contact Candy Marlow at (772) 336-6252 or cmarlow@youredc.com for information.