Demographics
Demographics - Population, Household, Occupation
The population of St. Lucie County is nearly 300,000 and twice that in the four-county Treasure Coast region. As in many Florida communities, the high presence of retirees reduces the workforce participation rate and median age, as compared to U.S. average. Population growth rates continue to be strong in the county and region with an influx of both retirees and those seeking employment in an attractive and affordable destination.
Demographics of St. Lucie vs. Region and U.S. Population

Description of Parameters

St. Lucie Co.

Treasure Coast*

Florida Average

U.S.

Average

Population (2015)**

298,563

642,234

20,271,271

321,418,820

Population Growth (2010-2015)

7.5%

6.7%

7.8%

4.1%

Size of Workforce

131,487

279,886

-

Source: 2010 Census and 2010-2015 QuickFacts Estimate, 5/23/16

**The vintage year (e.g., V2015) refers to the final year of the series (2010 thru 2015). Different vintage years of estimates are not comparable.

Jobs by Age Group:

Age 24 and <

7,807

21,082

925,854

-

Age 25 - 54

41,734

110,536

5,013,647

-

Age 55 and older

6,154

45,665

1,786,957

-

Median Age (2015)

44.8

47.1

41.9

37.8

Education Attainment:

High School Only

16,209

44,126

1,875,359

-

Two-Year / Some College

18,450

49,836

2,137,151

-

Four-Year and Above College

13,732

37,282

1,653,363

-

Median Household Income (in 2014 dollars) 2010-2014

$42,665

$44,881
$47,827
$51,900
*Region - Includes Indian River, St. Lucie, Okeechobee and Martin Counties.
Source: Florida Department of Economic Opportunity, Bureau of Labor Market Statistics, April 2016.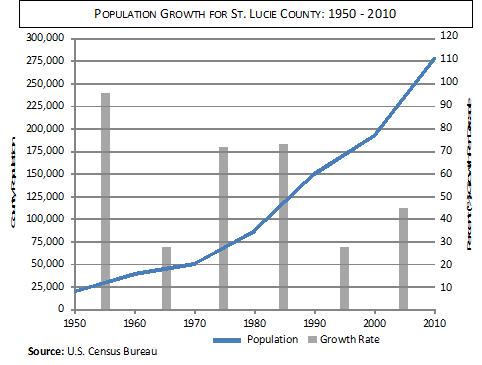 Population Density
Population growth patterns for east coast Florida have traditionally been greater along the coast (with access to water being the attraction) causing US Highway 1 to be the historic commercial corridor. To the west, land has been predominantly utilized for agriculture with a focus on citrus groves and cattle ranches. Over the past 20 years, growth has expanded out to Florida's Turnpike and the I-95 corridor. A number of industrial and business parks were built early on near I-95 due to the initial lower cost of land and access to the interstate for transportation.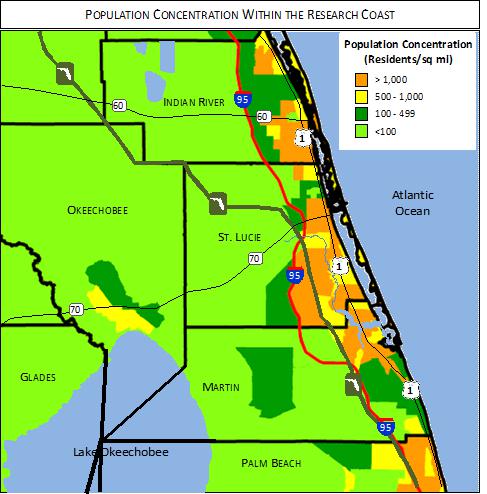 ​Source: U.S. Census (2010)